Karl Gebhardt, born 23-11-1897 in Haag, Bavaria,
as the son of the general practitioner and Ministerialrat Dr. Franz Gebhardt's father was the family doctor of Himmler's father in Munich, who in turn was Gebhardt's school principal. On 23-10-1933 Leutnant der Reserve married a. D. Dr. Karl Gebhardt Marianne Hess, born on 09-04-1911 in Cham. Marianne had been a member of the National Socialist Women's Union since 01-08-1937 and a member of the NSV since 15-04-1934. Two children grew out of the marriage: Jürgen (born 27-07-1934) and Peter (born 26-02-1937) Gebhardt became was a German medical doctor, personal physician and childhood friend of Heinrich "Reichsheini" Himmler
and one of the main coordinators and perpetrators of surgical experiments performed on inmates of the concentration camps at Ravensbrück for women and Auschwitz. Gebhardt's Nazi career began with his joining the NSDAP
 on 01-05-1933. Two years later, he also joined the SS 
and became head physician at the sanatorium of Hohenlychen in the Uckermark.
, his assistants were SS Sturmbannführer Fritz Fischer and SS Obersturmführer, Dr. Ludwig Stumpfegger
, he would help to murder the Goebbels children
. He changed the clinic for tuberculosis patients into an orthopedic clinic and later, during World War II, into a hospital for the Waffen-SS
. Gebhardt treated Albert Speer
in early 1944 for fatigue and a swollen knee. He nearly killed Speer until he was replaced by another doctor. Himmler saw Speer as a rival for power. Gebhardt rose to the rank of Gruppenführer in the SS and a Major General in the Waffen SS. He had a green light from him for his vivisection of women at both Ravensbruck and Auschwitz.
 In the former camp, he admittedly operated on 60, but survivors of Ravensbruck put the number closer to 100, mostly Poles between the ages of fourteen and twenty-five. SS Hauptsturmführer,
Josef Mengele
infamous for performing human experiments on camp inmates in Auschwitz, including children, for which Mengele was called the "Angel of Death". Gebhardt was an SS Brigadeführer and stated in May 1943: `I carry the full human, surgical and political responsibility for these experiments. During World War II, Gebhardt also acted for some time as the President of the German Red Cross. When Reinhard Heydrich was in hospital in Prague after an attack on his stafcar on 27-05-1942, Himmler ordered him as physician,
 to fly to Prague to assume care. Despite a fever, Heydrich's recovery appeared to progress well. Theodor Morell
, Hitler's personal physician, also sent to Prague suggested the use of sulfonamide (a new antibacterial drug), but Gebhardt, thinking Heydrich would recover, refused. On 2 June, during a visit by Himmler,
Reinhard Heydrich
reconciled himself to his fate by reciting a part of one of his father's operas: Heydrich slipped into a coma after Himmler's visit and never regained consciousness. He died on 4 June, probably around 04:30, he was 38.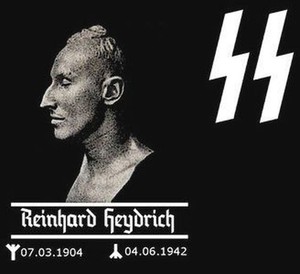 Gebhardt, in his capacity as the Red Cross leader, approached Goebbels about taking the children out of the city with him, but he was dismissed by propaganda minister, 
Joseph Goebbels
 (
did you know
).
Death and burial ground of Gebhardt, dr. Karl
Gebhardt stood trial in the Doctors' Trial 
  together with 22 other doctors before a U.S. military tribunal, where he was found guilty of war crimes and crimes against humanity and sentenced to death on 20-08-1947.
After the process he said:
"
In seeing my responsibility in this way I, of course, made a decision for myself. I hope that hitherto I have always faced criticism, even from foreign countries, without any secrecy, but also without any feeling of guilt for my activities as an expert. My last sentence is to express our personal gratitude to Dr. Seidl who has stood by the side of my colleagues and myself so conscientiously and with such human kindness
."
SS-Hauptsturmführer, Dr. Fiedrich Seidl
was commandant of the Theresienstadt concentration camp located in the present-day Czech Republic. He was later a convicted war criminal on 14-11-1946, Seidl was sentenced by the Volksgericht, Austrian People's Court, established to prosecute Nazi war crimes, in Vienna to death. The penalty was carried out on 04-02-1947, age 35. Gebhardt was hanged on 02-06-1948, at the age of 50, in Landsberg prison in Bavaria.
  He is buried in the Gebhardt family grave on the Ostfriedhof of Munich. Close by the graves of of Hitler's WWI sergeant  
Max Amann
", publisher of Hitler's  "Mein Kampf, Generalmajor der Kavallerie, 
Rudolf von Gersdorff
, he wanted to blow himself together with Hitler, (see 
Hitler parents
) (see 
Adolf Hitler
) (
did you know
). SS Gruppenführer, stayed in the Führerbunker till the end,
Johan Rattenhuber
, Nazi Banker
Hjalmar Schach
t, Hitler's adjutant SS Obergruppenführer,
Julius Schaub
,
SA leader,
August Schneidhuber
 victim of the Night of the long Knives, Hitler's oldest secretary
 Johanna Wolf
, Nachtjägerass, Commandeur ./N.J.G.1
,
 Oberst,
Werner Streib
 and Hitler's secretary,
Christa Schroeder
. In the East cemetery crematorium of Munich also the hanged Nuremberg condemned men for war crimes, were cremated and scattered in the nearby river Isar from the Reichenbach bridge.