Darlan, Jean Louis Xavier Francois, born on 07-08-1881 in Nerac, France,
to a family with a long connection with the French Navy. His great-grandfather was killed at the Battle of Trafalgar. His father, Jean-Baptiste Darlan,
was a lawyer and politician who served as Minister of Justice in the cabinet of Jules Méline. Georges Leygues, a political colleague of his father who would spend seven years as Minister of the Marine, was Darlan's godfather. After graduating from the French naval academy in 1902, he joined the French Navy. During the First World War he commanded a battery of naval guns. Darlan, now Fleet Admiral, held strong anti-British feelings and by 1940 believed that Germany would win the Second World War. He therefore thought it was in the best long-term interests of France to come to an arrangement with Adolf Hitler rather than
Sir Winston Churchill
.
When
Paul Reynaud
resigned on 16-06-1940, Darlan agreed to support his replacement,
Henry Philippe Petain
and he was then named as minister of the navy. After Petain signed the armistice with Nazi Germany,
Darlan ordered the French fleet to colonial bases in North Africa and instructing members of the navy to remain loyal to the Vichy government. In November, 1942, the Allies invaded French North-West Africa. Vichy troops initially resisted but Darlan was eventually forced to surrender on 11-11-1942. General
Dwight "Ike" Eisenhower
 who led the Allied troops during Operation Torch, controversially appointed Darlan as civil and military chief of French North Africa. The decision infuriated General
Charles De Gaulle
and the French Resistance who claimed that Darlan was a fascist and a Nazi collaborator. However, the decision was endorsed by Winston Churchill and
Franklin Delano Roosevelt
 who both agreed with Eisenhower that the deal with Darlan would assist military operations in the area.
Death and burial ground of Darlan, Jean Louis Xavier Francois.
 Jean-Francois Darlan was assassinated in Algiers by, Ferdinand Bonnier de la Chapelle
, an anti-Nazi royalist, on 24-12-1942, at the age of 61.
The 20-year-old Fernand entered Darlan's headquarters in Algiers and shot the Admiral at point-blank range. Darlan died a few hours later and was replaced as high commissioner by another French flag officer, General Henri Giraud
Giraud died age 70 on 11-03-1949, in Dijon. Ferdinand Bonnier de La Chapelle's speedy trial and execution have fueled numerous conspiracy theories about who may have been behind the assassination. He was a member of the a member of the resistance group led by the monarchist Henri d'Astier de la Vigerie, he died age 55 on 10-10-1952.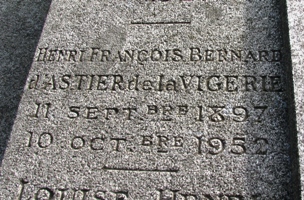 De la Vigeria was a French soldier, Résistance member, and conservative politician, but De La Chapelle declared that he had acted alone and he was condemned to death. He was executed by a firing squad on 26-12-1942, 20 years old. When various people, including Henri d'Astier, appeared to Giraud, just elected, for the grace of Bonnier, it told them it was too late. Bonnier de la Chapelle is executed in Hussein-Dey, the square known as "the shot". Darlan was unpopular with the Allies, he was considered pompous, having asked Eisenhower to provide 200 Coldstream Guards and Grenadier Guards as an honor company for the commemoration of Napoleon's victory at Austerlitz. It was said that "no tears were shed" by the British over his death, whose murder removed a potential rival to De Gaulle's leadership of the Free French.
Harold Macmillan
 with brutal political realism, gave Darlan his ultimate political epitaph: "Once bought, he stayed bought." Macmillan died old age 92 on 29-12-1986 at Birch Grove.
Darlan is buried on the Military Cemetery of Mers elm Kébir, in Algeria.