Fechteler, William Morrow, born 06-03-1896 in Rafael, California,
was graduated from the U.S. Naval Academy
with the class of 1916 and served in the battleship Pennsylvania during World War I. He advancing to Captain and the post of Operations Office of Destroyer Command, Battle Forces, United States Fleet, by the outbreak of World War II. In 1942-43, Captain Fechteler served in the Bureau of Navigation, then commanded the battleship Indiana
 in the Pacific.  Promoted to the rank of Rear Admiral
 in early 1944, he was Commander of the Seventh Fleet's  
 Amphibious Group 8 from August 1944 to March 1945, participating in landings at Morotai, Leyte, Lingayen and elsewhere in the Philippines.
 The Battle of Leyte in the Pacific campaign of World War II was the invasion and conquest of Leyte in the Philippines by American and Filipino guerrilla forces under the command of General
Douglas MacArthur
. He spent the rest of 1945 as Assistant Chief of Naval Personnel, in Washington, D.C., followed by service as Commander, Battleships & Cruisers, Atlantic Fleet.
 In August 1951, Admiral Fechteler was appointed Chief of Naval Operations, succeeding Admiral
Forrest Purchival Sherman
. When the President
Dwight "Ike" Eisenhower
 took office in 1953, he chose to replace all the Armed Forces' chiefs. In August 1953, Admiral Fechteler exchanged positions with the new CNO, Admiral
Robert B. Carney
, becoming Commander in Chief, Allied Forces, Southern Europe and retired in July 1956.
Death and burial ground of Fechteler, William Morrow.
He died on 04-07-1967, age 71, at Bethesda Naval Hospital and was buried with his wife Goldey, born Stevens, who died age 75 in 1975, in Section 2 of Arlington National Cemetery. Close by in Section 2, the graves of the
General, Commander 92nd " Negro Division"
,
Edward "Ned" Almond.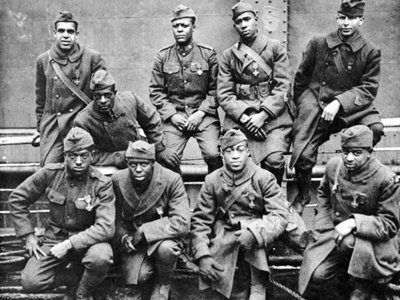 The 92nd Infantry Division was a part of the 5th Army that served in the Italian Theater during World War II.  It was also the only infantry unit comprised entirely of African Americans, or, as they were referred to at the time – Colored Troops, to see combat in Europe.  During their time in Italy, from August of 1944 through the end of the war in May 1945, the 92nd advanced more than 3.000 square miles and captured more than 20.000 German prisoners.  They also suffered heavy casualties – with more than a quarter of the unit killed or wounded in action.  For their Deeds the 92n earned more than 12,000 decorations and citations – including two Medals of Honor.
Also buried here Major General, Commander 8th Bomber Command Europe
,
Frederick Anderson
,
Rear Admiral, Commander Destroyer Greyson,
Frederic Bell
,
Navy Admiral, "Operation Crossroads",
William Blandy
,
General, Commander 32nd Infantry Division, Clovis Byers
, Navy Admiral. Battle of the Leyte Gulf,
Robert Carney
,
Air Force General Lieutenant
,
Claire Chennault
,
Lieutenant General, Commander 4th Corps, Italy Campaign,
Willis Crittenberger
, Major General and commander of the 5
th
Infantry Division "Red Diamond"
,
Joseph Michael Cummins
,
Brigadier General, First African-American General,
Benjamin Davis
,
Quartermaster Lieutenant General, John Lesesne De Witt
,
Major General and Head OSS, William "Wild Bill" Donovan
,
Brigadier General,
Speck Easley
,
Marine Corps Major General, Commander 1st Raider Battalion,
Merrit Edson
,
Lieutenant General, VIII Army,
Robert Eichelberger
,
Navy Admiral, Commander Nord Pacific Fleet,
Frank Fletscher
 and
Navy Admiral, Commander VII Forces,
William Fechteler
,
Lieutenant General, Commander 86th Infantry Division,
Ridgeley Gaither
,
Major General, Commander 29th Infantry Division, D-Day,

Charles Gerhardt
 and
Admiral, U.S. Chief of Naval Material,

John Gingrich
,
Brigadier General,
" Merrills Marauders " in Burma, Frank Down Merrill, U.S. 4* Navy Vice Admiral, Commander U.S.S. Hornet, Doolittle Raid, Marc Mitscher.