Cole, Robert George, born on 19-03-1915, in San Antonio, Texas,
the son of colonel Clarence F. Cole, Army doctor, and Clara H. Cole. Robert was an American soldier who received the Medal of Honor
for his action in Carentan, in the days following the D-Day Normandy invasion of World War II. He completed his education at Thomas Jefferson High School in San Antonio
in 1933. He joined the United States Army on 01-07-1934. On 26-06-1935, he was honorably discharged to accept an appointment to the United States Military Academy at West Point.
Cole graduated in 1939 and went back home and married Allie Mae Wilson. Cole was a lieutenant colonel commanding the 3rd Battalion of the 502
nd 
Parachute Infantry Regiment, nickname "Five-Oh-Deuce" or "The Deuce"  
 on June 6, 1944, the date of his unit's first combat jump. Commander was General
Maxwell Davenport Taylor
.
  General Dwight Eisenhower speaking with Lieutenant Colonel Robert Cole
of the 101st Airborne (far right) just before he boarded his C-47 headed to Normandy. At 02.00 on 12 June the 506
th
PIR, nickname "Five oh Sink"  
 with the 101 Airborne Division
, passed through their line and captured Hill 30 to the south of Carentan. From there, led by Company E, the 2
nd
of the 506
th
PIR (Band of Brothers) attacked north into Carentan at daylight as part of a 3-battalion assault. 
The German 6
th
Parachute Regiment under Freiherr
Friedrich von der Heydte
,
virtually out of ammunition, had abandoned the town during the night, leaving only a small rear guard. By 0730 of June 12 Carentan
was captured. Cole was recommended for a Medal of Honor for his actions that day, but did not live to receive it.
Death and burial ground of Cole, Robert George.
On 18-09-1944, during Operation Market Garden, Colonel Cole, here with 
Crilley, Joseph "Joe" James,
Captain of the 101 Airborne Division, 326th Engineers C Company. My personal dear friend,
commanding the 3
rd
Battalion of the 502
nd
PIR
  in Best, Netherlands, (see 
About
) (see 
Jack Brook
)
got on the radio. Robert Cole decided to request an air raid to push the Germans back somewhat. A Glid Landing was scheduled for 1:00 PM and was protected by a number of P-47 Thunderbolts. His radio operator and Tech/5 best friend Robert E. Doran
called in the request. Cole left their foxhole to share his decision with Major
John Stopka
.
John P. Stopka, age 29, was killed on 14-01-1945 near Michamps/province of Luxembourg Belgium by American planes who bombed the 3rd Battalion by a misplaced 500 lb bomb dropped by a P47. Ivan Hershner. Robert Cole had barely left when a mortar hit nearby, killing Robert Doran instantly. Robert E Doran is buried or memorialized at Plot B, Row 5, Grave 19.
Cole returned shortly after and had to wipe his best friend's blood off the radio, which thankfully still worked. A pilot asked him to put some orange identification panels in front of his position. Cole decided to do it himself. He was placing a panel on the ground when he was shot and killed by a German sniper.
Captain Ivan Hershner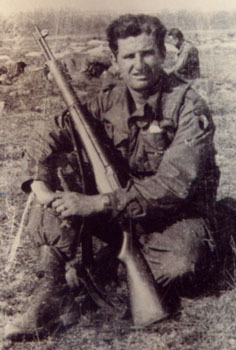 , the C.O. of Item Co, who died age 81 in 2005, was sent to the responsible AAF fighter squadron in spring, 1945, to determine why that fatal mistake happened. The final finding was that the 3
rd
Battalion of the Deuce had advanced too far and too fast the day and Stopka's group from 3/502 was in an area that was still supposed to be occupied by German troops. As Cole's widow and two-year-old son Bruce looked on, Cole's mother accepted his posthumous award on the parade ground, where Cole had played as a child, at Fort Sam Houston. In September 2009, for the 65
th
anniversary of Operation Market Garden, Cole's son Bruce with his wife, came to Best/Holland to unveil a monument on the spot where his father was killed by a sniper.
 The 101 Airborne Division had the next losses during their campaign in Europe; In Normandy, killed/died of wounds 868, wounded in action 2.303, missing/captured 665. In Holland killed 752, wounded 2.151 and missing 398. In the battle of the Bulge in Belgium, killed 482, wounded 2.449 and missing 527, in total killed 2.043, wounded 2.782 and missed 1590. Cole is buried, age 29, at the Netherlands/American Cemetery and Memorial, in Margraten, Plot B. Close by the grave of Infantry General, Commander Third Armoured Division
, Maurice Rose
,
killed in an ambush near Heidelberg. In Best close to the Robert Cole's spot, Joe Mann
another Screaming Eagle sacrifacied himself to save the lives of some comrades (see 
Joe Eugen Mann
). A grenade landed in their foxholl within a few feet of Private Mann. Unable to raise his arms, which were bandaged to his body, he yelled "grenade" and threw his body over the grenade, and as it exploded, died.