Allen, Terry de la Mesa Sr, "Terrible Terry", born 01-04-1888 in Fort Douglas, Utah,
was a World War I veteran, In June of 1918, 14 months after the U.S. entered World War I, Terry Allen was a captain, a passionate and accomplished poloist, a drinker and bachelor of considerable renown
, a cavalryman without a war where horses were required. In that month he went to France, where he soon got his first infantry command. At a school for infantry officers in France, Allen arrived the day before a class was to graduate. He lined up with that class. Said the commandant, passing out certificates "I don't remember you in this class." "I'm Allen—why don't you?" Allen brazenly replied. He got his certificate, and as a temporary major he led a battalion of the 90th Infantry Division
into battle at St. Mihiel and Aincreville, won a citation and a Silver Star
"for distinguished and exceptional gallantry" got a bullet through the jaw and mouth.(His friends noticed soon afterward that be had lost his stutter, and surmised that the facial wound had cured him.). Casualties of the 90 Division during WWI: Total-7,549 (KIA-1,091; WIA-6,458). His acquaintances of that period still yarn about his Paris operations, remember more about his escapades than about his combat achievements. After the Armistice, Allen served with the Army of occupation. One night, at a party in occupied Germany, Allen arrived late and paired off, without introductions, with a charming British officer. They slapped each other's backs, swapped drinks and stories until the shank of morning. Next day someone asked Allen whether he knew who the Briton was. "No, who?" said Allen. "The Prince of Wales,"
was the reply. "Oh, my God," said Allen. Later, the Prince invited Allen to another party. Allen announced that he had disgraced himself sufficiently and he was not going. The Prince insisted. Allen went to the party; again had a satisfactory evening. But Allen's brother officers remember other qualities. In the same period, Allen once said "I wish the war hadn't stopped when it did. It's a damn shame—I was just beginning to get good ideas about commanding infantry battalions. I wish I could go back to the front and try them out." Instead, in 1920, he returned to the U.S., twenty-one years of more or less peaceful Army life and the kind of luck which so often favors the bold.
After the war Allen returned to the cavalry. and many cavalrymen, sensing the end of their service, went into the embryo tank service. Terry Allen did neither. He made merry at Fort Bliss, Fort Riley, and Fort McIntosh. He endured two years at Fort Leavenworth's Command & General Staff School, an all but indispensable preliminary to senior rank. In his class of 241 members, he finished 221st. General (then Major) Dwight Eisenhower
finished first.
During World War II was the Commanding General of the in North Africa and Sicily and later the commander of the 104th Infantry Regiment. Allen here with Omar Bradley
participated in the Operation Torch, the invasion of Sicily and took part in Operation Husky. Allen and his second in command Brigadier General Theodore "Teddy" Roosevelt Jr., son of former U.S. President Theodore Delano Roosevelt, distinguished themselves as combat leaders. Theodor Roosevelt Jr. died after a heart attack on the Normandy beaches during Operation Oerlord and is buried on the American Cemetery of Vierville in France.
General Louis-Marie Koeltz, commander of the French XIX Xorps, presents the Croix de Guerre to Terry Allen (center)
and Ted Roosevelt for their valor in the Tunisian campaign. Another associate under his command, was Chief of Staff,
Norman Cota
who would play an important military role in the Invasion of Normandy, as he ordered the stocked men to go on. Cota died in 1971, at the age of 78 and is buried on the West Point Cemetery. After battles with the 104
th
Division, nickname "Timberwolf Division" or "Nightfighters"
 , in Holland (see 
About
) and the battle of the Bulge
Anthony McAuliffe
, 
he advanced throught the Siegfried Line and across the Inde River into Cologne. The 104
th
Division returned to the United States on 03-07-1945. Upon return, it continued the process of demobilization until 20 December of that year, when it was inactivated. The division suffered 1.294 killed in action, 5.305 wounded in action, 385 missing in action, and 27 prisoners of war. The division suffered a further 6.396 non-battle casualties, for a total of 13.407 casualties. The division took 51.727 German prisoners during the war, most of whom surrendered following the armistice. During World War II, soldiers of the division were awarded two Medals of Honor, 14 Distinguished Service Crosses, one Distinguished Service Medal, 642 Silver Star Medals, six Legion of Merit medals, 20 Soldier's Medals, 2,797 Bronze Star Medals, and 40 Air Medals. The division received 9 Distinguished Unit Citations and three campaign streamers during 200 days of combat. .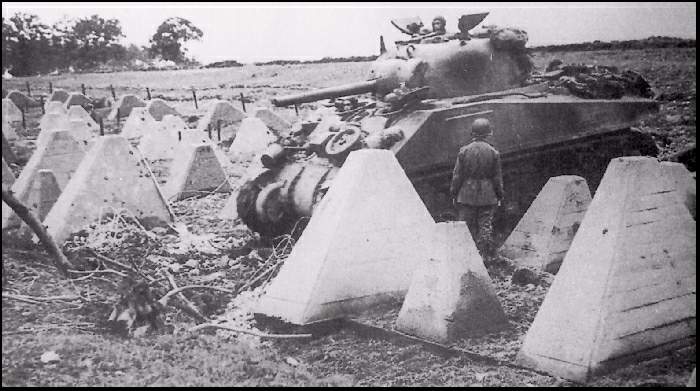 His division helped to complete the encirclement of the Ruhr Pocket. During World War II, most U.S. black soldiers still served only as truck drivers and as stevedores (except for some separate tank, tank destroyer, and artillery battalions as well as in Army Air Force fighter units). In the midst of the Battle of the Bulge, General
Dwight "Ike" Eisenhower
 was severely short of replacement troops for existing military units which were totally white in composition. Consequently, he made the decision to allow African American soldiers to pick up a weapon and join the white military units to fight in combat for the first time. More than 2.000 black soldiers had volunteered to go to the front. This was an important step toward a desegregated United States military. A total of 708 African Americans were killed in combat during World War II. The German Generalfeldmarschall,
Walter Otto Model 
committed, defeated, suicide in the area. Finally the division was deactivated in June 1946 upon its return to the United States at the end of the war. His son Lieutenant Colonel Terry De La Mesa Allen, Jr
was killed in the Vietnam War on 17-10-1967, age 38, while commanding the 2
nd
Battalion, 28
nd
n
Infantry Regiment,
the same unit his father commanded in World War II.  
From left: Brigadier Geneneral Theodore Roosevelt Jr., Geneneral Terry Allen, and Lieutenant General.
George S. Patton Jr.
in El Guettar, Tunisia, 17-06-1943.
Death and burial ground of Allen , Terry de la Mesa Sr, "Terrible Terry".
Two years later Major General Terry de la Mesa Allen, Sr., died of natural causes on 12-09-1969, in El Paso, Texas, at the old age of 81. He was buried, alongside his son, Lieutenant Colonel Terry De La Mesa Allen, Jr and wife Mary Frances, born Robinson, Allen, who died age 78 in 1978, in the Fort Bliss National Cemetery with full military honors.