Stark, Harold Raynsford "Betty", born 12-11-1880 in Wilkes Barre, Pennsylvania, enrolled in the United States Naval Academy in 1899 and graduated with the class of 1903. As a plebe there he received the nickname "Betty" after Elizabeth Page Stark, the wife of the Revolutionary War General John Stark, who was being commemorated at the time. From 1907 to 1909, Stark served on the battleship USS Minnisota
 before and during the U.S. Atlantic Fleet's cruise around the world  The Minnisota was stricken from the Naval Vessel Register the same day and was sold for scrap on 23-01-1924. The Minnesota was thereafter was broken up for scrap at the Philadelphia Navy Yard.
During the later 1920s and into the mid-1930s, with the rank of Captain, he was successively Chief of Staff to the Commander, Destroyer Squadrons Battle Fleet, Aide to the Secretary of the Navy, and Commanding Officer of USS West Virginia. From 1934 to 1937, Rear Admiral Stark was Chief of the Bureau of Ordnance 
He then from July 1938 served at sea as Commander Cruiser Division Three and Commander of Cruisers in the Battle Fleet, with the rank of Vice Admiral. As CNO, Stark oversaw combat operations against Japan and the European Axis Powers that officially began in December 1941. In March 1942, Stark was relieved as CNO by Admiral Ernest King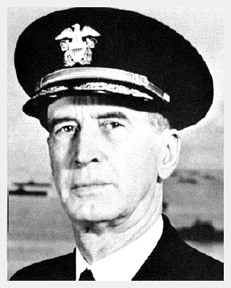 He went to England the next month to become Commander of U.S. Naval Forces
 in Europe. From his London headquarters, Admiral Stark directed the naval part of the great buildup in England and U.S. Naval operations and training activities on the European side of the Atlantic. He received the additional title of Commander of the Twelfth Fleet
 in October 1943, and he supervised USN participation in the landings at Normandy,
 France in June 1944. Admiral Stark built and maintained close relations with British civilian and naval leaders, who "generally adored him", and also with the leaders of other Allied powers.
  Stark was particularly important in dealing with Charles de Gaulle it was thanks to Stark the U.S.-British-Free French relationship continued to work. He earned high praise from King for his work. After the Normandy landings, Stark faced a Court of Inquiry over his actions leading up to Pearl Harbor. The Court concluded Stark had not conveyed the danger, nor provided enough information, to Husband Edward Kimmel but had not been derelict. King's endorsement of the report was scalding, leading to Stark being relieved. In 1948, King reconsidered and requested the endorsement be expunged: "It was the only time that King ever admitted he had been wrong."
Death and burial ground of Stark, Harold Raynsford "Betty".
From August 1945 until he left active duty in April 1946, Stark served in Washington.D.C. and made his home there after retirement. He died old age 91 on 20-08-1972 1972 and is buried with his wife Katharina, born Roads, who died old age 90, on 02-07-1970, on Arlington National Cemetery, Section 30. Close by the graves of Major General, Chief Signal Officer, George Back, Major General, Commander 116th and 29th Division, D-Day "The blue and Gray"
 (see Franz Göckel), Charles Canham, Lieutenant General, Commanded the 5th Marine Division, Thomas Bourke, Lieutenant General, Commander 2nd Armoured Division, Ted Brooks, Admiral, Robert Ghormley and General, Deputy Chief of Staff, Bomb on Hiroshima, Thomas Handy, General Major, Commanding General 3rd Armored Division
, North-West Europe. Robert Walker Grow, The 3rd Armored Division had 231 days of combat in World War II, with a total of 2.540 killed, 7.331 wounded, 95 missing, and 139 captured. Total battle and non-battle casualties came to 16.122. The 3rd Armored Division lost more tanks in combat than any other U.S. division. Combat Command A lost more tanks than any other unit in the 3rd Armored Division. On 31 March, the commander of the division, Major General Maurice Rose
famed as one of few Commanding Generals to frequent the front lines during combat, rounded a corner in his jeep and found himself face to face with a German tank. As he withdrew his pistol to surrender, a young German tank commander, apparently misunderstanding Rose's intentions, shot the General. Also buried here, 1* General Lieutenant, Commanding Officer Artillery, 11th Airborne Division, Francis William Farrell 
. The division had 2.431 casualties in 204 days of combat. Also a remembrance stone for the, age 44, missing in action Brigadier General,Charles Keerans the assistant commander of the 82nd Airborne Division
under General Matthew Bunker Ridgway.