Gockel, Franz, born 30-12-1925 in Niederense,
called after his father Franz, the oldest son of seven children, in a roofing company family. He also started an education as roofing worker in Rhynern, being 14 years old and accepted in the firm in 1943. He, age 17, was called up for the Labour Service and after a short training sent to Normandy. He was a machinegun gunner in the 726
th
Infantry Regiment with the 716
th
Infantry Division
 under Generalleutnant, Wilhelm Richter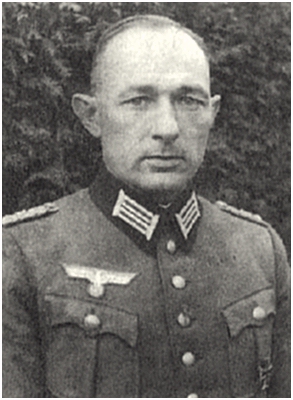 on Omaha Beach. Richter
 died age 78, on 04-02-1971. The division was raised on 02-05-1941 and sent to German-occupied France in June 1941. Many of the Division's troops were elderly Germans and conscripts from other German occupied countries, especially Russians. As such it was not equipped with the standard configuration of vehicles and heavy weapons. Much of the Division's artillery and anti-tank guns were from captured armaments. 
 Franz and his partners
Hans Warnecke, Heinrich Severloh, Helmut Kieserling and
Bernhard Frerking
  were stationed  the Widerstandnest 62 at the beach of Colleville.
 with their old water cooled Czech's machine guns, captured in Czechie in 1939.
Heinrich Severloh
,
nicknamed by the veterans as "The beast of Omaha" who claimed in his autobiography that as a machine gunner in a foxhole, he inflicted over 1.000 casualties, he survived the war and died age 82, on 14-01-2006, in Lachendorf. An American soldier of the
Bedford Boys
, 
David Silva, Company D of the 116
th
Infantry Regiment
wounded by three bullets in the chest on Omaha Beach, was contacted by Severloh in the 1960s after Severloh found Silva's name in the Cornelius Ryan book "The Longest Day". Silva was a military chaplain and stationed in Karlsruhe, Germany where they later met. They met again at the 2005 reunion of Allied Forces in Normandy
Allen Huddleston, the last of the famed Bedford Boys, passed away on the morning of 10-02-2016, age 96.
.
On June 6th 1944 early in the morning Operation Overlord started, Gockel and his comrades saw 'a huge collection of ships, which stretched across the whole horizon'. Units within the 116th suffered heavy casualties during the landings. With 1st Battalion's Alpha Company taking 96% casualties in the first wave on Omaha Beach. Though the fighting was heavy, the 116th pushed through and enabled the invasion force to establish a foothold in France. Later the 116th paved the way and participated in the assault of Saint Lo. When the battle started, he says, these ships created a 'wall of fire' to give cover to the huge numbers of Allied troops that took part of the landing The first Americans reached the beach and the battle started. They fired from 70 meters from the sea wall and around 450 meters from the landing area of the first wave of Higgins Boats
 Soon the beach was covered with American bodies, dead and wounded men. Later they claimed to have fired over 12.000 rounds with the machine gun and 400 with the rifles, giving a total weight of ammunition of over 560 kilograms. Gockel's weapon became so hot it burned the grass around him. But they still came on, wave after wave disgorged from the landing craft that made it ashore. At about 8 am Gockel's machine gun failed and he had to use his pistol to protect himself – it just fired single shots. He stayed there until about midday on his own until a commander called Siegfried came and asked him to go up to the bunker and get him something to eat from about 100 meters up the beach. He crawled up the beach and to the bunker, and two others came up to him 
and he got them to give him cover as he went for the bunker. They all ate together and then he had to go to the toilet, and in doing so he tore his trousers. He went back 30 or 40 meters to an anti-tank position and they gave him some trousers. He wanted to go back to Siegfried, who had asked for the food, but the Americans were already there. They had taken the position. Gockel went back to the pair he had eaten with and then a shot came in and went through his hand.
 His hand was bandaged by his friend Franz Wilden
 who would die on 08-06-1944, age 17. That was his 'home shot'. He found many of the people from the beach that day, Siegfried and the two he had eaten with, in the graveyard afterwards. There were about 30 there that he knew. He was saved by going to get that food. His main thought throughout was that he had to fight to survive. He wanted to get back home to his six brothers and sisters. He succeeded to reach the company bunker in Colleville and was taken to the hospital in Balleroy. Many of the men he shot were from Bedford. Like eleven other Virginia communities, Bedford provided a company of soldiers (Company A) to the 29
th
Infantry Division, nickname "Blue and Gray"
 when the National Guard's 116
th
Infantry Regiment , nickname "Stonewall Brigade" after
Thomas Jonathan
"
Stonewall
"
Jackson, the first commander in 1861 
 , was activated on 03-02-1941. Some thirty Bedford soldiers were still in that company on D-Day; several more from Bedford, "the Bedford Boys"
 were in other D-Day companies, including one who, two years earlier, had been reassigned from the 116
th
 Infantry, under then colonel, later General,
Charles Draper William Canham
, 
to the First Infantry Division, under General
Clarence Ralph Huebner
. 
Bedford town now has a moving war monumemt.  Thus he had already landed in both Northern Africa and Sicily before coming ashore on D-Day at Omaha Beach with the Big Red One
. Company A of the 116
th
Infantry
assaulted Omaha Beach as part of the First Division's Task Force O. By day's end, nineteen of the company's Bedford soldiers were dead. Two more Bedford soldiers died later in the Normandy campaign,
as did yet another two assigned to other 116
th 
Infantry companies. Within fifteen minutes all of the officers and most of the NCOs of Company A were killed or wounded with one exception, and the rest of the company suffered over 60% casualties. Bedford's population in 1944 was about 3.200. Proportionally this community suffered the nation's severest D-Day losses. Total casualties of the 1
st
Division during their European campaign, 4.411 killed in action, 17.201 wounded in action and 1.056 missing or died of wounds. The 29
th
Infantry Division under D-day General,
Charles Hunter Gebhardt
suffered 3.720 killed in action, 15.403 wounded in action, 462 missing in action, 526 prisoners of war, and 8.665 non-combat casualties, for a total of 28.776 casualties during 242 days of combat. Back home Franz Gockel tried to forget his Normandy adventures and resumed work in the family company and took the leading of the company eighteen years later and expanded it successful. Coping with a trauma Gockel returned to Normandy in 1958 to meet friendly French families who welcomed him very hearty.
 He was invited by the mayor of Colleville and Gockel made an effort for the German-French and German-American reconciliation and replied on invitation of American Veteran Associations to meet in the USA. He had much correspondence with several GI's who survived Omaha Beach and returned to Normandy almost every year on 06-06 D-Day, to join the festivities, visits of war cemeteries and meeting with Americans veterans.
Death and burial ground of Gockel, Franz.
Mid 2005 his health reversed and he died age 79, on 22-11-2005 from diabetic. His wife still lives in Rhijnern.
Franz Gockel is buried on the local Catholic cemetery in Rhijnern.
Message(s), tips or interesting graves for the webmaster:    robhopmans@outlook.com