Rómmel, Juliusz Karol Wilhelm Józef, born 03-06-1881 in Grodno, Russia,
 in fact heirs to one of the oldest German families in Central Europe, tracing its roots to family of Karol Aleksander Rummel, a General in Russian service and commanding officer of the 26th Artillery Brigade stationed in that town. His mother was Maria born Marcinkiewicz. He had two brothers: Karol Rómmel
born 23-05-1888, competed in the 1912 Summer Olympics
(in the Russian team), the 1924 Summer Olympics,
and in the 1928 Summer Olympics 
(for Poland). As a military officer he served with distinction in World War I and the Polish-Bolshevist War. He died 07-03-1967, age 78, in Elbląg, and is buried at the Gdańsk's Zaspa cemetery.
And brother  Jan, Karol Rómmel, who joined the ranks of the Imperial Russian Army.
 .They all graduated from the Konstantin's Artillery School in St. Petersburg
in 1903 and Juliusz served in the Russian Army in the rank of colonel. During the Great War he served as the commanding officer of the 1st Artillery Brigade. In 1917 he was transferred to the Polish II Corps
being formed in the area of Ukraine and became one of its organizers. During the Russian Civil War he commanded the Polish Light Brigade, a part of General Zeligowski's 4th Rifle Division
. Interned by Austria-Hungary, in 1918 he joined the Polish Army. In 1922, he was promoted to the rank of Brigadier General and continued his service in the army at various command posts. Among other posts, he continued to command his wartime unit until 1924 and then between 1926 and 1939 he was an army inspector within the General Inspectorate of the Armed Forces. In 1928 he was promoted to the rank of Lieutenant-General. In March 1939 he was given command of the Łódź Army, a Polish tactical group that was to link the southern and northern flanks of the Polish Army during the probable war with Germany. He located his forces close to the border with Germany. When the Polish Defensive War finally broke out on 1 September 1939, this proved to be a fatal move. Without any natural defenses, Rómmel's army was easily outmaneuvered and cut out from the rest of Polish forces, without much chance to act as a pivot of the Polish defences or even withdraw from the enemy. Under still uncertain circumstances, Rómmel and his staff were separated from his army and headed for Warsaw where they arrived in the night of 7–8 September. The Commander-in-Chief Edward Rydz-Smigly
, gave him command over all the Polish forces in the ad-hoc organized Warsaw Army, which included the Warsaw Defense Force under General Walerian Czuma
and the Modlin Fortress defense force under General Wiktor Thommée, Thommée died age 80, on 12-09-1962.
Rydz-Śmigły issued him a signed order to "..defend the city as long as ammunition and food lasts, to hold as many of the enemy forces as possible." He signed all the proclamations to the civilian population, as well as the final act of capitulation of Warsaw on 28 September. Before the surrender, Rómmel authorized Generaal  to create the Służba Zwycięstwu Polski,
was the first Polish resistance movement in World War II. Karaszewski 
died age 71, on 22-05-1964.  Rommel spent the rest of the war interned in German POW camps, the final years in Oflag VII-A Murnau.
Liberated by the US 12th Armored Division, nickname "Hellcat Division"
under command of Major General Carlos Brewer
in April 1945, he was not welcome in the Polish II Corps under General Wladslaw Anders 
and decided to return to Poland. Because of that, he was praised by communist propaganda as a war hero. Casualty figures for the 12th Armored Division, European theater of operations Total battle casualties: 3.527, Total deaths in battle: 732.
Major General Carlos Brewer married Grace Moore (1891–1956) on 20-12-1913. They had four children: Carlos Jr., Edward, Robert, and Grace Elizabeth Brewer Schulten. After the death of his first wife from tuberculosis in 1956, he married Mary Taylor Williams in 1959. At West Point, he was on the polo team, was an expert marksman, and was on the broadsword team. He also was an avid chess player, and was one of twenty players at West Point who played simultaneous games against nine-year old Polish chess prodigy Samuel Reshevsky in 1920. Reshevsky won 19 of the 20 games, including the game against Brewer, which lasted just under two hours He died 29-09-1976 aged 85 in Columbus, Ohio.
Small world: General Juliusz Rómmel, who led the defense of Warsaw against the German invasion in 1939, was a distant cousin of future German Field Marshal Erwin Rommel.
Rómmel's family line went back to Matthias Heinrich Freiherr von Rummel, a Livonian Brother of the Sword
who settled in what is now Latvia to support the Teutonic Knights in their struggle against the pagan Balts. Despite his Germanic heritage, Rómmel family spoke Polish at home and Juliusz was patriot and hero. Even in defeat he urged Poland to fight on, announcing: "The present adversity is temporary, the victory will be ours. And remember: Poland is not yet lost, so long as we still live. And what alien force has seized, we shall retrieve with force.
Death and burial ground of Rómmel, Juliusz Karol Wilhelm Józef .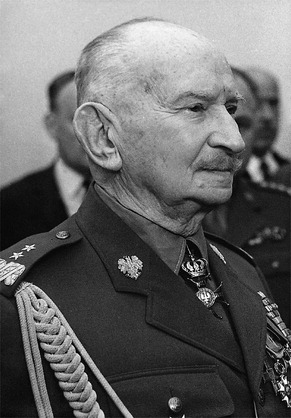 Rommel was also awarded with the Commander's Cross of Virtuti Militari. In 1947 he was retired from the army and spent the rest of his life writing books. Rommel died at the old age of 86, on 08-11-1967 and is buried on the cemetery Powazki, in Warsaw. Section A 23, Alley of Deserving, Nr 15. Grave photo and lokation from Radek Hroch.