Regnier, Eugene Arthur, born 22-12-1893 in Concordia, Kansas, was a career army officer who enlisted in June, 1917 and retired as a Brigadier General in 1946. Regnier served in France during World War I, and as a liaison officer with the insular government of the Philippines (1928-1929). As a liaison officer with the U.S. Department of State, from 1929 to 1932, Eugine Regnier attended disarmament conferences and was assigned to the office of the secretary of state. He commanded a Civilian Conservation Corps (CCC) camp, 1933, served as a Calvary officer from 1933 until 1940, and then served as an aide to the U.S. Secretary of War in the Office of the Chief of Staff. Regnier, a career army officer, was a friend of Secretary of War, Henry Lewis Stimson, having served as Stimson's aide during his tenure as Governor-General of the Philippines, secretary of state, and secretary of war from 1940 to 1941.Regnier also served as a combat commander in the European theater of operations. From 19421 he was the Commanding Officer 91st Reconaissance Squadron
. The 91st  Strategic Reconnaissance Squadron was detached from the Wing at McGuire AFB and placed under operational control of the Far East Air Force. On 15-11-1950, at Johnson AB, Japan the 91st SRS absorbed the personnel and resources of the 31st Strategic Reconnaissance Squadron. The squadron moved to Yokota AB, Japan, 19-12-1950. From December 1942 temporary as Commanding Officer 6th Armoured Regiment. Became the Commanding Officer Combat Command B 6th Armoured Division, nickname "Super Sixth"
, until 27-06-1945, under 2* Major General, General Robert Walker Grow. On 23-12-1944, the division was ordered north of Metz to take part in the Battle of the Bulge,
 and took over a sector along the south bank of the Sauer. The 6th was heavily engaged in the battle for Bastogne,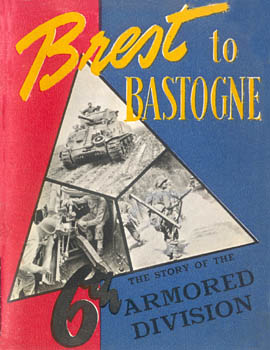 finally driving the enemy back across the Our River into Germany by late January 1945. The division was deactivated on 18-12-1945 at Camp Shanks, New York. Casualty figures for the 6th Armored Division, European theater of operations, total battle casualties: 4.670 and total deaths in battle, 993.
Death and burial ground of Regnier, Eugene Arthur.
Then Regnier became Director of Research & Development Division of Army Service Forces until March 1946 and retired in July 1954 from the service.He died in Carlsbad, California, on 07-12-1956, age 62 and is buried on Ford Roscrans National Cemetery, in San Diego, Section O.