Clark, Mark Wayne "Contraband", born on 01-05-1896 in Sackets Harbour,
but spent much of his youth in Highland Park, Illinois, while his father, a career infantry officer, was stationed at Fort Sheridan. His mother was the daughter of Romanian Jews but Clark was baptized Episcopalian while a cadet at West Point. 
known as "Contraband" by his classmates because of his ability to smuggle sweets into the barracks, graduated in class 139, from West Point in April 1917.
he graduated from West Point almost the worst in his class.
During World War I, he led a company of soldiers in 1917 and served in France  in the U.S. II
th
Infantry Regiment, part of the 5
th
Infantry Division, "Red Diamont"
, and was seriously wounded by shrapnel, in the Vosges Mountains. After the war, Clark's abilities were noticed by General
George Catlett Marshall
.
During World War II, Clark's duties in this succession of assignments was to plan and direct the training of units for the invasion of North Africa known as Operation Torch. He was the Allied Commander in Italy. He is known for ordering the destruction of the abbey at Monte Casino.
 All the fire has been from the slopes of the hill below the wall". Clark pinned down the Commander-in-Chief Allied Armies in Italy, General
Sir Harold Alexander
  "You give me a direct order and we'll do it", he did. Clark's conduct of operations in Italy is controversial, particularly his actions during the Battle of the Winter Line.
Pope Pius XII
 thanked Clark for liberating Rome. Clark being awarded the Distinguished Service Cross by President
Franklin D. Roosevelt
in Castelvetrano, Italy, 13-12-1943. The American military historian Carlo D'Este called Clark's decision to take Rome "as militarily stupid as it was insubordinate". Although Clark described a "race to Rome" and released an edited version of his diary for the official historians, his complete papers became available after his death. His subsequent entry into Rome and Vatican City in 1944 ignoring orders, the action which allowed the escape of the German 10
th
Army, who joined their countrymen at the Transimene Line. Carlo D'Este
(born 1938 in Oakland, California is an American military historian and biographer, author of several books, especially on World War II.
He is a retired U.S Army Lieutenant Colonel. In Vatican City he was welcomed by Msgr Caroll, a native of Pittsburg, who was a diplomat assigned to the Vatican Secretariat of State. Msgr Caroll died in 1950 at the age of 41. He had two brothers and they became bishops.
General Clark receiving the order of Militairy from Brazilian General Eurico Gaspar Dutra
in Pisa Area Italy on 30-09-1944
Both
Sir Winston Churchill
and General
Dwight "Ike" Eisenhower
 considered him a brilliant staff officer and trainer.
Clark won many awards, including the Distinguished Service Cross for extreme bravery in war, subordinate only to the Medal of Honor. He was promoted to General on 10-03-1945, and at the war's end Clark was Commander of Allied Forces in Italy and later, U.S. High Commissioner of Austria. On 20-10-1951, he was nominated by President
Harry Shipp Truman
to be the United State emissary to the Holy See. Clark married Maurine Doran, daughter of Mr. and Mrs. M. A. Doran of Muncie, Indiana., 17-05-1924. Mrs. Clark died 0 5-10-1966. Here selling war bonds
Death and burial ground of Clark, Mark Wayne "Contraband".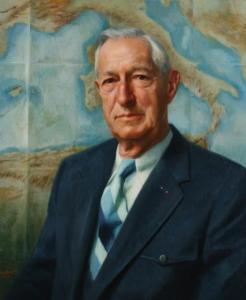 Their son is Major William Doran Clark, 
U.S.A. (Ret.), and their daughter Patricia Ann (Mrs. Gordon H. Costing). Clark continued to live in Charleston until his death of cancer, at the old age of 87, on 17-04-1984. Major Clark died on his daughter's farm in Washington, Virginia. He was preceded in death by his wife Suzanne. He had asked to be buried on the Citadel campus, Charleston South Carolina. Major Clark served as a civilian at the Pentagon, where he held various positions, including Principal Deputy Assistant Secretary of the Army (Manpower and Reserve Affairs). In 1989, he received the Distinguished Civilian Service Award by his father.