Alexander, " Earl of Tunis" Harold Rupert Leofric George, born in London
10-12-1891, the third son of James Alexander, 4th Earl of Caledon,
and the Countess of Caledon, a daughter of the 3rd Earl of Norbury. Alexander was educated at Hawtreys and Harrow School, there participating as the 11th batsman in the sensational Fowler's Match against Eton College in 1910. Though Alexander toyed with the notion of becoming an artist, he went instead on to the Royal Military College, Sandhurst. Alexander married Lady Margaret Diana Bingham,
daughter of George Bingham, 5th Earl of Lucan on 14-10-1931. They had three children together and adopted a fourth,
Lady Rose Maureen Alexander (born 28-10-1932, died 21-08-2017), Shane William Desmond Alexander, 2nd Earl Alexander of Tunis (born 30-06-1935), Hon Brian James Alexander, CMG (born 31-07-1939)and  Lady Susan Mary Alexander (born 26-02-1948) (adopted).
In September 1911, Alexander entered the Royal Military College, Sandhurst, and was commissioned as a second lieutenant in the Irish Guards. He was promoted to lieutenant in December 1912. Alexander spent most of the First World War on the Western Front. As a 22-year-old platoon commander in the 1st Battalion, Irish Guards, he served with the British Expeditionary Force (BEF) in 1914. He took part in the retreat from Mons and was wounded at First Ypres and invalided home. He was promoted to temporary captain on 15-11-1914 and permanent captain in the newly raised 2nd Battalion on 7 February the following year
He rose to prominence through his service in the First World War, receiving numerous honours and decorations. During his service on the Western front, Alexander was wounded twice in four years of fighting. For his bravery and sacrifice, he received in January 1916 the Military Cross.
He was the life and soul of the attack, and throughout the day led forward not only his own men but men of all regiments. He held the trenches gained in spite of heavy machine gun fire. Earl Alexander was also inducted into the French Légion d'Honneur. After the defeat in France in 1940, he successfully led the division's withdrawl to Dunkirk.
Alexander continued his military career through various British campaigns across Europe and Asia, in World War II. Alexander was as a high ranking commander in North Africa and Italy, against Fieldmarshal
Erwin Rommel
,
He commanded the 15
th
Army Group
 in Sicily and later again in Italy before being made Supreme Allied Commander Mediterranean. Alexander presided over Montgomery's victory at the Second Battle of El Alamein and the advance of the Eighth Army to Tripoli, for which Alexander was elevated to a Knight Grand Cross of the Order of the Bath. Alexander was concurrently promoted to the rank of Field Marshal, though this was backdated to the fall of Rome on 04-06-1944, so that Alexander would once again be senior to
Bernard Montgomery
, 
who had himself been made a Field Marshal on 01-09-1944, after the end of the Battle of Normandy. (see
Philippe Kieffer
).
Franz Gockel
 a German Soldier of 726
th
Infantry Regiment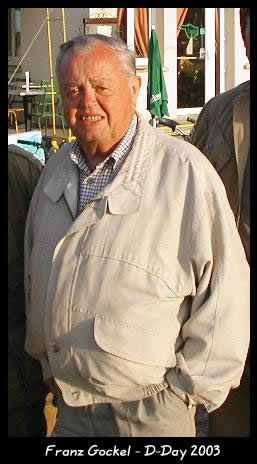 claimed to have shot hundreds of American soldiers of the 116
th
Infantry Regiment
 on Omaha Beach, stationed at his Widerstandnest 62, with his Czech watercooled MG, machinegun, a booty of the Chechian invasion of 1939. A teenage soldier in the Wehrmacht, Gockel had his 18
th
birthday while serving as a gunner in a 'resistance nest' Nr 62, with 726
th
Grenadier Regiment, on Omaha beach. He was shot in the hand and evacuated to Paris before serving again and being captured b y the Americans. After 18 months in custody he was released and returned to his home town of Hamm, where he set up a roofing company and still lives with his wife. Gockel has made regular trips to Normandy since shortly after the war, and has many friends there. Franz Gockel died age Franz Gockel died age 79, from diabetic, 22-11-2005 in Rhijnern. The 116
th
Regiment casualties on D-Day,
KIA: 349, WIA: 422, and MIA: 26, total
797. .
the 1
st ,
nickname "The Big One" nd 29
th
, nickname "Blue and Gray" divisions held positions around Vierville, Saint-Laurent, and Colleville—nowhere near the planned objectives, but they had a toehold. The Americans suffered 2.400 casualties at Omaha on June 6, but by the end of the day they had landed 34.000 troops.  The German 352
nd
Division 
lost 20 percent of its strength, with 1.200 casualties, but it had no reserves coming to continue the fight. Rewarded for his leadership in North Africa and Italy, opponents Generalfeldmarschall der Panzertruppe,
Erwin Rommel
 and Generalfeldmarschall der Flieger,
Albert Kesselring
.
Alexander, here with General
Edgar E. Hume
, along with a number of other prominent British World War II military leaders, was elevated to the peerage on 01-03-1946 by King
Georg V
he was created Viscount Alexander of Tunis.
Death and burial ground of Alexander, " Earl of Tunis" Harold Rupert Leofric George.
Alexander retired in 1954 and died 15 years later at the age of 77, on 16-07-1969, after heart failure, when he was interred at Ridge, Hertfordshire.