Andersen-Brunnenberg, Lale, born 23-03-1905 in Bremerhaven,
as Lise-Lotte Helene Berta Bunnenberg.  She is best known for her release: "Lili Marlene", was a German chanson singer-songwriter. Her interpretation of the song "Lili Marleen" in 1939, became tremendously popular on both sides during World War II. The song is composted by  
Norbert Schultze
 and the song text by Hans Leip, a German novelist, poet and playwright.
He also wrote plays, short stories, poems, dramas and was also a painter and sculptor. Joseph Goebbels the propaganda chief didn't succeed to banish this song from the radio, he called this song "Lied mit dem Totentanzgeruch", "Song with a dead smell" which did not inspire the soldiers to fight. Nobert Schultze died at the very old age of 91, on 14-10-2002 in Braunschweig and buried on the Hauptfriedhof, Schultze was also composer of the soldier song "Bomben auf England", Bombs on England. Hans Leip, died 89 years old, on 06-06-1983 in Frutwillen. Andersen was awarded a gold disc for over one million sales of "Lili Marleen" 
It is thought that she was awarded her copy after hostilities ended. HMV's copy was discarded during renovations to their flagship store on Oxford Street, London, in the 1960s where, hitherto, it had been on display. The disc was recovered and is now in a private collection. Nazi officials did not approve the song and Joseph Goebbels prohibited it from being played on the radio. Andersen was not allowed to perform publicly for nine months, not just because of the song but because of her friendship with Rolf Liebermann 
 a Swiss composer and music administrator and other Jewish artists she had met in Zurich. In desperation, she reportedly attempted suicide. Rolf Liebermann died 02-01-1999, aged 88,  in Paris.
Andersen was so popular, however, that the Nazi government allowed her to perform again, 
albeit subject to several conditions, one of which was she would not sing "Lili Marleen". Goebbels did order her to make a new "military" version of the song (with a significant drum) which was recorded in June 1942. In the remaining war years, Andersen had one minor appearance in a propaganda movie and was made to sing several propaganda songs in English. Lale married the local painter Paul Ernst Wilke, he died age 77, in 1971 and they had three children, Björn, Carmen-Litta and Michael. Soon after the birth of Michael, they divorsed.
 Andersen's career was more important for her than her family and children, as she left, after been married at the age of 17 and after the birth of her third child, her home in Bremerhaven, for Berlin. Her sister Thekla and brother Helmut took care of the children. Joseph Goebbels was not only the propaganda chief but also the Gauleiter of Berlin (see 
Joseph Goebbels
) (
did you know
). Lale played a clear roll in the Nazi period, with many performances on radio. Her repertoire became more sentimental, she was a permanent artist in the NS "Kraft durch Freude"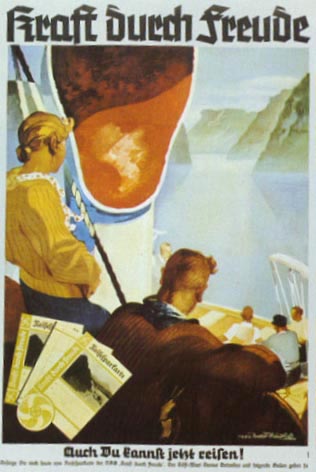 "Power through Pleasure", meetings. Since 1940 she gave many performances for the German front soldiers. However she also take care of resistance friends, smuggled them out of the country and had contacts with different emigrants. She in 1941, became really famous by the Belgrad, soldier radio sender, who repeated her Lili Marleen song endless. Some of her film partner's were
Hans Albers
,
Johann Heesters
and
Marlene Dietrich
.
In 1942, however, she fell into disgrace with the German authorities when she refused to take a tour of the Warsaw Ghetto. In addition, it was revealed that she was in correspondence with Jewish Germans who had fled in Switzerland. She was expelled from the Reichskulturkammer and her songs were no longer allowed to be broadcast on German radio. She was banned from performing for nine months. During this period Andersen made a suicide attempt. She was found in time and taken to hospital.
After Lale Andersen was allowed to perform again by the Nazis, the singer was commissioned by officials from Goebbels to make a new military version of the song. One containing a clear drum. This song was made in June 1942. After this Andersen performed regularly in Berlin, but as the end of the war progressed, life in the German capital became more and more unbearable. Because of the heavy bombings on Berlin she flew to the Island of Langeoog.
Death and burial ground of Andersen-Brunnenberg, Lale.
In 1949 Lale married the composer Artur Beul   
and Lale Andersen lived with him until her death of cancer and heart failure, at the age of 67, on 29-08-1972 in Vienna. Lale Andersen is buried on the Dünenfriedhof of the Island of Langeoog.
Artur Beul, died old age 94, on 09-01-2010

.