Engelbert Dollfuss born 04-10-1892 was an Austrian Christian Social and Patriotic Front statesman. Having served as Minister for Forests and Agriculture, he ascended to Federal Chancellor in 1932 in the midst of a crisis for the conservative government. In early 1933, he shut down parliament, banned the Austrian Nazi party 
and assumed dictatorial powers. Suppressing the Socialist movement in February 1934, he cemented the rule of "austrofascism" through the authoritarian First of May Constitution. Dollfuss was assassinated as part of a failed coup attempt by Nazi agents in 1934. His successor Kurt Schuschnigg maintained his regime until Adolf Hitler's annexing of Austria in 1938 and Schuschnigg landed in a concentration camp until the end of the war.
Dollfuss was assassinated on 25-07-1934, by ten Austrian Nazis Paul Hudl
, Franz Holzweber
, Otto Planetta
and others of Regiment 89 who entered the Chancellery building and shot him in an attempted coup d'état, the July Putsch. Mussolini (see Mussolini) 
had no hesitation in attributing the attack to the German dictator: The news reached him at Cesena, where he was examining the plans for a psychiatric hospital. The Duce personally gave the announcement to the widow, who was a guest at his villa in Riccione with children. He also put at the disposal of Ernst Rüdiger Starhemberg
, who spent a holiday in Venice, a plane that allowed the prince to rush back to Vienna and to face the assailants with his militia, with the permission of President Wilhelm Miklas.
Starhemberg died age 56 on 15-03-1956 in Schurns.
Mussolini also mobilized a part of the Italian army on the Austrian border and threatened Hitler with war in the event of a German invasion of Austria to thwart the putsch. Then he announced to the world: "The independence of Austria, for which he has fallen, is a principle that has been defended and will be defended by Italy even more strenuously", and then replaced in the main square of Bolzano the statue of Walther von der Vogelweide, a Germanic troubadour, with that of Drusus, a Roman general who conquered part of Germany. This was the greatest moment of friction between Fascism and National Socialism and Mussolini himself came down several times to reaffirm the differences in the field. The assassination of Dollfuss was accompanied by uprisings in many regions in Austria, resulting in further deaths. In Carinthia, a large contingent of northern German Nazis tried to seize power but were subdued by the Italian units nearby. At first Hitler was jubilant, but the Italian reaction surprised him. Hitler became convinced that he could not face a conflict with the Western European powers, and he officially denied liability, stating his regret for the murder of the Austrian Prime Minister. He replaced the ambassador to Vienna with Franz von Papen 
and prevented the conspirators entering Germany, also expelling them from the Austrian Nazi Party. The Nazi assassins in Vienna, after declaring the formation of a new government under Austrian Nazi Anton Rintelen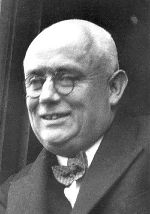 , previously exiled by Dollfuss as Austrian Ambassador to Rome, surrendered after threats from Austrian military of blowing up the Chancellery using dynamite, and were subsequently tried and executed by hanging Kurt Schuschnigg, 
previously Minister of Education was appointed new chancellor of Austria after a few days, assuming the office from Dollfuss' deputy Starhemberg.
Out of a population of 6.5 million, approximately 500,000 Austrians were present at Dollfuss' burial in Vienna. He is interred in the Hietzing cemetery in Vienna beside his wife Alwine Dollfuss (d. 1973) and two of his children, Hannerl and Eva, all of whom were in Italy as guests of Rachele Mussolini at the time of his death, an event which saw Mussolini himself shed some tears over his slain ally.