Wisdom, Sir Norman Joseph, OBE, born 04-02-1915 in the Marylebone district of London.
His parents were Frederick, a chauffeur, and Maud Wisdom, born Targett, a dressmaker who often worked for West End theatres, and had made a dress for Queen Mary. The couple married in Marylebone on 15-07-1912. Wisdom had an elder brother, Frederick Thomas "Fred" Wisdom, 13-12-1912, died 01-07-1971. The family resided at 91 Fernhead Road, Maida Vale W9, where they slept in one room. Wisdom quipped, "I was born in very sorry circumstances. Both of my parents were very sorry." He and his brother were raised in extreme poverty and were frequently hit by their father. After a period in a children's home in Deal, Kent,
Wisdom ran away when he was 11 but returned to become an errand boy in a grocer's shop on leaving school at 13. Having been kicked out of his home by his father and becoming homeless, in 1929 he walked to Cardiff, Wales, where he became a cabin boy in the Merchant Navy. 
He later also worked as a coal miner, waiter and page boy. Wisdom first enlisted into the King's Own Royal Regiment (Lancaster)
, 
but his mother had him discharged as he was under age. He later re-enlisted as a drummer boy in the 10
th
 Royal Hussars
 of the British Army.
 In 1930 he was posted to Lucknow, in the United Provinces of British India, as a bandsman. There he gained an education certificate, rode horses, became the flyweight boxing champion
 of the British Army in India and learned to play the trumpet and clarinet. At the outbreak of World War II, Wisdom was sent to work in a communications centre in a command bunker in London where he connected telephone calls from war leaders to the prime minister. He met
Winston Churchill
on several occasions when asked for updates on incoming calls, and once was disciplined for calling him Winnie. Wisdom then joined the Royal Corps of Signals
 and performed a similar military function at the unit headquarters based in Cheltenham, Gloucestershire. Whilst performing a shadow boxing routine in the army gym, Wisdom discovered he had a talent for entertainment, and began to develop his skills as a musician and stage entertainer, like the banjo player
George Formby
. 
In 1940 aged 25, at a NAAFI entertainment night, during a dance routine,
. Wisdom stepped-down from his position in the orchestra pit, and started shadow boxing. Hearing his colleagues and officers giggles, he broke into a duck-waddle, followed by a series of facial expressions: They were hysterics. All the officers were falling about laughing. Wisdom later credited this as where he first patented his persona as "The Successful Failure". Over the next few years, until he was demobilized in 1945, his routine would be suffixed with his characteristic singing and the trip-up-and-stumble. After Wisdom appeared at a charity concert at Cheltenham Town Hall, actor Reginald Carey "Rex" Harrison
came backstage and urged him to become a professional entertainer. After being demobilized in 1946, he worked as a private hire car driver. Having improved his diction in the army, he also took a job as a night telephone operator. Wisdom made his debut as a professional entertainer at the age of 31; his rise to the top was phenomenally fast. Initially the straight man to the magician David Nixon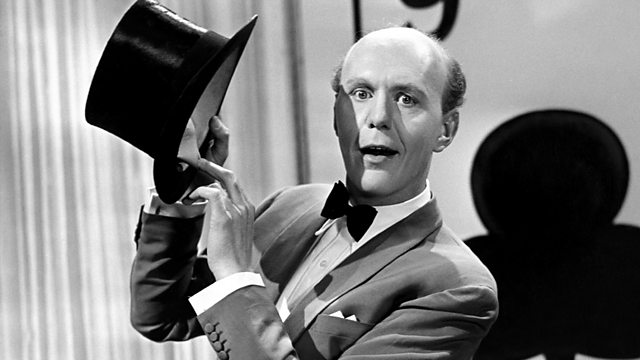 , he had already adopted the costume that would remain his trademark: tweed flat cap askew, with peak turned up; a suit at least two sizes too tight; a crumpled collar and a mangled tie. Nixon died age 58 on 01-12-1978 in Surrey. The character that went with this costume—known as "the Gump"—was to dominate Wisdom's film career. A West End theatre star within two years, he honed his performance skills mainly between theatres in London and Brighton: I spent virtually all of those years on the road. You could keep incredibly busy just performing in pantomimes and revues. There was a whole generation of performers who learned everything on the stage. Wisdom made his TV debut the same year and was soon commanding enormous audiences. Charlie Chaplin and Laurel and Hardy, called Wisdom their "favorite clowns".
Wisdom was married twice. His first wife was Doreen Brett, whom he married in 1941. By 1944 they had separated when Doreen gave birth to a son, Michael, born 1944, fathered by Albert Gerald Hardwick, a telephone engineer. The marriage was dissolved in 1946.
He married his second wife, Freda Isobel Simpson
, a dancer, in 1947; they had two children: Nicholas, born 1953, who later played first class cricket for Sussex and Jacqueline, born 1954
 The couple divorced in 1969, with Wisdom granted full custody of the children.
Death and burial ground of Wisdom, Sir Norman Joseph.
Freda Wisdom died in Brighton in 1992. In the six months prior to his death, Wisdom suffered a series of strokes, causing a decline in his physical and mental health. He died on 04-10-2010 at Abbotswood nursing home on the Isle of Man at the age of 95.
  According to his publicist, Phil Day, "I have never met anyone in the profession who didn't like him, right up to royalty". His funeral took place on 22-10-2010 in Douglas, Isle of Man, and all of the island were invited. His trademark cloth cap was placed on the coffin in the church. He is buried on the cemetery of Kirk Bride, Bride, Ayre, Isle of Man.