Wingate, Orde Charles, born 26-02-1903 in Naini Tal, near Almora, in Kumaon,
India in an English family with a military tradition. Son of an army colonel and nephew of Sir Reginald Wingate,
He received a very religious education in England. He spent most of his childhood in England with his parents and 6 brothers and sisters. They received a strongly religious Christian education and thereby memorized entire Bible books. Later the family moved to Godalming where he attended Charterhouse school; however, his parents frequently homeschooled their children, with an emphasis on facing challenges, taking initiative and solving problems independently.. His father had become a committed member of the Plymouth Brethren early in his army career in India, The Plymouth Brethren or Assemblies of brethren
are a conservative, low church, non-conformist, evangelical Christian movement whose history can be traced to Dublin, Ireland in the late 1820s, originating from Anglicanism, At the age of 46 he married the oldest daughter
of a family who were also Plymouth Brethren, after wooing her for 20 years. His father reached retirement Wingate, Major General Orde (1903-44). Wingate educated at Charterhouse school and the Royal Military Academy at Woolwich,
where he was picked upon by his peers but ultimately respected for his physical and mental toughness. He served in the Sudan from 1928 to 1933 and was sent as special adviser to the Jewish settlements police in Palestine.
He helped train the 'special night squads', later the Palmach, and became such a devoted Zionist that he was recalled. In 1940 he was sent to advise the Ethiopian patriots to form what he called the 'Gideon force' in Abyssinia and became the trusted adviser to the Emperor Haile Selassie
.
Gideon Force
 was a small British and African special
force
, which acted as a Corps d'Elite amongst the Sudan Defence 
Force
, Ethiopian regular 
forces
and Arbegnoch (Amharic for Patriots) fighting the Italian occupation in Ethiopia, during the East African Campaign of World War II. Once again he was judged to have 'gone native' and not only recalled but demoted. He seems to have been a manic depressive, and this along with malaria and exhaustion led him to attempt suicide in June 1941 while in Egypt. While he was recovering in Britain, his old commander Wavell,
Archibald Wavell
died on 24-05-1950, age 67,
  after a relapse following abdominal surgery on 5 May requested that he join him in his new command in the Burma campaign and eventually promoted him Major General. Wingate is best remembered for the pioneering concept of creating strongholds behind enemy lines to create disruption, and the Chindits 
 were the outcome. He was killed in an air crash during their second deployment. Neither
William Slim
,
who died age 79, on 14-12-1970, nor
Joseph Warren Stilwell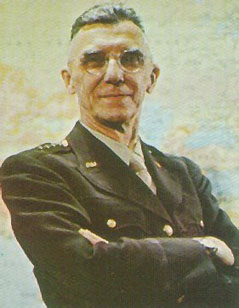 shared Wavell's high opinion of him, though
Sir Winston Churchill
did, and most Anglo-Saxons distrusted an enthusiasm bordering on religious fanaticism.
Death and burial ground of Wingate, Orde Charles.
On 24-03-1944, Wingate flew to assess the situations in three Chindit-held bases in Burma. On his return, flying from Imphal to Lalaghat, the USAAF B-25H-1-NA Mitchell bomber, 43-4242,
of the 1
st
Air Commando Group in which he was flying crashed into jungle-covered hills near Thilon Village, Manipur, in the present-day state of Manipur in northeast India, where he died alongside nine others on 24-03-1944. General Walter David Alexander "Joe" Lentaigne
 was appointed to overall command of LRP forces in place of Wingate; he flew out of Burma to assume command as Japanese forces began their assault on Imphal. General Lentaigne died  age 55, on 24-06-1955 and Orde Wingate,
age 41 and his men like commander Lieutenant George Henry Borrow
and Stuart Emeny
are buried on Arlington Cemetery, Section 12.