Pyle, Ernest Taylor "Ernie", born 03-08-1900 on a tenant farm near Dana, Indiana,
to William Clyde Pyle and Maria Taylor.
  When he was almost 18, he joined the United States Navy Reserve
. World War I ended soon after, so Pyle served for only three months. After the war, Pyle attended Indiana University, traveled to the Orient with his fraternity brothers of Sigma Alpha Epsilon
, Sigma Alpha Epsilon is a North American Greek-letter social college fraternity.and edited the student newspaper. However, he didn't graduate and instead, with only a semester left at Indiana, he accepted a job at a paper in La Porte, Indiana. He worked there for three months before moving to Washington, D.C. A tabloid newspaper, The Washington Daily News, founded in 1921, had hired Pyle as a reporter. While in Washington, he met Geraldine "Jerry" Siebolds, his "fearful and troubled wife", with whom he carried on a tempestuous relationship. They were married in 1925.
Jerry suffered from intermittent bouts of mental illness and alcoholism. Pyle described her as "desperate within herself since the day she was born". Pyle suffered from fits of deep depression, never satisfied with the quality of his writing. The daily column continued until 1942, after America's entry into the war. Following the entry of the U.S. into World War II, Pyle became a war correspondent, applying his intimate style to the war. Instead of the movements of armies or the activities of generals, Pyle generally wrote from the perspective of the common soldier, an approach that won him not only further popularity but also the Pulitzer Prize
. When Pyle decided to cover events in the Pacific, he butted heads with the U.S. Navy 
over its policy forbidding the use of the actual names of sailors in his reports and won an unsatisfying partial victory in that the ban was lifted only for him. His first cruise was aboard the aircraft carrier USS Cabot
, in which he saw an "easy life" in comparison to the infantry in Europe, resulting in several unflattering portraits of the Navy. Pyle was soon criticized by fellow correspondents, newspaper editorials, and G.I.s for giving apparent short shrift to the difficulties of the war in the Pacific.
Indiana native Ernie Pyle was one of World War II's most famous reporters, in an era when journalists covering combat were as celebrated as movie stars. One of his best-known dispatches concerned the death of Captain Henry Thomas Waskow
 on 14-12-1943, during the Battle of San Pietro Infine in Italy.  He and many of his men were killed in action by German Artillery during the Battlefor San Pietro. Waskow's unit was attacked, and a shell hit near him and his men. Fragmentation caught him in the chest and killed him almost immediately. Henry Waskow was immortalized by the writings of warcorrespondent, Ernie Pyle. The officer was twenty-five years old. Pyle himself would live only sixteen months after the death of the "beloved" Captain Waskow..
During the tiff he admitted that his heart was with the infantrymen in Europe, but he persevered to report on their efforts during the invasion of Okinawa. He was noted for having premonitions of his own death and predicted before landing that he would not be alive a year hence. On 18-04-1945, Pyle died on Ie Shima, an island off Okinawa Honto, after being hit by Japanese machine-gun fire. He was travelling in a jeep with Lieutenant Colonel Joseph Barlow. Coolidge,
commanding officer of the 305th Infantry Regiment, 77th Infantry Division
 and three other men. The road, which ran parallel to the beach two or three hundred yards inland, had been cleared of mines, and hundreds of vehicles had driven over it. As the vehicle reached a road junction, an enemy machine gun located on a coral ridge about a third of a mile away began firing at them. The men stopped their vehicle and jumped into a ditch.
 Pyle and Coolidge raised their heads to look around for the others; when they spotted them, Pyle smiled and asked Coolidge "Are you all right?" Those were his last words. The machine gun began shooting again, and Pyle was struck in the left temple (however, the Ernie Pyle State Historic Site in Dana, Indiana, contains a telegram from the Government to Pyle's father stating Pyle was killed by a sniper). The colonel called for a medic, but none were present. It made no difference—Pyle had been killed instantly.
He was buried with his helmet on, laid to rest in a long row of graves among other soldiers, with an infantry private on one side and a combat engineer on the other. At the ten-minute service, the Navy, Marine Corps,
and Army were all represented.Colonel Joseph Barlow "Cal" Coolidge survived the war and died 07-01-1987, age 78
Death and burial ground of Pyle, Ernest Taylor "Ernie".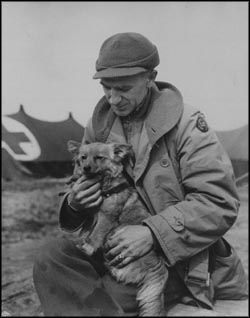 Ernie Pyle, age 44, was later reburied at the Army cemetery on Okinawa, then moved to the National Memorial Cemetery of the Pacific located in Honolulu, Section D 109..