Wuthmann, Rolf, born 26-08-1893 in Kassel, joined on 09-04-1912, age 18, as a Fahnenjunker the Königlich Preußische Armee, the 40
th
Altmärkisches Feldartillerie-Regiment. 
 Wuthmann was wounded
 during the first war and received both the Iron Crosses 
for his brave behavior. Wuthmann was allowed in the new Reichswehr as a Leutnant in the Staff of the 2
nd
Prussian Artillery Regiment. At the beginning of World War II, Wuthmann was an Oberst and with the Staff of the 4
th
Army involved in the Poland invasion
and on Western Front. He was released on 15-11-1940 and appointed to Chief of Staff of the 16
th 
Army
 under command of  
Ernst Busch
.
With this Army he was in action in the North of Russia. He was released of his command on 26-01-1942 and landed in the Führer Reserve. Wuthmann received the Iron Cross in gold 
on 26-01-1942 and was promoted to Generalmajor on 01-02-1942. Appointed to Chief of the General Staff of the 15
th
Army, under command of General Curt Haase
, on 01-04-1942, after one months already relieved and again in the Reserve. Curt Haase on 09-02-1943,  died at the age of 61 from advanced heart disease.  Wuthmann's next command was of the 295
th
Infantry Division 
in the south of Russia and loses this command on 16-11-1942 and became the authority of the Transport Units in the region South Russia. Wuthmann was promoted to Generalleutnant on 01-03-1943 and lost his command. Was assigned as Chief of the Transport in the High Command of the OKH
. On 20-06-1943 he became commander of the 112
th
Infantry Division
 in the Orel area, but after the defeat of this division, he again landed in the Führer Reserve (see 
Adolf Hitler
) (
did you know
).
He became the leader of the General Command of the IX Army Corps in mid Russia, from 05-12-1943. Promoted to General of the Artillery he became commanding General of the IX Army Corps. As the Russians started their summer offensive Wuthmann's Corps was almost destroyed and he nearly could avoid a surrounding. He was awarded with the Iron Cross of the Iron Cross
, on 22-08-1944. On 20-04-1945 he was ordered to defend the island of Bornholm and soon after had to give up his command of the XI Army Corps. Together with retreating soldiers of a Grenadier Regiment he reached the "save " grounds of Bornholm, on 06-05-1945. Wuthmann surrendered to the Soviet Forces
 on 09-05-1945 and landed in prison, until his release in 1955, by the intervention of the new German Chancellor,
Konrad Adenauer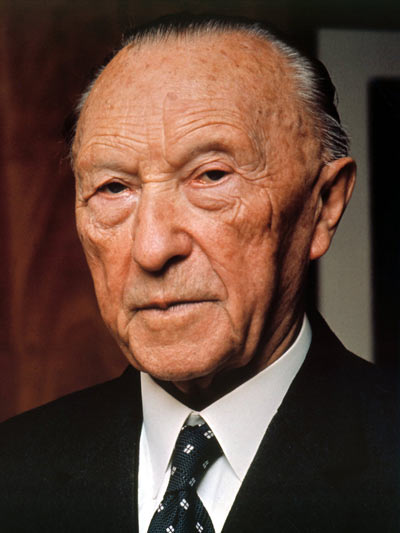 .
Death and burial ground of Wuthmann, Rolf.
Living in Minden, General der Artillerie, Rolf Wuthmann died at the old age of 84, on 20-10-1977 and is buried with his wife Irmgard, born Leonardt, who died age 78, on 24-12-1982, on the Nordfriedhof of Minden.