Carl, Marion Eugene, born on 01-11-1915 in Hubbard Oregon, was a World War II fighter ace, record setting test pilot, and a notable naval aviator. He was the first Marine Corps
 ace
 in World War II. Carl was always attracted to aviation. He learned to fly while attending college and soloed after merely 2½ hours of instruction. In late May of 1940 Carl served as an instructor pilot helping to train the rapidly growing number of naval aviators. After the Japanese attack on Pearl Harbor, Carl shipped out on the USS Saratoga,
  headed for Midway. He gained his first two victories over Midway on 04-06-1942. After the Navy disbanded his squadron, Carl received an assignment to VMF-223 and went to Guadalcanal. After seven days on the island, Carl had flown six missions and claimed six victories in three combats. He became the Marines' first ace on 24-08-1942, when he shot down three bombers and a Zero. By early October his score had risen to 16.5, he had claimed three kills in one day on 30-08 and had been shot down during September, but survived. On 01 October, Admiral
Chester William Nimitz
 presented Carl with the Navy Cross
. By the time World War II ended, Carl had 18.5 victories to his name. He also made some of the first carrier takeoffs and landings in the F-80 Shooting Star Jet.
He was also the first Marine helicopter pilot. When 82 year old Marion Carl was killed in his home on 29-06-1998, trying to protect his wife from a shotgun-wielding intruder, his son called the incident a fitting end to an extraordinary life. This statement rings true in all of its tragedy.
Death and burial ground of Carl, Marion Eugene.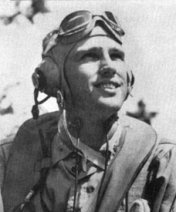 Marion Carl departed life in the same way he had lived it: heroically. Marion Carl is buried on Arlington National Cemetery in Section 4, his neighbour there is, 
Brigade General. Commander 99th Artillery Division
, Frederick Black
, 
Major General, Commander 22nd Regiment
 on D-Day, 
Charles Lanham
  and
General, Commander Army Ground Forces,
Ben "Yoohoo" Lear
.