The first mass deportation of Polish nationals by Nazi Germany occurred less than a year before the outbreak of war. It was the eviction of Jews holding Polish citizenship, during the Kristalnacht attack of 9–10 November 1938 carried out by the SA paramilitary forces.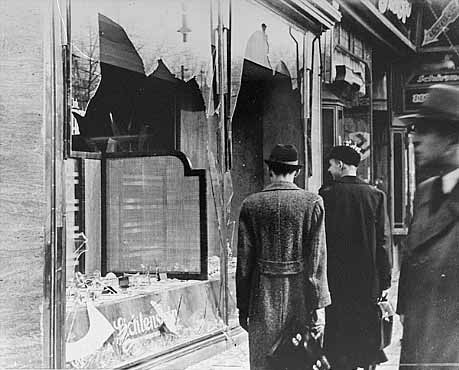 Approximately 30.000 Polish Jews were rounded up and sent via rail to prewar concentration camps throughout Germany, never to return. The round up included 2,000 ethnic Poles living and working there. 
Also, before the attack on Poland, the Nazis prepared a detailed list identifying more than 61.000 Polish targets (mostly civilian) by name, with the help of the German minority living in the Second Polish Republic. The list was printed secretly as the 192-page-book called Sonderfahndungsbuch Polen (Special Prosecution Book-Poland)
, and composed only of names and birth dates. It included politicians, scholars, actors, intelligentsia, doctors, lawyers, nobility, priests, officers and numerous others – as the means at the disposal of the SS paramilitary death squads aided by Selbstschutz executioners. The first Einsatzgruppen of World War II were formed by the SS in the course of the invasion. They were deployed behind the front lines to execute groups of people considered, by virtue of their social status, to be capable of abetting resistance efforts against the Germans. The most widely used lie justifying indiscriminate killings by the mobile action squads was (always the same) made-up claim of purported attack on German forces.
In total, about 150.000 to 200.000 Poles lost their lives during the one-month September Campaign of 1939, characterized by the indiscriminate and often deliberate targeting of civilian population by the invading forces. Over 100.000 Poles died in the Luftwaffe terror bombing operations, like those at Wielun. Massive air raids were conducted on towns which had no military infrastructure. The town of Frampol, near Lublin, was heavily bombed on 13 September as a test subject for Luftwaffe bombing technique; chosen because of its grid street plan and an easily recognizable central town-hall. Frampol was hit by 700 tonnes of munitions, which destroyed up to 90% of buildings and killed half of its inhabitants. Columns of fleeing refugees were systematically attacked by the German fighter and dive-bomber aircraft.
Execution of ethnic Poles by German SS Einsatzkommand soldiers in  Leszno, October 1939
Amongst the Polish cities and towns bombed at the beginning of war were: Brodnica, Bydgoszcz, Chełm, Ciechanów, Częstochowa, Grodno, Grudziądz, Gdynia, Janów, Jasło, Katowice,Kielce, Kowel, Kraków, Kutno, Lublin, Lwów, Olkusz Piotrkow, Płock, Płońsk, Poznań, Puck, Radom, Radomsko, Sulejów, Warsaw, Wieluń, Wilno, and Zamość. Over 156 towns and villages were attacked by the Luftwaffe. Warsaw suffered particularly severely with a combination of aerial bombardment and artillery fire reducing large parts of the historic centre to rubble, with more than 60.000 casualties. The Soviet Union assisted the Germans by allowing them to use a radio beacon from Minsk to guide their planes.