On July 8, 1940, a brand new Mercedes-Benz convertible was driven from the Daimler-Benz AG factory in Stuttgart and delivered to the Reichs Chancellery car pool in Berlin. On July 19, Hitler used the car, a 7.7 litre straight eight engine with the registration number 1A 148697
, for the first time when he was driven from the Kroll Opera House where he had addressed the Reichstag. This is the car currently on display at the Canadian War Museum. 
 On May 5th or 6th, 1945, Technical Sergeant Joe Azara of the 20th US Armoured Division, nicknamed  "Armored or Liberators" 
 under Major General Orlando Ward, which was fighting its way towards Salzburg, noticed a large car secured by wire ropes on a flat-bed railway wagon standing on a siding near the town of Laufen. With the help from his buddies he soon had the car on the ground and drove away. In July, 1945, the car was transported to the USA on the liberty ship George Shiras. From then on the car criss-crossed the US and Canada and exhibited as Hermann Goering's Personal Car. It was not until 1982 that the car was proved not to be Goerings but actually one of Adolf Hitler's staff cars. In 1956, the car was sold to a car dealer in Toronto and after a time and a couple of more owners, it finally ended up in the Canadian War Museum on exhibit to the public since 1971. Another of Hitler's Mercedes Benz cars (1A 148461) is on permanent display in the Imperial Palace Casino and Museum in Las Vegas
. Many other 'Hitler cars' are in the hands of private collectors around the world including the one he rode in (License plate WH-32288)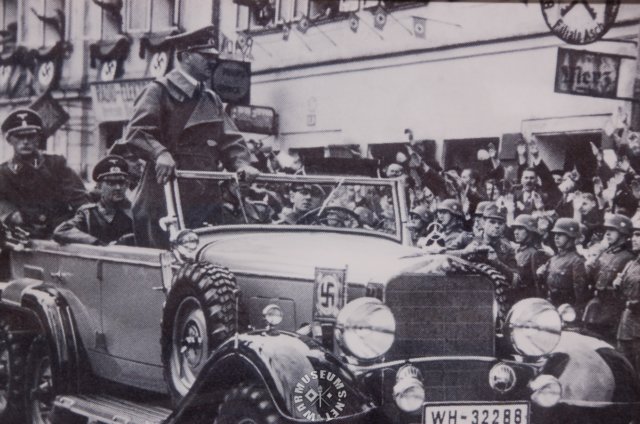 when he crossed the frontier into the Czech Sudetenland on October 3, 1938. The car he rode in when he visited his hometown Braunau after the Anschluss on March, 14, 1938, had a number plate WN 32290.