Friedrich Guggenberger, born 02-03-1915 in Munich, began his U-boat career in October 1939 with the usual training. His first U-boat was U-28 under the command of Knights Cross, holder Günther Kuhnke 
. During the autumn of 1940 Guggenberger took over U-28 
and commanded the boat for a few months in a training flotilla.Kuhnke died age 78 on 11-10-1990 in Schortens.
In April 1941 he commissioned U-81. After three patrols in the Atlantic, during which he sank two ships, he took the boat into the Mediterranean in November 1941. On 13 Nov 1941, shortly after passing the Straits of Gibraltar, he torpedoed the British aircraft carrier HMS Ark Royal (22,600 tons)
, which sank one day later. The explosion caused Ark Royal to shake, hurled loaded torpedo-bombers into the air, and killed one man, Able Seaman Edward Mitchell
 age 36. The 1,487 officers and rest of the crew were transported to Gibraltar before Ark Royal capsized and sank at 06:19 on 14 November.
After six further successful patrols in the Mediterranerean, Guggenberger
 left the boat in early 1943, and for three months was a member of Dönitz's staff.
In May 1943 he took over U-513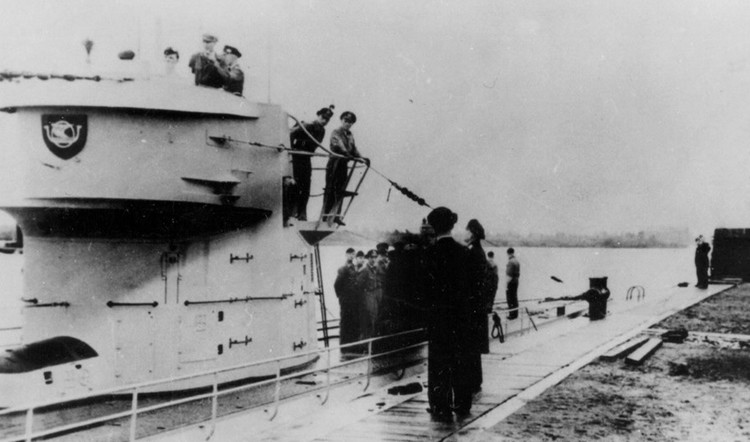 , a Type XIC boat, but she was sunk on his first patrol, on 19 July 1943 in Brazilian waters, by an American aircraft (Niestlé, 1998). The badly wounded Guggenberger, together with six other survivors, spent one day in a lifeboat before being picked up by the US seaplane tender USS Barnegat (AVP-10). 
Following a surgical operation and a long stay in hospital he was transferred to Fort Hunt interrogation center, New York on 25 September 1943, then to the POW camp at Crossville
 , Tennessee later that month, finally arriving at Papago Park POW camp near Phoenix, Arizona in late January 1944.
On 12 February 1944 Guggenberger and four other U-boat commanders escaped from this camp. Guggenberger and his companion August Maus
 were recaptured in Tucson, Arizona. Maus died old age 81 on 28-09-1996 in Hamburg. Guggenberger was also one of the 25 POWs who escaped from this camp during the night of 23-24 December, 1944. He and his companion on that occasion Jürgen Quaet-Fastern were recaptured on 6 January 1945, less than 10 miles from the Mexican border.
Guggenberger was transferred to Camp Shanks, New York in February 1946, then to a POW compound in the British Zone of Germany near Münster. He was released from Allied captivity in August 1946.
After the war he became an architect, before joining the Federal German Navy, the Bundesmarine, in 1956. After graduating from the Naval War College in Newport (USA), Konteradmiral Guggenberger served as Deputy Chief of Staff on NATO command AFNORTH (Allied Forces North Europe) for four years. He retired in October 1972.
On 13 May 1988 he, age 73, went for a walk in the forest from which he never returned. His body was not found until two years later.