Captain Werner G. Goering,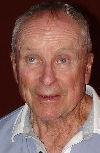 was the nephew of Luftwaffe chief Herman Goering, and an American citizen, flew bombing missions over Germany as a command pilot for the 303rd Bomb Group. He was accompanied by his co-pilot, Jack Rencher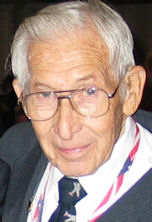 a sharpshooting, straight-talking Arizonan with a top-secret mission.
Werner a son of Goering brother Karl Ernst, who immigrated to the USA in 1920th, piloted B-17s on 48 bombing missions against occupied Europe. He had been born and raised in Salt Lake City. Not unbelievably this young Goering spoke fluent German. After an extensive background check, he was assigned to the 303rd Bombardment Group (Hell's Angels)
 of the 8th Air Force
, based at Molesworth, England.
This fact was kept secret by the Army Air Force during the time that young Goering flew missions against Nazi Germany. However, the AAF still assigned him a "uniquely qualified" co-pilot; one Jack P. Rencher 1st Lieutenant. Rencher was given specific orders to shoot Werner if he ever tried to land in Germany. According to Rencher, however, the only time young Goering wasn't eager to rain destruction on Nazi Germany was when he had to bomb Cologne, where his grandmother still lived.
Werner G. Goering was born in 1924 in Salt Lake City, Salt Lake County, Utah, USA. His parents were Karl Ernst Sr. and Atela Goering. He also had an older brother named Karl Goering Jr. born about 1913 (his participation or not is unknown on the allied side).
Then how about another nephew of a prominent Nazi who signed on and fought against his uncle? That was William Patrick Hitler, nicknamed "Willy" who joined the USN, changed his name in William Stuart-Houston
and was discharged honourably, with a good conduct medal and a Purple Heart. Born to Adolf's half-brother Alois Hitler Jr.
 and his first wife Bridget Dowling
. As another oddity, and almost unbelievably, the man who signed William Patrick into the US navy carried the surname Hess. William Patrick Hitler served in the US Navy and later the Naval Medical Corps before being discharged in 1947. Another nephew and a Hermann favourite was Leutnant, Jagdflieger, Peter Goering, the son of Karl Ernst Goering Hermann brother
. Peter was a pilot too and the wingman of the famous Luftwaffe General Adolf Galland 
After his discharge William Patrick Hitler changed his name, and lived in (apparently) obscurity in Long Island New York. His four children also distanced themselves from Adolf, kept the altered name, and none of the sons produced children. This may have been a conscious attempt to "kill" the name of Hitler with them.
  a