While the American Army had put war dogs to good use already, 
mainly for sentry and guard duties, World War II was the first organized deployment of canine warriors by the Marine Corps, and the Marines intended to bring the dogs into the field, sniffing out enemy positions to warn of ambushes and ferrying messages back and forth.
Dogs have been used in war since ancient times. There are many categories for which they were trained, Guard dogs, Messenger dogs, (collies only) Scout Dogs, Mine Detection Dogs, Mascots, and Parachute Dogs. The first British dog training school was set up by the military at the Greyhound Racing Kennels at Potters Bar near London. By May, 1944, some 76,000 dogs had graduated. During the war, 18 of these dogs were presented with the Dickin Medal (Animal's VC). British SAS forces were the first to use parachute dogs in their operations in North Africa and France.
K-9 Corps German Shepherd aboard ship, enroute to Europe during World War II. 
Gas mask dogs 
 Lieutenant Colonel E.H. Richardson, seen here pulling bandages from the kit of a British Red 
 Emile Corteil a British para made the D-Day jump with his dog "Glenn" on the early hours of 6 June 1944 in the Orne River Valley to secure the flanks of the landings and knock out the Merville Battery, The British Paratroopers were attacked by friendly fire and Private Corteil, Glenn and other paratroopers were killed as well as some being wounded. Private Corteil and his dog "Glenn" are buried together. It is believed that this is the only war time grave burial with a dog handler and his dog.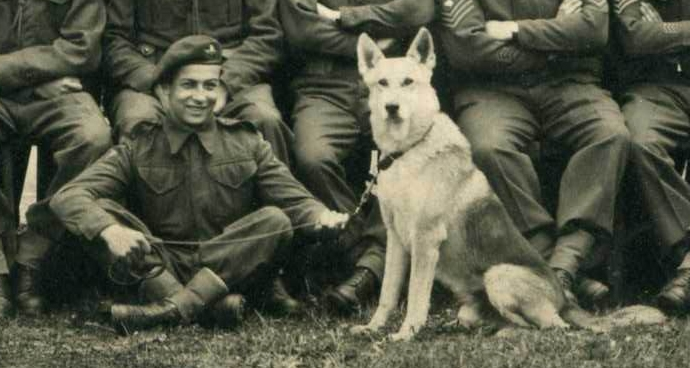 Dogs mostly used were German Shepherds, Dobermans, Boxers, Bull Terriers and Labradors. Owners of dogs killed in action were presented with a Certificate of Merit. Anti-tank dogs were dogs trained to attack tanks with an explosive device strapped to their backs. The animals of course were killed in the process. This method was used intensively by the Russians in 1941 and 1942. Unfortunately many of the dogs were scared off by gunfire and ran back to their trenches where the jumped in and in the process detonated the charges killing their handlers and other soldiers in the trench.