Partridge, Frank Huber, born 1893 in Scranton, Pennsylvania, attended the University of Pennsylvania and graduated from the Command and General Staff College at Fort Leavenworth, Kansas
. He began his military career in 1917 when he was commissioned as an infantry officer in the U.S. Army. He served tours of duty in the Philippines and at the end of World War II he was assistant commander of the 97th Infantry Division, nickname "Trident"
 with the rank of Brigadier General, under General  
 Milton Halsey. The division distinguished itself in combat in the Ruhr Valley just before the German surrender. 97th Infantry Division was credited with firing the last official shot in the European Theater of Operations during World War II. This shot was fired by PFC Domenic Mozzetta of Company B, 387th Infantry Regiment, 97th Division, at a German sniper near Klenovice, Czechoslovakia shortly before midnight, 07-05-1945. While on patrol about three kilometers northwest of Klenovice, Mozzetta was shot at by a German sniper. The bullet severed a tent pole; Mozzetta fired back four times at the muzzle flash, and the German plummeted from a tree. Five minutes later, the European Theater of the World War II. Was officially at peace.The division had 979 casualties in 41 days of combat. Partridge was awarded the Legion of Merit, the Bronze Star and the French Croix de Guerre with palm, among other decorations. Elements of the 97th Infantry Division participated in the liberation of concentration camp Flossenburg. General Milton General Milton B. Halsey,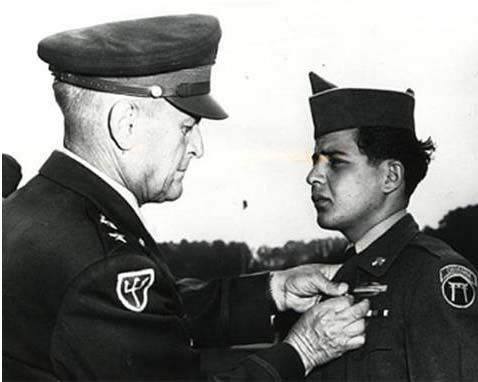 the commanding General of the 97th Division, inspected the camp on April 30, as did his divisional artillery commander, Brigadier General Sherman V. Hasbrouck.
 Hasbrouck, who died old age 103, on 16-03-2002, and who spoke fluent German, directed a local German official to have all able-bodied German men and boys from that area help bury the dead.He retired in 1953 as deputy commander of the Sixth Army, which had its headquarters in San Francisco
 After retiring from the Army, he worked for the immigration service, first as a consultant and then as Assistant Commissioner responsible for the Border Patrol. Democratic opponents objected to the size of his consultant fee. They then asserted that President Dwight Delano Eisenhower was illegally trying to load the Government with military men. And they accused the head of the immigration service, Joseph May Swing, himself a retired Lieutenant General, of surrounding himself with "cronies" in top-level posts. General Partridge retired from the immigration service in 1961.
Death and burial ground of Partridge, Frank Huber.
Frank Huber Partridge, former assistant commissioner of the Immigration and Naturalization Service, died on 28-06-1994 at the very old age of 100, at Mount Vernon Hospital in Alexandria, Virginia. He is survived by his wife, Gertrude Drew Partridge and is buried on Arlington National Cemetery in Section 2.