Niven, James David Graham, born 01-03-1910, in London, England, was the son of William Edward Graham Niven and Henriette Julia Degacher. He was named David for his birth on Saint David's Day. Niven often claimed that he was born in Kirriemuir, in the county of Angus in 1909, but his birth certificate showed this was not true. Niven requested assignment to the Argyll and Sutherland Highlanders, nickname "Thin Red Line"
 or the Black Watch
; under the command of Maj-Gen. John Edward Boyes,
then jokingly wrote on the form, as his third choice, "anything but the Highland Light Infantry" , nickname "Hell's Last Issue"
(because the HLI wore tartan trews rather than kilts). He
was assigned to the HLI, and his comment was known in the regiment. Thus Niven, here as a 2nd Lt w/ the Highland Light Infantry (1932) 
 did not enjoy his time in the Army. He served with the HLI for two years in Malta, and then for a few months in Dover. In Malta, he became friends with Roy Urquhart
 Urquhart died age 87, on 13-12-1988, future commander of the British 1st Airborne Division.
 Niven grew tired of the peacetime Army. Though promoted to lieutenant on 01-01- 1933, he saw no opportunity for further advancement. His ultimate decision to resign came after a lengthy lecture on machine guns, which was interfering with his plans for dinner with a particularly attractive young lady. At the end of the lecture, the speaker, a Major General, asked if there were any questions. Showing the typical rebelliousness of his early years, Niven asked, "Could you tell me the time, sir? I have to catch a train." After being placed under close arrest for this act of insubordination, Niven finished a bottle of whisky with the officer who was guarding him, Rhoddy Rose. With his connivance, Niven was allowed to escape from a first-floor window.
He then headed for America. While crossing the Atlantic, Niven resigned his commission by telegram on 06-09-1933. Niven relocated to New York, where he began an unsuccessful career in whisky sales and horse rodeo promotion in Atlantic City. After subsequent detours to Bermuda and Cuba, he finally arrived in Hollywood in the summer of 1934. After the United Kingdom declared war in 1939, Niven married Primula Rollo in 1940 and had 2 sons
Niven returned to Britain and rejoined the Army. He was alone among British stars in Hollywood in doing so; the British Embassy advised most British actors to stay. Niven was re-commissioned as a lieutenant in the Rifle Brigade on 25-02-1940 and was assigned to a motor training battalion. But he wanted something more exciting, and transferred into the Commandos. He was assigned to a training base at Inverailort House in the Western Highlands.
  Niven later claimed credit for bringing future Major General Sir Robert Laycock
to the Commandos. Robert Laycock died of a heart attack, age 61, on 10-03-1968. David Niven commanded 'A' Squadron GHQ Liaison Regiment,
better known as Phantom. Niven also worked with the Army Film Unit. He acted in two films during the war, Niven took part in the Invasion of Normandy, arriving several days after D-Day. He served in the "Phantom Signals Unit", which located and reported enemy positions, and kept rear commanders up to date on changing battle lines. Niven was posted at one time to Chilham in Kent. Niven remained close-mouthed about the war, despite public interest in celebrities in combat and a reputation for storytelling.
He said once: "I will, however, tell you just one thing about the war, my first story and my last. I was asked by some American friends to search out the grave of their son near Bastogne.
I found it where they told me I would, but it was among 27,000 others, and I told myself that here, Niven, were 27,000 reasons why you should keep your mouth shut after the war." Niven also had special scorn for the newspaper columnists covering the war who typed out self-glorifying and excessively florid prose about their meagre wartime experiences.
Niven stated, "Anyone who says a bullet sings past, hums past, flies, pings, or whines past, has never heard one, they go crack!" He
gave a few details of his war experience in his autobiography, The Moon's a Balloon: his private conversations with Winston Churchill,
the bombing of London, and what it was like entering Germany with the occupation forces. Niven first met Churchill at a dinner party in February 1940. Churchill singled him out from the crowd and stated, "Young man, you did a fine thing to give up your film career to fight for your country.
Mark you, had you not done so − it would have been despicable." A few stories have surfaced. About to lead his men into action, Niven eased their nervousness by telling them, "Look, you chaps only have to do this once. But I'll have to do it all over again in Hollywood with Errol Flynn!"
Asked by suspicious American sentries during the Battle of the Bulge who had won the World Series in 1943, he answered "Haven't the foggiest idea. But I did co-star with Ginger Rogers
 in Bachelor Mother" Niven ended the war as a lieutenant-colonel. On his return to Hollywood after the war, he received the Legion of Merit,
an American military order.
Death and burial ground of Niven, James David Graham.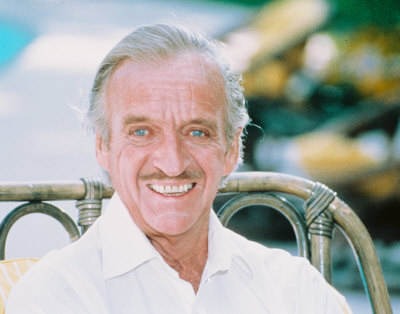 Presented by Eisenhower himself, it honored Niven's actor in setting up the BBC Allied Expeditionary Forces Programme, a radio news and entertainment station for the Allied forces. David Niven married Hjordis Tersmeden in 1948 and adopted 2 daughters
Niven died due to ALS on 29-07-1983, at age 73. Niven is buried in Swiss, Chateau D'Oex Cemetery.