Arness, James King "Jim", born James Aurness, 26-05-1923 in Minneapolis,
he dropped the "u" when he started acting. His parents were Rolf Cirkler Aurness, a businessman, and his wife Ruth Duesler, a journalist.
His father's ancestry was Norwegian; his mother's was German. The family name had been Aursnes, but when Rolf's father, Peter Aursnes, emigrated from Norway in 1887, he changed it to Aurness. Arness and his family were Methodists.
  Arness' younger brother was actor Peter Graves Aurness, he died very old age 83 on 14-03-2010. Peter used the stage name "Graves", a maternal family name James King Arness. At the age of 16, Pewter joined the announcing staff of the Minneapolis station WMIN. Following his high school graduation, he enlisted in the U.S. Air Force
, serving for two years. During this time, James Arness worked as a courier for a jewelry wholesaler, loading and unloading railway boxcars at the James J. Hill's Burlington freight-yards in Minneapolis, and logging in  Pierce, Idoha. Despite "being a poor student and skipping many classes", he graduated from high school in June 1942. Arness wanted to be a naval fighter pilot, but he felt his poor eyesight would bar him. His height of 6 feet 7 inches (2.01 m) ended his hopes, since 6 feet 2 inches (1.88 m) was the limit for aviators. Instead, he was called for the Army and reported to Fort Snelling, Minnesota in March 1943. Arness served as a rifleman with the U.S. 3
rd
 Infantry Division, and was severely wounded during Operation Shingle, at Anzio, Italy.
According to James Arness, An Autobiography, he landed on Anzio Beachhead on 22-01-1944 as a rifleman with 2
nd
 Platoon, E Company, 2
nd
 Battalion, 7
th
 Infantry Regiment, nickname "Cotton Balers" of the 3
rd
Infantry Division
.  Another warrior in the 3
rd
Infantry Division was Major
Audie Murphy
, the mostdecorated World War II soldier and later actor.The division suffered the highest casualty rate of any American Division in World War II. Its exploits are aptly illustrated by its Medal of Honor recipient Major,
Audie Murphy
, with whom he in 1950 would appear in the movie "Sierra". During their European campaign they had the casualities, 4.922 were killed in action, and 18.766 wounded with a further 636 who died of wounds. Because of his height, he was the first ordered off his landing craft to determine the depth of the water; it came up to his waist. In the night of 01-02-1944, he was the first man of a patrol walking a 20 feet in front of the group. They walked on the touch and had orders not to speak. Near a small vineyard he heard voices short by and some seconds later the enemy machineguns fired, they had walked straight into a German machinegun foxhole. Arness was hit in the right leg and felt head over heels out of the firing line. His leg hurt terrible and he had the idea that all bones were shot to pieces. The machinegun position was taken and Arness on a stretcher to the 95
th
 Evacuation Hospital near the coast. During World War II the 95
th
Evacuation Hospital operated as a 400-bed mobile hospital. The unit was staffed with approximately 40 doctors, 40 nurses, and 220 enlisted men. Arness's bone of his leg was splintered and the injury got the "Grade ZI" judgement, a "Zone of Interior" for which he would be evacuated and moved to the USA. In Italy his leg was plastered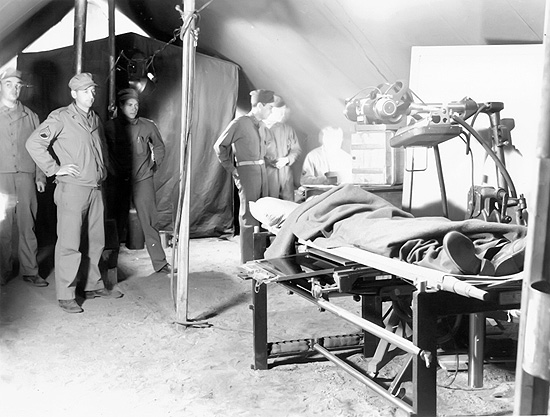 , but at the time of leaving for the USA blood was coming through the plaster and the leg smelled awful, As the plaster was taken off the bone had an inflammation. Arness was very lucky to keep his leg but was two centimetr shorter now. On 29-01-1945, having undergone surgery several times, Arness was honorably discharged. His wounds continued to bother him, and in later years Arness suffered from chronic leg pain, which sometimes hurt when mounting a horse. His decorations include the Bronze Star Medal, the Purple Heart,
the European-African-Middle Eastern Campaign Medal with three bronze battle stars, the World War II Victory Medal
and the Combat Infantryman Badge.
Death and burial ground of Arness, James King.
James Arness died of natural causes at his Brentwood home in Los Angeles on 03-06- 2011, age 88. He is interred at the Forest Lawn Memorial Park in Glendale, California.