Hans Wilhelm Langsdorff was born on the island of Rügen. His family moved to Düsseldorf in 1898 and befriended the future naval hero Count (Graf) Maximilian von Spee, who influenced Langsdorff to attend the Kiel Naval Academy
despite his parents' wishes. During WW1, Leutnant Langsdorff was awarded the Iron Cross
 at the Battle of Jutland in 1916.
During the inter-war years, Langsdorff served in various roles including the Defense Ministry in Berlin and commanding a torpedo boat flotilla. After a few years in the Interior Ministry, he was posted to the new pocket battleship (later re-classified heavy cruiser) Admiral Graf Spee, named after his former neighbour in Düsseldorf.  On 1 Jan 1937 he was promoted to the rank of captain and took over the command of Graf Spee.
 With him at the helm, Graf Spee successfully sank nine merchant ships in the South Atlantic and Indian Ocean in the latter part of 1939, damaging Britain's ability to transport goods to and from her distant territories without any loss of German life. His righteous upbringing made him a merciful conqueror of the sea: during the nine sinking's he spared every British life, placing every prisoner in his supply ship Altmark before sinking the beaten ships. His successful raids attracted over twenty Allied warships to hunt for him, and he was found by British Hunting Group G, under the command of Commodore Henry Harwood
, at River Plate off South America. Sir Henry Harwood died in Goring on Thames, on 09-06-1950, age 62. After a 90-minute battle with two light cruisers and a heavy cruiser, the British ships disengaged. Langsdorff, whose ship also sustained heavy damage, sailed for the neutral port of Montevideo. Requesting the port for two weeks' time for repairs, he was granted only 72 hours. When the time was up, Graf Spee was still in no sailing shape, especially with a large British fleet that Langsdorff thought must be waiting for him outside the port.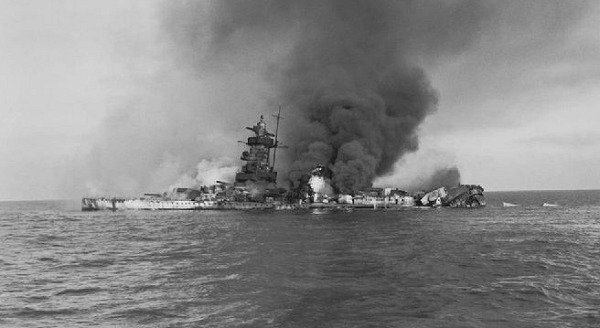 He berthed his sailors aboard German freighters at Montevideo, wrapped himself in the colours of Imperial Germany, not the Nazi swastika, gave the order to scuttle the ship, then committed suicide. His suicide note read "[f]or a captain with a sense of honour, it goes without saying that his personal fate cannot be separated from that of his ship."
Hans Wilhelm Langsdorff,
 now rests, age 45, in the German section of the La Chacarita Cemetery in Buenos Aires.