Boyington, "Pappy" Gregory, born on 04-12-1912 in Coeur d'Alene, Idoha,
was a United States Marine Corps
officer and an American fighter ace during World War II. He grew up in the logging town of St. Maries, Idoha and in Tacoma, Washington, where he was a wrestler at Lincoln High School
.
Boyington's parents divorced early in his life and he was raised by his mother and an alcoholic step-father Ellsworth Hallenbeck. Believing his step-father to be his biological father, he went by the name Gregory "Greg" Hallenbeck until graduating from college. but when he decided to apply for flight training, he obtained his birth certificate and learned his father was actually named Charles Boyington, a garage worker. "His mother, Grace Gregory Boyington, lived in Tacoma and worked as a switchboard operator to put him through college," reports Pappy's son,
Gregory Boyington Jr. "My dad parked cars in some garage." He also worked in an Idaho gold mine in the summer to pay his way through school and support his membership in the Lambda Chi Alpha fraternity.
Gregory took his first flight when he was six years old, with Clyde Edward Pangborn, who later flew the barnstorming Pacific non-stop. Pangborn died on 29-03-1958, age 62 and is also buried on Arlington Cemetery.
  Boyington started his military career in college, as a member of the Reserve Officers Training Corps, in which he became a cadet captain and fighter ace. Another fighter ace was
Fred Christensen
,
who's 21.5 officially credited kills rank him 12
th
among all Army Air Forces aces, 
  7
th
among aces of the Eighth Air Force
, and 5
th
among P-47 aces.
Boyington married Helene
, shortly after his graduation and worked for Boeing as a draftsman and engineer, became a flight leader. Boyington was an absentee father to three children by his first wife. One daughter, Janet Boyington, here with grandmother and brother and dad, 
committed suicide; one son, Gregory Boyington, Jr., graduated from the United states Air Force Academy in 1960, and later retired from the Air Force holding the rank of Lieutenant Colonel. Gregory's second wife was Dolores Boyington,
 they divorced and had one adopted child. The CO earned the nickname "Gramps" because, at age 31, he was a decade older than most of his men and the "the old man", it became "Pappy". He was 31 years old. The unit later became known as the American Volunteer Group, the famed Flying Tigers
 of China.
 During his months with the "Tigers", Boyington became a flight leader.  Later, he became Commanding Officer of Marine Fighter Squadron 214 better known by its nickname, the "Black Sheep Squadron"
. Gregory was frequently in trouble with the commander of that outfit,
Air Force General Lieutenant, Commander All Allied Air Forces in the East, 
Claire Lee Chennault
. 
During his squadron's first tour of combat duty, the major shot down 14 enemy fighter planes in 32 days. By December 27, his record had climbed to 25. He tied the American record of 26 planes on 03-01-1944 over Rabaul, but was shot down himself later the same day, near Rabaul. Masajiro "Mike" Kawato claimed to have been the pilot who shot down Boyington's plane. Kawato and Boyington became good friends after the war and Kawato died of cancer, at the age of 76, on 21-12-2001.
 Boyington after the crash was never accorded official P.O.W. status by the Japanese and his captivity was not reported to the Red Cross. He spent the rest of the war, some 20 months, in Japanese prison camps. A fellow American prisoner of war was Medal of Honor
 recipient submarine captain,
Richard O'Kane
.  Back home
he informed the Marines
 that on his final mission he downed two enemy aircraft, and his wing man downed one before he was too was shot down. His wingman, Captain George Malcom Ashmun was killed.
 Boyington received his Medal of Honor from President 
Harry Truman
  which medal was already approved by president
Theodore Roosevelt
 with his status listed as missing and presumed dead.
Death and burial ground of Boyington, "Pappy" Gregory.
He retired from the Marine Corps on 01-08-1947 and was promoted to full colonel. He moved to California and became an executive at a brewery and later at an aerospace parts manufacturer. Boyington was a tough, hard-living character, known for being unorthodox. He was also an alcoholic, which plagued him in the years after the war and possibly contributed to his multiple divorces, he had four wives. "Boyington went through a series of lurid, broken marriages and bounced from one job to another: beer salesman, stock salesman, jewelry salesman, wrestling referee. Liquor was always present." Also a heavy smoker for years, Boyington died in his sleep, possibly from cancer complications, on 11-01-1988 at the age of 75 in Fresno, California. "Pappy" was buried in Arlington National Cemetery with full honors accorded in Section 7 A. After the burial service for Boyington, one of his friends, Fred Losch, looked down at the headstone next to which he was standing, that of boxing legend and technical sergeant, 
Joe Louis

,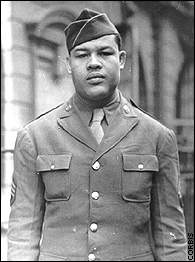 and remarked that "Ol' Pappy wouldn't have to go far to find a good fight." Only a few steps away are also the graves, of actor and marine man
Lee Marvin
,
the 101 Airborne
 Commander,
Maxwell Taylor
,
Air Force Major General, "Doolittle Raid" on Japan,
James "Jimmie" Doolittle
and
General, Commander Combat B 7th Armored Division, nickname "Lucky Seventh" 
, 
Bruce Clarke
.