Sibert, Franklin Cummings, born 03-01-1891 in Bowling Green, Kentucky,
the son of Major General William Luther Sibert
  and Mary Elizabeth "Mamie" Cummings Sibert. Franklin graduated from West Point in 1912; from the Infantry School, Advanced Course, in 1924; from the Command and General Staff College in 1925; from the Army War College in 1929. He married Helen Mildred Rogers, March 04-03-1913. Their children were Franklin Roger, Army Officer and WWII and Korea veteran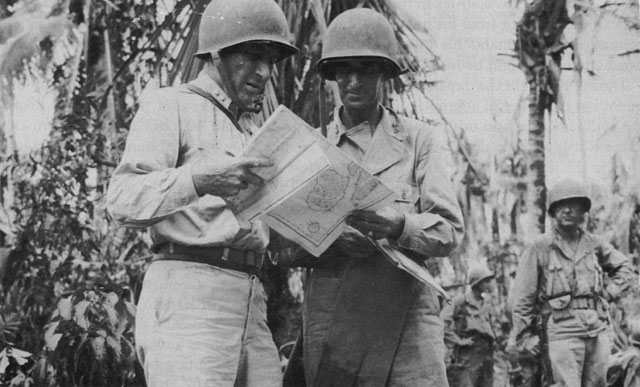 who died age 76, on 09-08-1990, and Kathryn Mary, wife of General Bruce Palmer Jr.
a Vietnam veteran, who died old age 87 on 10-10-2000. Franklin was commissioned a Second Lieutenant in 1912 and was promoted through the ranks to Major General in 1942. He appointed to Commanding Officer Headquarters Battalion, 29
th
Infantry Regiment. He became a Lieutenant Colonel on 01-08-1935, Colonel on 01-01-1941, Brigadier General on 11-03-1942 and Major General on 30-06-1946. His medals include the Victory Medal with four Bronze Stars, Army of Occupation of Germany, Mexican Border Service, American Defence Service, European-African-Middle East Campaign, American Campaign, Asiatic-Pacific Campaign Medal with four Bronze Stars, the Legion of Merit, the Distinguished Service Medal with two Bronze Stars. He was the Commanding Officer of Fort Wayne, Michigan from 15-01-1939 until 10-05-1939 and attached to 5
th
Division to July 1940. assigned as Commanding Officer 32 Infantry Regiment, nickname "Chosin", "Buccaneers" and "Spearhead" 
  Now appointed as assistant Commanding General of the 44
th
Division
under General James Irvin Muir
 to February 1942. Casualties of the 44
th
in 190 days of combat, killed 1.008, wounded 4.650, missing 434, captured 19, battle casualties 6.111 and non battle casualties 7.637, a tal of 13.478. He then served on the Staff of General,
Joseph Warren Stilwell
in the China-Burma-Indian Theatre to October 1942; he then commanded the 6
th
Infantry Division, nickname "Red Star" 
 and participated in two campaigns in New Guinea in 1942-44; he commanded X Army Corps, 1944-46 and participated with it in the Philippine Campaign to November 1945.
Death and burial ground of Sibert, Franklin Cummings.
Franklin Sibert retired from the Service on 30-09-1946 and he made his home in Fort Walton Beach, Florida, until his death on June 24-06-1980, at the very old age of 89. He was buried in Section 6 of Arlington National Cemetery, near his father and brother William and his wife Helen, who died age 80 in 1977. In Section 6 are also buried
Major General, worked with John Cantius Garand
 on the Development of the machinegun,  Garand died old age 86, on 16-02-1974,
Guy Drewry
,
Lieutenant General, Commander XIII Corps,
Alvan Cullom Gillem
,
Infantry Lieutenant General, Commander 1st Infantry Division,
nickname "The Big Red One" present on D-Day, 
Clarence Huebner
. Casualties of the
1st
Division during their European campaign, 4.411 killed in action, 7.201 wounded in action, 1.056 missing or died of wounds. Also buried here,
Major General, Chief Allied Military Government,
Edgar Hume
.
Message(s), tips or interesting graves for the webmaster:    robhopmans@outlook.com