Schmidt, Hans Joachim Hermann, born 28-04-1877 in Ulm
, the son of the royal Württemberg senior staff physician 2nd class and later General physician Dr. med. Hermann von Schmidt born 23-12-1839 in Brackenheim; he died 16-03-1915) and his wife Adelheid, born Krell (she was born 31-10-1849 Plieningen / Württ .; She died  13-06-1930). His brother was the Generalleutnant  z. V. Wolfgang Schmidt-Logan,
who was also Generalmajor of the state police and SA Oberführer. Major Schmidt married his fiancée Selma Nagel on 03-03-1922, widowed Wintterlin., Hans joined the Army on 11-07-1895, age 18 and was involved in the first war as a Major and Commander of the 3rd Württembergische Infantry Regiment, Old Württemberg Nr 121,
under command of Oberst Oskar von Gais
. He remained in the new Reichswehr and retired as a Generalleutnant on 31-01-1931. With the mobilization in 1939 he age 62, was reactivated and appointed as commander of the 260th Infantry Division. Under his command this division reached as first the river Desna in Russia,
  on 01-09-1941, and opened a bridgehead on the south coast near Kisselewka and succeeded to cross the river Desna. For this action he received the Iron Cross of the Iron Cross
on 06-09-1941 and was called in the Wehrmacht Report. He on 01-01-1942 was assigned as Commanding General of the IX Army Corps, succeeding General der Infanterie Hermann Geyer 
and on 31-10-1943 as one of the oldest Generals, age 66, retired. General Geyer retired in 1943 and committed suicide on 10-04-1946, age 63. By 1945 the IX Army Corps, now under command of General der Artillerie Rolf Wuthmann,
had fallen back to the Deyma River near Kaliningrad, where they established a defensive position.The German Army surrendered on May 8, 1945. In 1944 Schmidt was reactivated again and became Replacement Commander of Wehrkreises V, in Stuttgart. He was High Commander of the new 24th Army Corps and sent to the Westfront in the triangle of Switzerland, France and Germany, near Lörrach, for an expected attack by the Allied Forces through Switzerland. He didn't have battle troops and most of his men were Reserve Troops and men of the Organization Todt.
In February 1945 Schmidt and his "Corps" came under the command of AOK 19, 19th Army Corps, under command of General der Infanterie Hans von Obstfelder,
together with the garrisons' of the towns from Radolfzell, Konstanz and Friedshafen on the Bodensea and five Battalions of the border protection. All together a 300 men without a descent training but the defend of Konstanz was really fanatic. Hans von Obstfelder survived the war and died 20-12-1976, aged 90 in  Emstal near Kassel. On 04-05-1945 they retreated through the Arlberg tunnel to Strengen and surrounded by the 1st French Army
 under command of General Jean de Kattre de Tassigny. The commander of the 6th Allied Army Group, Jacob Devers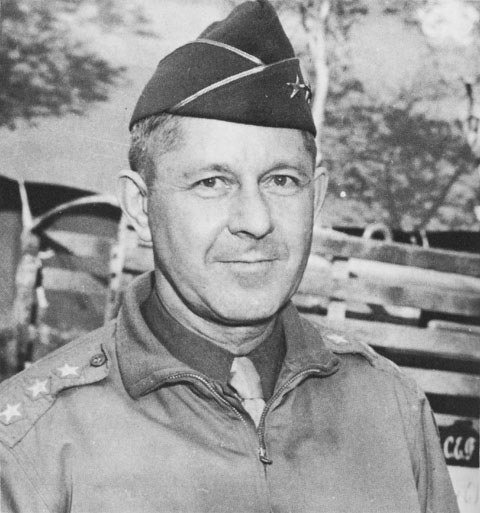 to negotiate with the commander of the 19th Army Corps. Schmidt didn't want to surrender, then was informed by Generalleutnant der Infanterie,  Chef Heeresgruppe "Kurland", Hermann Foertsch, ordered by Generalfeldmarschall der Flieger, Oberbefehlhaber der Luftflotte 2, Albert Kesselring, 
on 05-05-1945  that the German Forces had surrendered and he surrendered with his Staff to the 44th US Division, motto "Prepared imn all things"
 under command of Brigadier General  William Arthur Beiderlinden.
The 44th US Division had the next casualties during the war, killed 1008, wounded 4650, missed in action 434 and captured 19. Schmidt landed in American captivity.
Death and burial ground of Schmidt, Hans Joachim Hermann.
Released in 1947 and living in Stuttgart Hans Schmidt died 31-12-1948 at the age of 71 and is buried with his wife Ellen, on the old cemetery of Degerlo, a suburb of Hanover.