Rühmann, Heinz, born 07-03-1902 in Essen,
Westphalia. His role in the 1930 movie Die Drei von der Tankstelle
, Those Three from the Gas Station, led him to film stardom. He remained highly popular as a comedic actor and sometimes singer throughout the 1930s and early 1940s. He remained in Germany and continued to work during the Nazi period, as did his friend and colleague Hans Albers.
In 1944, he starred in a nostalgic comedy of mistaken identities, Die Feuerzangenbowle, The Fire-Tongs Bowl, which was likely the most popular film of his career, especially as a cult hit among college students. Rühmann had a difficult time resuming his career after the war, but by the mid-1950s the former comedian had established himself again as a star, only this time as Germany's leading character actor. In 1956, Rühmann starred in the title role of the internationally acclaimed picture Der Hauptmann von Köpenick, The Captain of Köpenick, Rydz-Śmigły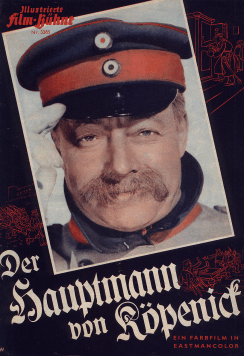 the true story of a Prussian cobbler, Wilhelm Voigt, who dressed up as an army officer and took over the town hall in Köpenick. In the days of the German Empire, the army had an almost sacred status, and this cobbler embarrassed army officers and civil servants, who obeyed him without questioning. Rühmann was also the leading man in the 1960 film version of The Adventures of the Good Soldier Schweik, set during the First World War, after the novels of Czech author Jaroslav Hašek. In 1965, Rühmann was brought to Hollywood by producer Stanley Kramer
 for a supporting role in his all-star movie Ship of Fools. Rühmann was married with his Jewish wife Maria Bernheim, had to divorce under pressure of the Nazis and she survived in Sweden. His second wife was Hertha Feiler, she had a Jewish grandfather which cost him again problems with the Nazis.
 Hertha Feiler wanted to be a pianist, but after an inflammation this became impossible and she pursued an acting career. She made her stage debut in Vienna in 1936 and her first movie part was in "Liebling der Matrosen" (1937). She worked with Heinz Rühmann during the shooting of "Lauter Lügen" (1938). Rühmann had to divorce his Jewish wife Maria Bernheim in 1938. In later years Rühmann said that when he met Hertha Feiler again the next year at a private occasion, she reminded him that he still owed her 20 mark. He was very ashamed and probably exaggerated his apologies: on 01-07-1939 they were married. They lived at Kleinen Wannsee 15 in Berlin/ Wannsee
  and had a son on 07-07-1942. Feiler was partly Jewish herself and was only allowed to work with a special permit, but together with Rühmann she made several successful movies until the end of the war. Hertha survived the war and died 01-11-1970, age 54, in Munich
During the war years, Rühmann increasingly let himself be co-opted by the Third Reich
and Adolf Hitler was a fan of his movies
. His role as lead actor in the comedy Quax the Crash Pilot was supposed to distract the populace from the war. In 1941, under the direction of Reichsfilmkammer president Carl Froelich
, Rühmann played the title role in Der Gasmann, about a gas meter reader who is suspected of foreign espionage. In 1944, the premiere of Die Feuerzangenbowle was forbidden by the Nazi film censor for "disrespect for authority". Through his good relationships with the regime, however, Rühmann was able to screen the film in public. He brought the film to the Führerhauptquartier Wolfschanze, where von Stauffenberg,
tried to kill Hitler, for a private screening for Hermann Goering
and others. Afterward, Goering was able to get the ban on the film lifted by Adolf Hitler. A nostalgic comedy of mistaken identities, the film was probably the most popular film of his career and later became a cult hit among college students. As a "state actor", the highest title for an actor during the Nazi era, Rühmann was not drafted into the Wehrmacht
. He did have to take the basic training to become a military pilot, but for the Third Reich, Rühmann was more valuable as an actor and he was spared having to take part in the war effort. In August 1944, Joseph Goebbels put Rühmann on the Gottbegnadeten list of indispensable actors.
The enormous range of Rühmann's popularity during the Nazi era is illustrated by the fact that he was also a favorite actor of Adolf Hitler and his propaganda minister Joseph Goebbels.
 When the Russians entered Germany in 1945 she was raped several times by Russian soldiers in front of her husband.
 The Soviet troops destroyed their bungalow and in 1947 they lived in a wooden barrack at the Bavaria Filmgelände. After the war she continued her career. Her last movie was "Die Ente klingelt um halb acht" (1968). She suffered from cancer and wasn't able to work anymore. She spent the rest of her life in Munich, where she died in 1970, aged only 54. Heinz Rühmann was also a favorite actor of Holocaust diarist, Anne Frank
, who pasted his picture on the wall of her room in her family's hiding place during the war, where it can still be seen today. The enormous range of Rühmann's popularity during the Nazi era is illustrated by the fact that he was also a favorite actor like Johan Heesters
 of Adolf Hitler and his propaganda minister, Joseph Goebbels. Rühmann was introduced to Adolf Hitler. As the Russians conquered Berlin, Ruhmann had to watch personal as his wife Hertha Feiler was assaulted several times by the Russian soldiers. After the war Rühmann was not allowed to pro form on stage until 1946, but soon after again one the famous actors in Germany.
Death and burial ground of Rühmann, Heinz.
Rühmann died at the very old age of 92, on 03-10-1994 and is buried on the local cemetery of Berg am Starnberger See, Bavaria.
 The same cemetery were Generalmajor Nazi Intelligence Service, Reinard Gehlen
from the secret organization, is buried.