Rejewski, Marian Adam, born 16-08-1905 in Bromberg,
now Bydgoszcz, from Józef Rejewski, who was a cigar merchant, and Matylda Thoms.
The town of Bydgoszcz, where Rejewski was born and brought up, was in the Prussian partition of Poland and was also known by the German name Bromberg. It was at a German speaking Gymnasium in Bydgoszcz, the Königliches Gymnasium of Bromberg,
that Rejewski was educated. He graduated in 1923 and entered the Adam Mickiewicz University of Poznan
to study mathematics. After Rejewski graduated with his first degree in mathematics, he remained at Poznan University to study for his Master's degree. He was awarded that degree on 01-03-1929 for his thesis Theory of double periodic functions of the second and third kind and its applications. He then went to Göttingen University in Germany to enrol in a two-year actuarial statistics course. However, he did not complete the course for, in the summer of 1930 when he had returned home for a break in his studies, he was offered a position as a teaching assistant in mathematics at Poznan University. He accepted the offer and began teaching there. Now before going to Göttingen, Rejewski had attended a cryptology course which was put on by the Cipher Bureau for the best German speaking mathematics students. After he accepted the teaching position at Poznan University he began to work part-time for the Poznan Branch of the Cipher Bureau. They were interested in decoding intercepted German radio transmissions which were broadcast using a new cipher system. These messages were coded by an Enigma machine
,  but at this time even this fact was not known to the Poles. However, the Poznan Branch of the Cipher Bureau was disbanded in the summer of 1932 and, on 01-09-1932, Rejewski began to work full-time at the Cipher Bureau in Warsaw. There he was joined by another two young Polish mathematicians, Jerzy Rozycki and Henryk Zygalski
.
The Enigma machine 
was an electromechanical device, equipped with a 26-letter keyboard and 26 lamps, corresponding to the letters of the alphabet. Inside was a set of wired drums (rotors and a reflector) that scrambled the input. The machine used a plugboard to swap pairs of letters, and the encipherment varied from one key press to the next. For two operators to communicate, both Enigma machines had to be set up in the same way. The large number of possibilities for setting the rotors and the plugboard combined to form an astronomical number of configurations, and the settings were changed daily, so the machine code had to be "broken" anew each day.
In late October or early November 1932, the head of the Cipher Bureau's German section, Captain Maksymilian Ciężki,
tasked Rejewski to work alone on the German Enigma I machine for a couple of hours per day; Rejewski was not to tell his colleagues what he was doing
The team had a commercial Enigma machine which Rejewski was able to study, but it was clear that the messages were being sent by military style Enigma machines which were modified versions of the commercial type. Rejewski explained in how he broke the codes. On 20-06-1934 Rejewski married Irena Maria Lewandowska;
they had two children, Andrzej born in 1936 and Janina born in 1939. During this time, he continued to work at the Cipher Bureau in Warsaw. Although the methods devised by Rejewski allowed many messages encoded by the Enigma machine to be read, in September 1936 the Germans changed the coding procedure to introduce a more secure system.
Again Rejewski, with assistance from Rozycki and Zygalski, was able to make good progress with the greater complexity which had been introduced, and by January 1938 they were able to read about three-quarters of the Enigma messages which were passed to them for decoding. However, the Germans added further complexities to the Enigma machine in December 1938, and again the Poles worked on breaking the codes. Rejewski was able to pass his knowledge of decoding the Enigma messages to the British and French at a meeting which took place in July 1939 at Pyry to the south of Warsaw. After the Germany army invaded Poland on 01-09-1939,
it advanced rapidly towards Warsaw. Rejewski, along with others who had worked at the Cipher Bureau in Warsaw, was evacuated to Romania (although his wife and family remained in Poland, before the German troops reached Warsaw. Rejewski, Rozycki and Zygalski managed to avoid being forced into a refugee camp and they reached Bucharest where, after an unsuccessful attempt to get help from the British embassy, they made contact with the French embassy. The three Polish mathematicians were evacuated to Paris which they reached before the end of September. In October they joined a joint French-Polish-Spanish decoding unit at the Château de Vignolles
north east of Paris and by the end of the year they were again managing to decode messages sent by the German Enigma machines. In May 1940 Germany invaded France, and on 14 June German troops entered Paris. France surrendered on 22 June and, two days later, Rejewski and his colleagues were evacuated to Algeria. Germany occupied the north and east of France while the French set up a new government in Vichy under the leadership of Marshal Henry Pétain
which saw itself as a partner of Germany. Rejewski and his colleagues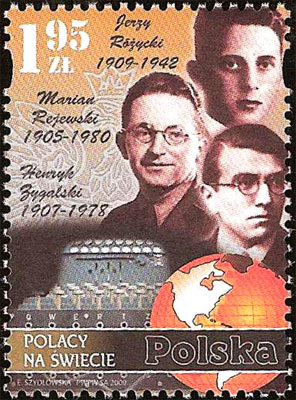 returned to this unoccupied Vichy France in September 1940 to work there in secret. To hide his real identity, Rejewski posed as a professor of mathematics from a lycée in Nantes. He worked at the Château des Fouzes near Uzès
where a secret intelligence unit was set up. Again Rejewski and his colleagues began decoding German messages but on 09-01-1942, age 32, Jerzy Rozycki
died when a ship on which he was returning to France after a stay in Algeria was sunk. Henryk Zygalski
died on 30-08-1978, age 70, in Liss, England, was cremated and his ashes taken to London. Maksymilian Ciężki died on 09-11-1951, age 52, after living the last three years on subsidies from the Assistance Board..
Later that year, after the Allies invaded North Africa, the German troops occupied Vichy France.
The secret intelligence unit in the Château des Fouzes was in severe danger and it was evacuated on 09-11-1942, three days before German soldiers discovered it. Rejewski and his remaining colleague Zygalski moved around many of the cities of southern France avoiding capture. They eventually decided to attempt to cross the Pyrenees to reach Spain. Despite being robbed by their guide at gun point, they reached Spain, only to be put in prison. At first they were imprisoned at Séo de Urgel where they were held from January to March 1943, then they were moved to a prison in Lerida. On 24 May they were released and sent to Madrid. From there they made their way to Portugal and, after transfer by Royal Navy ship to Gibraltar, they were flown to Britain where they arrived 03-08-1943. Rejewski then joined the Polish Army
in Britain and remained there for the rest of the war, again working on decoding. Had the British authorities had a greater understanding of Rejewski's abilities he would surely have been sent to Bletchley Park
to assist the decoding operations being carried out there; sadly this opportunity was missed. On 21-11-1946 Rejewski was demobbed and returned to Poland to be reunited with his family. They were living with their parents in Bydgoszcz and so, following his return, Rejewski chose not to return to his position as a mathematician at Poznan University (although it was still open to him) and took a job as a supervisor of sales at Polish Cable. Rejewski's family suffered a tragic loss shortly after his return when his eleven year old son died from polio. Their life was, over many years, made extremely difficult by enquiries carried out by the Polish Security Service. Rather remarkably, however, the Security Service never discovered his role in deciphering Enigma code. Despite not finding this out, nevertheless they demanded that he be dismissed from his position which happened in 1950. He then held a number of positions before becoming a bookkeeper at the Provincial Union of Labour Cooperatives in 1954. He held this position until he retired in 1967. Rejewski and his family moved to Warsaw in 1969 and the full story of his involvement with the Enigma cipher breaking emerged in 1973. This led to him becoming famous through newspaper articles, radio and television programmes.
The breaking of the Enigma code turned out to be a gold mine of information. This information, obtained by deciphering the secret German messages, was codenamed "Ultra" and played an extremely important role in the course of World War II, especially in the Gross Admiral Karl Dönitz's
U-boat war in the Atlantic, the Erwin Rommel's 
battles in Africa and the landing in Normandy.
Death and burial ground of Rejewski, Marian Adam.
Rejewski, who had been suffering from heart disease,
died of a heart attack at his home on 13-02-1980, aged 74. He is buried with military honors at Warsaw's Powązki Military Cemetery. Section B 39, line 4, No. 3