Priebke, Erich, born 29-07-1913 at Hennigsdorf
which was then in the Kingdom of Prussia. Little is known of his early life but he told interviewers that his parents died when he was young
and that he was reared mainly by an uncle before earning a living as a waiter in Berlin, The Savoy Hotel, London and on the Italian Riviera. Then from 1936 he worked for the Gestapo
as an interpreter and because of his knowledge of Italian he was based in Rome from 1941. Priebke married Alicia Stoll and with her, he had two sons: Jorge, born in 1940 and Ingo, born in 1942.
Priebke was among the forces sent by Adolf Hitler to secure Italy from allied invasion in 1943.The massacre of Fosse Ardeatine
 took place in Italy on 23-03-1944, 33 German soldiers (members of an SS military police battalion from South Tyrol) were killed when members of the Italian Resistance set off a bomb close to their column, and attacked the soldiers with firearms and grenades while they were marching along Via Rasella, in Rome. This attack was led by the Gruppi di Azione Partigiana (GAP)
. Adolf Hitler is reported, but never confirmed, to have ordered that within 24 hours, ten condemned Italians were to be shot for each dead German.
Commander Herbert Kappler
 in Rome quickly compiled a list of 320 prisoners to be killed. Kappler voluntarily added ten more names to the list when the 33rd German died after the partisan attack. The total number of people executed at the Fosse Ardeatine was 335, mostly Italian. The largest cohesive group among those executed were the members of Bandiera Rossa (Red Flag), a non-mainstream communist (Trotskyist) military resistance group, along with more than 70 Jews. On 24 March, led by SS officers SS Sturmbannfuhrer
Karl Hass and Erich Priebke,
, the victims were killed inside the Ardeatine caves in groups of five.The victims were led into the caves with their hands tied behind their backs and then shot in the neck. Many were forced to kneel down over the bodies of those who had already been killed. During the killings, it was found that a mistake had been made and that five additional people who were not on the list had been brought up to the caves.  With 75 Jews among the victims, the Ardeatine caves massacre is the largest single murderous episode of the Holocaust in Italy. In post-WWII trials, Priebke was set to be tried for his role in the massacre, but he managed to escape from a British prison camp in north-eastern Italy in 1946. Two years later, Erich Priebke got help from ODESSA
with famous helpers as Gudrun Himmler
and fled to Argentina where he lived for more than 50 years. In addition to the massacre, Priebke
is thought to have participated in the deportation of 6.000-7.000 Jews from Italy to Auschwitz concentration camp, and to have tortured political prisoners. ODESSA, the Organization of Former SS Members ("Organization Der Ehemaligen SS–Angehörigen"), was an organization founded in 1944 with the express purpose of helping Nazi members flee Europe and escape justice. In San Carlo di Bariloche in Argentien he lived a pretty happy life with his wife Alice, who died in August 2004.In 1994, Priebke felt it was safe to talk about the incident and was interviewed for a story by American reporter Sam Donaldson of ABC News. In the interview, Priebke told about his role in the massacre and also excused his actions by saying that he only followed orders from the Gestapo Chief of Rome, Leutnant Oberst Herbert Kappler.
Priebke also told Donaldson that the victims – from 14 year old boys to 75 year old men – were nothing but terrorists. He admitted that it was he who compiled the lists of those going to be executed. Donaldson's report proved how little remorse Priebke felt for his actions. Following international outrage, Argentinean authorities arrested Priebke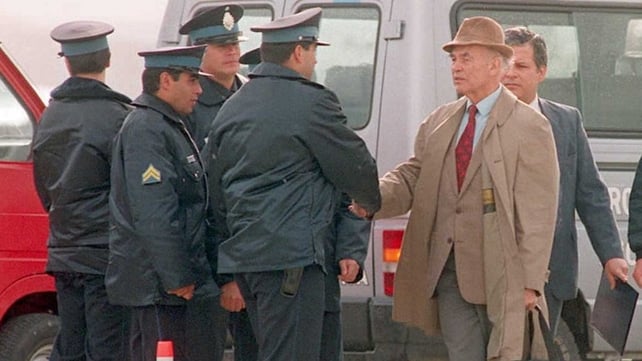 but because of his old age and poor health, he was at not imprisoned and rather held in house arrest. After 17 months of delays, the Argentinian supreme court decided that Priebke was to be extradited to Italy and he was put on a direct flight from Bariloche to Ciampino, a military airport close to the Ardeatine caves where the executions had been carried out many years earlier. On trial in Italy, Priebke declared himself not guilty.
 He did not deny what he had done, but he denied any responsibility. He blamed the massacre on the Italian civilians who were behind the original attack on the German soldiers and also said that since the order came directly from  Hitler (did you know), he thought it was a legitimate punishment. During the trial it became clear that Priebke had also personally shot two Italians. On 14-04-1997, this new trial began and Priebke was sentenced to 15 years in prison, while another man who also was part of the massacre, Karl Hass was sentenced to 10 years. Erich Priebke only had to do 5 years because of a previous amnesty and he got some more time subtracted because of the time he had spent under house arrest and in custody in Italy. The sentence thus was to be 2-3 years. Still denying all responsibility, Priebke appealed the case. The appellate court decided that he had committed cruel murders of the first degree and sentenced him instead to life in prison. Erich Priebke appealed this ruling all the way to the European Court of Human Rights in Strassbourg.
When SS Sturmbannfuhrer
Karl Hass, SS nr 117557 learned that Erich Priebke had been arrested in Argentina, he wanted to testify against him so that he himself would escape his punishment. But the day before he would testify, he changed his mind and wanted to flee from his hotel, falling off the balcony and seriously injuring himself. At the hospital he made a witness statement and said that he had only killed two civilians and only followed orders. But as a result of his escape attempt, he had lost his criminal immunity and was dragged to court. In 1998, he was sentenced to life imprisonment in Italy. Due to his poor health, Karl Hass was allowed to serve this sentence in the Swiss city of Geneva, where he died of a heart attack on 21-04- 2004 at the age of 91.
In the summer of 2005, the small community of Cardana di Besozzo briefly turned upside down. In the village with the picturesque name, located near Lake Maggiore, the war criminal Erich Priebke is spotted around mid-August. He turns out to be on holiday in an idyllic villa owned by Dietrich Bickler, himself the son of the a former Gestapo officer SS Standartenführer
Christian Hermann Bickler
. Such brutality stirs up the villagers. Priebke's presence is not wanted in the otherwise peaceful hamlet. Some residents call it 'a provocation', pointing out, among other things, the nearby Meina – which can be seen from the terrace of the Bickler villa – where 54 Jews were murdered in cold blood by the SS in September 1943. A member of the local communist party, who immediately called for demonstrations, spoke of an insult to all Italian Jews and the Italian partisans who had fought for freedom, resulting in many deaths.SS Standartenführer Christian Bickler survived the war and died age 79 on 08-03-1984 in Vignone.
Death and burial ground of Priebke, Erich.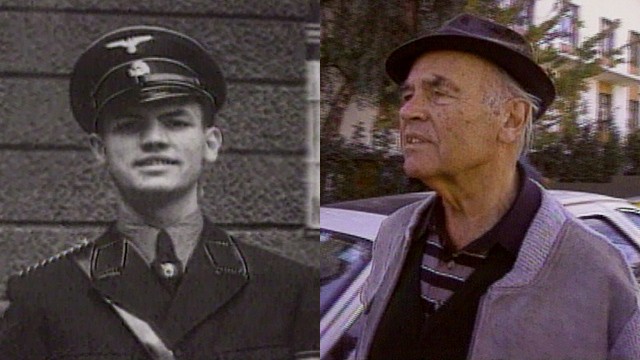 On 11-10-2013, Priebke died in Italy at the age of 100 and his body was then taken to Pratica di Mare, a nearby Italian air force base, close to Rome and his body was buried in the long-abandoned cemetery after both the city of Rome and the Catholic Church barred his family from having a public funeral service or a marked grave. His last request to have his remains returned to Argentina to be buried alongside his wife was refused by the Argentinian government.