Polowski, Joseph "Joe", born 02-10-1916 in Chicago, Illinois,
was a US soldier who with others met Soviet troops on the banks of Elbe River on 25-04-1945 and then became an anti-war activist. Joseph was the youngest son of Jewish immigrants who had immigrated from the Kiev area in the Russian Empire to the USA and worked as a taxi driver in Chicago. During World War II he was conscripted and served in the 69th Infantry Division
The shoulder sleeve insignia of the division was designed by its then commander Major General and Commandant 34th Infantry Division "Red Bull" 
, Charles Lawrence Bolte
 with the red, white and blue being the colours of the United States forming a "6" and a "9". He belonged to a scouting party which crossed Elbe in Torgau on 25-04-1945 and met Soviet troops on the other bank. When the Americans and the Soviets saw bodies of German civilians killed by stray artillery fire near the river the soldiers of both armies swore to do everything to prevent a new war. In 1946 Polowsky was discharged from the army. Back in the U.S., he unsuccessfully asked the United Nations to declare 25 April a World Day of Peace.
During the McCarthyism era
he was prosecuted for "un-American activities". Each year he commemorated the Elbe Day on the Michigan Avenue Bridge in Chicago
and held a vigil. He continued to work as a taxi driver. In 1959 he met Soviet Prime Minister Nikita Khruschhew
who visited the United States, here with president John F Kennedy
.
A short time later he was invited to visit the USSR where he again met Khrushchev in the Kremlin. Then he visited GDR and met Walter Ulbricht
,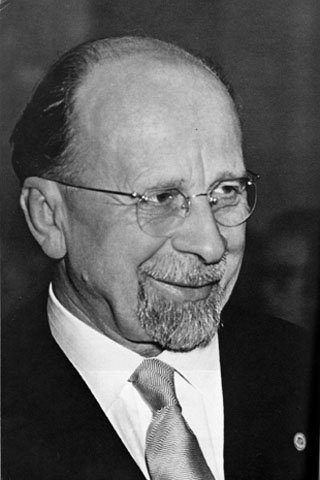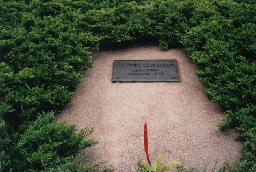 Death and burial ground of Polowski, Joseph "Joe".
Already ill with cancer, Polowsky held his last vigil on Michigan Avenue Bridge on 25-04-1983. He died in Chicago on October 17-10-1983, age 67.. In his will he asked to be buried in Stadtfriedhof of Torgau,.Torgau, and was buried with military honors on 26-11-1983.