Pfeffer von Salomon, Ritter Franz Felix, born 19-02-1888 in Düsseldorf,
as the oldest of seven children of Max Pfeffer von Salomon and Anna von Clavé-Bouhaben. He was from a noble family of the Lower Rhine and had one siser and one brotherr: One brother was Friedrich Pfeffer von Salomon, who was a German police president, head of the Gestapo Kassel, SA leader and district president in Wiesbaden. Friedrich died 29-10-1961 (age 69) in Straelen. Franz had studied law prior to starting a military career. He married Maria Freiin Raitz von Frentz and they had four children: Irmgard Pfeffer von Salomon; Kunigunde Pfeffer von Salomon; Ferdinand Pfeffer von Salomon en Max Pfeffer von Salomon. He was a Prussian Army veteran of the First World War and also a Freikorps member. He gained his reputation by organizing resistance groups to put an end to the French occupation of the Ruhr.
He was the first commander of the SA, after its 1925 restoration, which followed its temporary abolition in 1923 after the abortive Beer Hall Putsch
.  After he swore unconditional loyalty to Hitler following the Bamberg Conference of 1926, he was the commander of the SA. As his name Pfeffer von Salomon sounded Jewish he had shorten his name in Pfeffer. Salomon was the Freikorps, Free Corps Pfeffer von Salomon,
leader and veteran from World War I. He joined the NSDAP, NSDAP-nr.: 95 and made a name for himself by organizing resistance groups to stop the French occupation of the Ruhr. He was Gauleiter to Upper Bavaria and Reichsführer SS, Heinrich Himmler
was once his secretary. Adolf Hitler 
(did you know) made Salomon commander of the SA
 after he swore unconditional loyalty to Hitler following the Bamberg Conference in 1926. Pfeffer von Salomon was fired in 1930 over disagreements with Hitler as to the role of the SA, and because he failed to stop fellow SA leader Walter Stennes, from briefly occupying the Nazi Party's office in Berlin, Gauleiter Josef Goebbels 
 (did you know). Members of the SA in Berlin led by Walter Stennes
, had for some time been voicing objections to the policies and purposes of the SA, as those had been defined by Hitler. These SA members saw their organization as a revolutionary group, the vanguard of a socialist order that would overthrow the hated Republic by force. Sturmabteilungsleader, Walter Stennes, in 1933 fell into disgrace by Hitler and had to flee to Shanghai.and died old age 94, on 18-05-1989 in Brügge near Ludenscheid.  After Salomon's dismissal, Hitler assumed personal Supreme Command of the SA. Thereafter, SA leader, Ernst Julius Röhm 
was summoned by Hitler to return to Germany from South America and to run the SA as its Chief of Staff, since Hitler had no interest in running the SA itself. After Rudolf Hess's
 flight to Great Britain, Franz Pfeffer von Salomon fell in disgrace with Hitler in 1941 and was in custody for a short time. On the eve of war with the Soviet Union, Hess flew solo to Scotland in an attempt to negotiate peace with the United Kingdom, but was arrested and became a prisoner of war. Hess was tried at Nuremberg and sentenced to life imprisonment, which he served at Spandau Prison, Berlin
, where he died in 1987. Pfeffer von Salomon lost his status as a Member of the Reichstag, as well as all offices he held and he was expelled from the NSDAP 
on 14-11-1941. From 1942 on, he was living on his estate in Pomerania. On 21-07-1944, he was arrested because he was suspected of having ties to the conspirators of the 20th July. According to his own accounts, he was imprisoned for four months. Early in 1945, he fled Pomerania for Bavaria, where he was given command of a Volkssturm
 militia unit. From the end of the war to 1946, he was interned in Heilbronn. From 1949 to the early 1950s, Franz Pfeffer von Salomon was an active member of the Hessian regional association of the right-wing conservative Deutsche Partei.
Death and burial ground of Pfeffer von Salomon, Ritter Franz Felix.
After his dismissal, he lived in Wiesbaden and finally moved to München in 1960, where he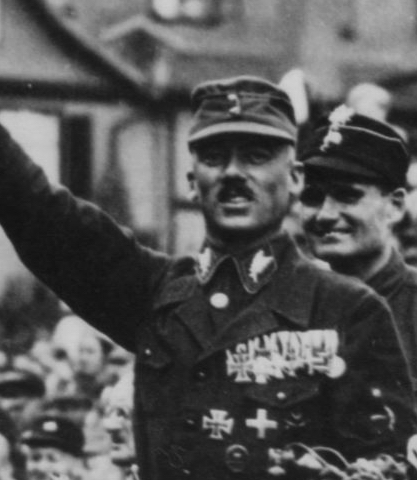 died on 12-04-1968, at the old age of 80 and is buried on the Waldfriedhof Solln of Munich, alas his gravestone is partly destroyed. Only steps away the graves of General Field Marshal der Infanterie, Oberbefehlhaber der Armee Gruppe A, Wilhelm Sigismund  List,
General der Panzertruppe, 
Kommandeur der 4th Panzerdivision 
, 
Dietrich von Saucken
and General der Flieger, 
Inspector der Tagesflieger
, 
Johannes "Hans" Trautlof
.