Kussin, Friedrich Wilhelm Enno, born 01-03-1895 in Aurich, Niedersachsen,
entered the Army as a Fahnenjunker, age 18, on 26-03-1913, in the 2nd Railway Regiment. He was in the fields of the first war with this regiment and was allowed in the new Reichswehr 
after the war. With the outbreak of World War II he was commander of the 80th Pioneer Battalion
until February 1940. Kussin landed after different commands in the Führer Reserve (see Adolf Hitler) 
(did you know) from 01-04-1943 until 02-09-1943 and became the Field Commander 642 of Arnhem. Due to the strategic importance of the city of Arnhem on the Rhine, the German High Command allocated to the city an administrative sub-area headquarters known as Feldkommandantur 642, OK 642.  The Rhine bridge would be a target of the Allies in September 1944, during Operation Market Garden.
 but only the group of Lieutenant Colonel John Dutton Frost
would reach the bridge and hold it for three days.Arhem was commanded by Generalmajor Friedrich Kussin, a Pioneer Officer who had a history dating back to pre World War I. Kussin had assumed the position of commander Feldkommandantur 642 in September 1943 and was responsible for the security of the town. However it is assumed that he did not possess a large number of troops under command but rather a small security detachment that included Flak to guard vital assets such as any bridges that spanned the Rhine through Arnhem. On the 17-09-1944, thousands of British Paratroopers descended west of Arnhem causing alarm for all German unit in the area.
Knowing full well that General Kussin was responsible for the security of Arnhem itself, he needed to know exactly the strengths and dispositions of the allied troops that had recently landed. Unable to make contact with German units west of Arnhem he decided to personally advance to the front to get a better picture of what was occurring. He departed in his Citroën Staff Car
along the Utrechtseweg with his driver Gefreiter Josef Willeke and his aide Unteroffizier Max Köster. They arrived at the headquarters of the SS-Panzergrenadier-Ausbildungs und Ersatz-Battalion 16 commanded by SS Hauptsturmführer Josef "Sepp" Krafft 
 at roughly 17.15h. Josef Krafft died age 83, on 16-10-1994, in Fürstenfeldbruck. The General was briefed on the situation with the latest information as one of Krafft's companies had just returned from an attack. General Kussin told Krafft to demonstrate his endurance for the up coming battle and that he would try and get reinforcements. Before getting back into his staff car, Krafft informed the General to return via a northern route as it was very likely that British paratroopers now occupied the southern route. Kussin, for whatever reason, ignored the SS- Hauptsturmführer's advice and departed the same way as he came. A few minutes later as the German General and his Staff returned to their headquarters, they ran into the British of B Coy Parachute Battalion
 led by Lieutenant James Cleminson
of B Company. James Clemenson who was also a keen sportsman throughout his life died old age 89, on 14-09-2010 in Suffolk
. Krafft's subsequent moves were more effective. He ordered Nos. 2 and 4 Companies to form a north-south blocking line just east of Wolfheze, covering the railway line and the Utrecht road lines of possible approach to Arnhem. He brought up his battalion headquarters and established it at the Hotel Wolfheze, in the center of the line. Some Dutch 'terrorists' seemed to be interfering with part of these moves were 'suitably dealt with'. By his swift and decisive action, Krafft had his men in position by 3.30 p.m., an hour and an half after the end of the landings and just before the units of the 1st Parachute Brigade set out towards Arnhem. By gathering every possible extra man, the German battalion now numbered 435. The number of men in the British units setting out from the landing area towards Arnhem was about 2000. Rarely can the disposition of a small force such as Krafft's have had such an effect upon battle.
Death and burial ground of Kussin, Friedrich.
As Kussin with his driver reached the crossroad of Wolfhezer Weg and Utrechtse Weg, 33rd Parachute Battalion led by Lieutenant James Cleminson
Sir James Cleminson KBE MC DL survived the war sadly died in hospital, old aged 89 years on 14-09-2010 and buried in the graveyard of Barsham Church in Suffol, Two men, Private Bill Collard and Private Bennet, walked in front of the peloton as scouts. Behind the peloton was William Gordon, friend of Bill Collard.Coming from the west they approached the T junction Utrechtseweg Wolfheze.Quite unexpectedly, the two scouts Collard and Bennet saw a German staff car turn up the main road and opened fire in a reflex They stopped the vehicle in its tracks and killing all occupants, Three days later William Gordon went into captivity and ended up in Stalag XIB in Fallingbostel. Due to a good relationship with a German security guard came in a local pub. William Gordon about this: "All the German guards and everybody else new the war was ending and the guards would say to me" Remember Bill, we have been good to you! pub, although we were told to sit at the rear by where we were brought a beer! I swear to God its true. " In the shooting Kussin and his driver Josef Willeke, age 42 and his aide and translator, Max Köster, age 40. Kussin's car tried to move back, but Para Frederick Brown, was the first to shoot and the other followed and riddled the car.
 A next passing group pulled Kussin out of the car and apparently a sturdy fool started to scalp him.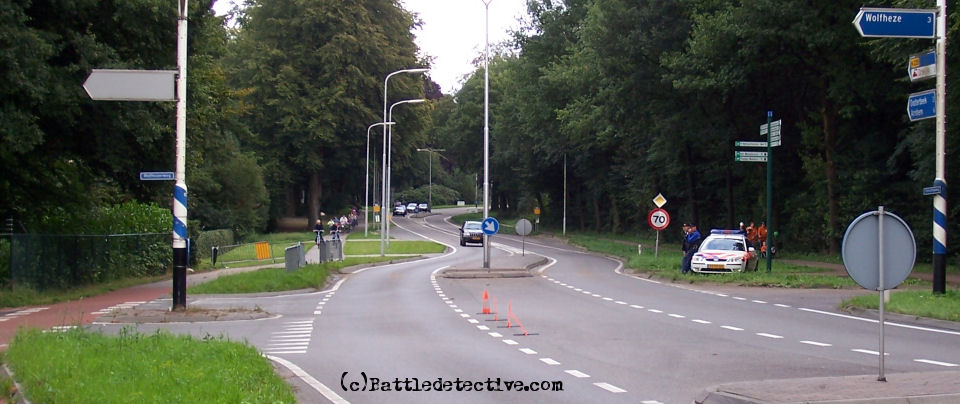 The man responsible for the defence of Arnhem was now dead at 17.30h on the 17-09-1944. Captain Rev. Pare, the chaplain of No. 1 Wing of the Glider Pilots Regiment,
had two German POW's bury the three dead by the side of the road on 19 September. Kussin at the age of 49 is now reburied, next to his driver and aide, on the War Cemetery of Ysselstein. The Allied casualties around Arnhem are killed and wounded in action, 1.984 and captured and missed 6.854. The German casualty figures are less complete than Allies, and official figures have never been released. A signal possibly sent by II SS Panzer Corps on 27 September listed 3.300 casualties, 1.300 killed and 2.000 injured, around Arnhem and Oosterbeek. Robert Kershaw's assessment of the incomplete records identified at least 2.500 casualties. In the Roll of Honour: Battle of Arnhem 17–26 September 1944, J.A. Hey of the Society of Friends of the Airborne Museum, Oosterbeek identified 1.725 German dead from the Arnhem area relating to the time of the battle. All of these figures are significantly higher than Walter Model 's 
 conservative estimate of 3.300 casualties for the entire Market Garden area of battle, which included Eindhoven and Nijmegen. Also buried on Ysselsteyn the personalities, Generalleutnant der Infanterie, Kommandeur der 526th Reserve-Division, Kurt Schmidt 
, Generalmajor der Infanterie, Kommandeur der 376th Infanterie Regiment, Oskar von der Hagen, Flyer aces Hauptmann, Captain of the 7th Squadron, August Geiger, Oberleutnant of  3./NJG1
  Paul Gildner, SS Obergruppenführer, Kommandeur Fallschirm Jäger Regiment 9, Friedrich Alpers.
Major, Kommandeur III./N.J.G. 1, flyer ace, Egmond Prinz zur Lippe Weissenfeld,
Major, Kommandeur I./N.J.G. 100, flyer ace Heinrich Prinz zur Sayn Wittgenstein, 
 Oberleutnant, Fliegerass, 24 victories, Helmut Woltersdorf, Oberleutnant, in the 26th JG, Air Fighter Squadron, Karl Willius.     
     Driver Josef Willeke.                             Grave Josef Willeke.
            Kussin is already scalped.