Kraiss, Dietrich, born, 16-11-1889 the same year as Adolf Hitler (did you know) in Stuttgart
Kraiß was an anti-semite, as is evidenced by his repeated mentions of allegedly hostile Jewish elements among the Soviet political officers in his orders and field diaries. He was a commander of the 90th Infantry Regiment, from September 1939 to March 1941, 168th Infantry Division
, from July 1941 to March 1943 and 355th Infantry Division until May 1943. In November 1943 he took command of the 352nd Infantry Division
 which was in 1944, with six other divisions, located in Normandy in front of the Allied invasion. His 352nd Infantry Division had 7.400 soldiers and kept defensive positions around St. Lô.
, where the American 101 Airborne 
Lieutenant Colonel Robert Cole 
earned his medal of honor 
for bravery,  He eventually died on 06-08-1944 of injuries sustained 2 days earlier. Major Werner Pluskat, died 2002, was a German Major, commander of the 352nd Artillery (Artillerie Abteilung) of the German 352nd Infantry Division during Allied invasion in Normandy 1944. (see Kieffer)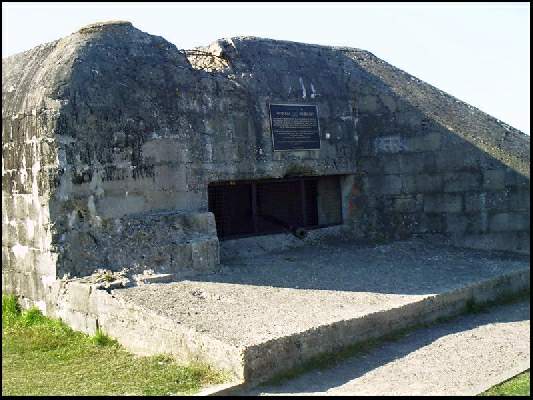 Martin Pluskat.                            Pluskat's bunker.
He was the first German officer who saw the Allied invasion fleet on June 6, 1944, 
heading toward their landing zone at Omaha Beach. His men fired their guns on Omaha Beach until they ran out of ammunition. Pluskat was with Generalleutnant Kurt Dittmar, he died age 67, on 26-04-1959,
in Stadtoldendorf. The 352nd was destroyed in the fighting following the invasion; on 30 July the 352nd was declared abgekämpft, meaning it was no longer fit for combat. It was reconstituted as the 352nd Volksgrenadier Division in September and fought in the Battle of the Bulge, against the 101st Airborne Division 
 the Screaming Eagles, (see Anthony McAuliffe).
Thereafter, it fought defensively around Trier and the Moselle until it was destroyed again in mid-March 1945, with only a small remnant escaping across the Rhine at Worms. It was partially reconstituted one last time as a battle group in mid-April and ended its career near when they surrendered to soldiers of the U.S. 30th Infantry Division
 at Magdeburg, on 23-04-1945. In the film The Longest Day, about the D-day invasion,
 Pluskat was a military consultant. In the movie, he was portrayed by Hans Christian Blech.
Blech died age 78, on 05-03-1993, in Darmstadt.
Death and burial ground of Kraiss, Dietrich.
 Dietrich Kraiss who died on 02-08-1944, of war wounds from Normandy, age 53, is buried, on the war cemetery of Huissness sur Mer, Normandy, in France.