Jüttner, Hans, born 02-03-1894 in Schmiegel, Posen, entered the Army with the outbreak of the first war as a volunteer. Promoted to Leutnant in 1915 and left the Army in 1920 as a Oberleutnant, not allowed in the new Reichswehr, age 26
and he left the Reichswehr with the rank of 1e Leutnant. To keep his head above water financially, he worked as a salesman, from 1928 as a freelancer. He found jobs as a salesman and a freelancer. In 1933 he became the sports teacher in Breslau and joined the SA
. In 1934 he became leader of the SA training body in Munich.  He, a Hauptsturmführer now
was installed in the SA Collegiate Office with Heinrich Himmler
.
In 1934, Jüttner also became leader of the SA training body in Munich.
His brother Max was a SA Obergruppenführer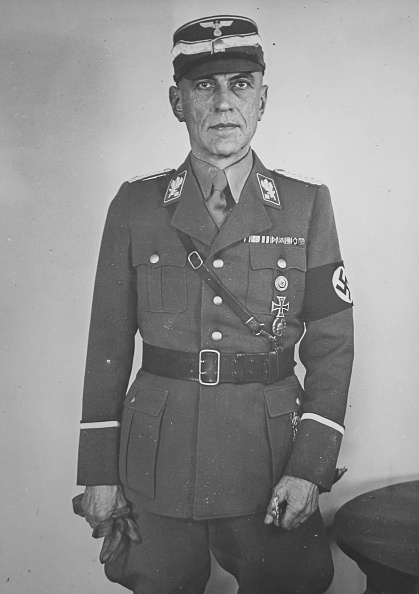 After the death, in a car accident, of the SA leader Viktor Lutze
Max Jüttner was appointed as Chief of Staff of the SA. 
 He was followed in 1943 by Wilhelm Schepmann
Max Juttner was a witness in the Nurnberg processes and died age 75 on 14-08-1963 in Munich. Wilhelm Schepmann died age 76 on 26-07-1970 in Gifhorn. In May 1935, Hans Jüttner switched to the SS combat support force, which later became the Waffen-SS. Jüttner was promoted on 01-09-1936 to SS Sturmbannführer
and appointed to the SS-VT inspection department in Berlin, Joseph Goebbels (did you know)
was also the Gauleiter of Berlin. By 1939, he had become the Inspector of Reserve Troops of the SS-VT-Division. In the summer of 1940, Jüttner was promoted to chief of staff of the newly created SS Leadership Main Office, SS-Führungshauptamt,
which was responsible for the Waffen-SS's organizational and administrative leadership. Shortly after taking office, Jüttner was instrumental in wresting control of the militarized Death's-Head regiments, Totenkopfstandarten, from Inspector of Concentration Camps SS Obergruppenführer, Kommandeur. Totenkopf" Division
. Murdered Ernst Röhm in 1934, Theodore Eicke 
and amalgamating them into the Waffen-SS. 
In June 1942, after having been promoted to SS-Obergruppenführer,
Jüttner was also given the military rank of General der Waffen-SS. On 30-01-1943, Jüttner reached the high point of his career when he became Leader of the SS Main Leadership Office. He received the Knights Cross of the War Merit Cross in Silver with Swords.
 Heinrich Himmler appointed Jüttner Chief of "Army Armament and Commander of the Reserve Army". Hereafter, Jüttner was Himmler's deputy in this area of command. Jüttner was one of those responsible for building the many prisoner of war camps in which Soviet prisoners of war were held. On 17-05-945 Jüttner was taken prisoner by British forces. In 1948 he was condemned to 10 years service in a labor camp. In appeal proceedings 1949 the punishment was lowered to 4 years. In 1961 Jüttner testified for the prosecution in the trial of Holocaust architect SS Obersturmbannführer, Adolf Eichmann
Eichmann was hanged in Israel, on 31-03-1962, age 56 and his ashes scattered over the sea.
Death and burial ground of Jüttner, Hans.
Later Jüttner was the proprietor of a sanatorium in Bad Tölz, and lived a "normal life.  He died on 24-05-1965, age 71 and is buried with his wife, Hedwig, who died age 81, on 06-09-1951, on the Old Catholic Cemetery of Bad Tölz. Only steps away the graves of the World War II Generalleutnant der Gebirgstruppe, the commander of the 2nd Mountain Division 
, Hans Degen and Generalmajor der Flieger, Commander of the Pilot School Sea and Air, Hans Jochen von Arnim, Waffen SS Brigade Führer, Commander of the Junker School in Bad Tölz, Werner Dörffler-Schuband and Generalarzt, Dr. Wilhelm Kloster.