Hammerstein-Equord, Kurt, born to a noble family in Hinrichshagen, Mecklenburg-Strelitz, 
on 26-09-1878, to a noble family, which had already produced several famous officers, in Hinrichshagen, Mecklenburg-Strelitz, German Empire in 1878. The son of the forester Heino von Hammerstein and his wife Ida, born Gustedt (also from a noble family). After initial schooling Hammerstein-Equord joined the Cadet Corps in Plön in 1888 at the age of ten, followed by the Prussian Cadet Corps Berlin-Lichterfelde in 1893. He officially entered the German army on 15-03-1898 upon his promotion to leutnant (Secondelieutenant) while serving with the 3rd Foot Guards. The future Chancellor Kurt von Schleicher (1882–1934)
also served in his unit. In 1907 Hammerstein-Equord married Maria von Lüttwitz, the daughter of Walther von Lüttwitz.
. Von Lüttwitz died age 83 on 20-09-1942 in Breslau. Hammerstein-Equord was attached to the General Staff during World War I and participated in the Battle of Turtucaia. Hammerstein-Equord was loyal to the Weimar Republc, opposing the Kapp-Lüttwitz 
putsch in 1920. He served as Chief of Staff of the 3rd Division from 1924, as Chief of Staff of the Ist Group Command in 1929, and as Head of Troops in the Office Ministry of War from 1929. A close friend of Kurt von Schleicher,
he was appointed Commander-in-Chief of the Reichswehr in 1930, replacing General Wilhelm Heye. 
Hammerstein-Equord here with his wife Maria
 had a reputation for independence and indolence, favoring hunting and shooting over the labors of administration. He told his friends that the only thing that hampered his career was "a need for personal comfort". He was an aloof and sarcastic man, renowned for his cutting displays of disregard. Hammerstein-Equord regarded himself as a servant of the German state, not of its political parties. He was extremely hostile to the Nazi Party, 
as late as 1933 referring to the Nazis as "criminal gang and perverts", Verbrecherbande und Schweineigel, the latter an allusion to the homosexual tendencies of some SA leaders, Ernst Julius Röhm
He had earned the nickname, "The Red General," for fraternizing with the trade unions. Hammerstein-Equord personally warned Adolf Hitler 
in December 1932, against trying a coup by illegal means, promising that in that case he would give the order to shoot. He made reassurances to the same effect to the American Ambassador Frederic Mosley Sackett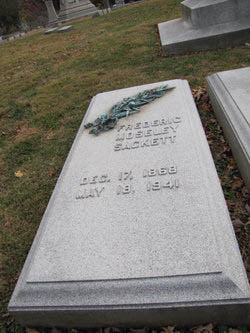 Sackett died of a heart attack age 72 on 08-05-1941 in Baltimore. Two of his daughters, Marie-Luise and Helga, were members of the secret service of the German Communist Party KPD since the late 1920s and helped to inform the Soviet Union about the political and military intentions of Hitler which he detailed in a secret speech to leading generals on 03-02- 1933. Hammerstein-Equord repeatedly warned President Paul von Hindenburg 
about the dangers of appointing Hitler as chancellor. In response, Hindenburg had assured Hammerstein-Equord, that "he would not even consider making that Austrian corporal the minister of defense or the chancellor". Scarcely four days later, on 30-01-1933, pursuant to a request by Hindenburg, Hitler formed a cabinet as the German Chancellor and Nazi leader, in coalition with the conservative German National People's Party. Owing to his opposition to Hitler, Hammerstein-Equord was forced to resign from his office on 31-01-1934. At the funeral of the murdered Kurt von Schleicher, Hammerstein was enraged when the SS refused to allow him to attend the service and confiscated the wreaths that the mourners had brought. He was recalled to military service as the commander of Army Group A
 on 10-09-1939 but retired again on 21-09-1939. During World War II, Hammerstein-Equord was involved in several plots to overthrow Hitler.
 He tried repeatedly to lure Hitler into visiting a fortified base under his command along the Siegfried Line of the Western Front. He confided to retired former army chief of staff and leading conspirator Colonel-General Ludwig Beck 
that "a fatal accident will occur" when the Führer visits his base. But Hitler never accepted Hammerstein-Equord's invitation. He was transferred to command in Wehrkreis, Defense District VIII in Silesia, then relieved of his command on personal orders by Hitler, for his "negative attitude towards National Socialism". He became active in the German Resistance, working with Carl Friedrich Goerdeler
. Carl Goerdeler was hanged in the Plötsensee, age 60 on 02-02-1945. Heinrich Brüning,
leader of the Catholic Center party, who served as German chancellor between 1930 and 1932, called Hammerstein-Equord "the only man who could remove Hitler — a man without nerves". According to the reminiscences of his son Kunrat von Hammerstein, Hammerstein-Equord resigned from the Club of Nobility when they threw out their non-Aryan members in 1934 or 1935, and spoke of "organized mass murder" of the Jews before the summer of 1942. Kunrat died age 88 on 13-06-2007. He supplied his daughter Maria-Therese von Hammerstein-Paasche with the names of Jews who were scheduled for deportation or arrest, enabling her to warn or hide them. Two of his sons, Ludwig and Kunrat, took part in a failed plot to kill Hitler and replace the Nazi regime with a new government on 20-07-1944, fleeing Germany in its aftermath. His widow and two younger children were then deported to a concentration camp, and freed only when the Allied Forces liberated the camps in 1945. As Chief of the Army High Command, Hammerstein-Equord oversaw the composition of the German manual on military unit command, Truppenführung, dated 17-10-1933. He is quoted as originating a special classification scheme for his men: I divide my officers into four groups. There are clever, diligent, stupid, and lazy officers. Usually two characteristics are combined. Some are clever and diligent — their place is the General Staff. 
The next lot are stupid and lazy — they make up 90 percent of every army and are suited to routine duties. Anyone who is both clever and lazy is qualified for the highest leadership duties, because he possesses the intellectual clarity and the composure necessary for difficult decisions. One must beware of anyone who is stupid and diligent — he must not be entrusted with any responsibility because he will always cause only mischief.
Death and burial ground of Hammerstein-Equord, Kurt Gebhard Adolf Philipp Freiherr von.
 Hammerstein-Equord died of cancer in Berlin on 25-04-1943, age 64. His family refused an official funeral at Berlin Invalidenfriedhof Cemetery, because this would have meant that his coffin would have been covered by the Reichskriegsflagge
 with the swastika. Thus, he was buried at the family's graveyard in Steinhorst, Lüscher Strasse in Lower Saxony. Hitler ordered the sending of a wreath with a message of condolence, but the wreath was not on display at the funeral because it had been "forgotten" in the Berlin subway by Hammerstein's family. Wolfgang Linke from Frankfurt am Main sent me kindly the grave photo´s.