Goeldel, Otto von, born 26-01-1886 on Gut Schönefeld, Hagen, 
entered the Army on 16-01-1907, age 20, as a Fahnenjunker in the 28
th
Infantry Regiment. He was in the fields of the first war as leader of the 1
st
Battalion of the 423
rd
Infantry Regiment and in French captivity 
 on 08-10-1918 until 11-02-1920. In between the war he was in the Police Service and reactivated in the Army in the Staff of the 34
th
 Infantrie Division.
under command of General der Artillerie Hans Behlendorff,
With the outbreak of World War II he was commander of the 15
th
Infantry Regiment and in the Führer Reserve OKH, on 01-11-1939. He was promoted to Genealmajor  on 01-02-1941. He was transferred as Office Judge to the Reichs War Court of President
Roland Freisler
until 20-06-1943 and landed in the Führer Reserve until 21-07-1943. Goeldel then was detached to the Commander of Air Area South to 12-08-1943 and commander of the Head Liaison Staff 590, in Lyon, to 01-10-1943. Assigned as commander of Field Command 1038, to 05-11-1944 and in the Reserve again to 24-03-1944. Detached to the Military Command France for use as a Field Commander, until 15-06-1944 and in the Führer Reserve (see
Adolf Hitler
) (
did you know
), to 31-10-1944. Not useful for Hitler's (see 
Alois Hitler
) war fare he was retired on 31-10-1944.
Still he landed in US captivity in April 1945, transferred to French captivity in June 1945 and released on 22-08-1947.
Death and burial ground of Goeldel, Otto von.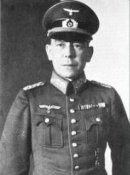 Goeldel retired in Wiesbaden, where he at the old age of 81 died, on 25-03-1967. He is buried with his wife Edith Bodenstein, who died old age 89, on 11-06-1981, on the cemetery of Biebrich in Wiesbaden, close to the grave of another WWII Generalmajor der Flieger,
Kommandeur Luftwaffe Nord-Osten
, 
Eduard Schützek
. 
German's Foreign Minister,
Joachim von Ribbentrop
 has a grave of "honor" at the family graveside of his wife,
Annelies Ribbentrop-Henkell
,
she died at the age of 77, on 05-10-1973. Von Ribbentrop's son Rudolf 
here with signature, was a SS Hauptsturmführer in the Waffen SS.