Giesler, Hermann
, born on 12-04-1898 in Siegen,
, as one of the four children of an architect and grew up in a middle-class family. Hermann completed his architectural study at the Academy for Applied Arts in Munich.
He experienced the First World War as a soldier in the German Army and studied at the arts and crafts school in Munich. He and his future wife Milly Hinz participated in the commune of the youth movement in Blankenburg. After his marriage in 1923 and completing his studies, he worked in an architecture office (first as an interior designer, from 1935 self-employed), was a member of the SA during the war and joined the NSDAP in 1931. His brothers were also party members: Paul Giesler (joined in 1928) made a political career as a Gauleiter of the NSDAP – from 1941 to 1943, initially from Westphalia-South, from 1942 also from Munich-Upper Bavaria. The other two brothers had been part of the party since 1930 and 1937, respectively. Starting from 1930 he worked as an independent architect. In 1933 he became master of the Hitler school building of districts in Sonthofen and 1937, became a professor. He joined the NSDAP
, in 1931, member number 622.515, He was a SA man from the beginning, "Kampfzeit", the battle period. From 1930 he worked as an independent architect and ceramic artist.
  His brother,
Paul Giesler
 was an old comrade too and was Gauleiter from Upper Bavaria and also Ministerpresident of Bavaria. Paul died age 49, on 08-05-1945, he and his wife committed suicide as the Americans approached Berchtesgaden. Up to 1938 Hermann designed the "Ordensburg" in Sonthofen, impressive buildings in Nazi style.
 a Hitler Youth School, planned Gau Forums in Weimar and Augsburg and the "university" for the NSDAP
 at Chiemsee. In 1938 he was ordered by Hitler to the "General Building Inspector" for the reorganization of the city of Munich. Later he became also a director in the Organisation
Fritz Todt
,
then one of the directors of the Group of Works of VI, Bavaria. Starting from 1941, after fellow architect
Roderick Fick
fell out of political favor, Giesler was entrusted by Hitler (see 
Hitler parents
) (see 
William Hitler
) with the reorganization of the entire city of Linz.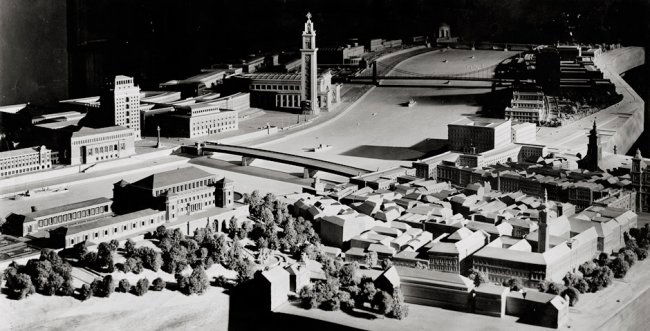 Starting from 1942 he worked on plans and a large model for the Danube Development of the Banks, starting from 1944, also worked on designs for the cultural center, which
Adolf Hitler
 (
did you know
) regarded with particular interest. Throughout the war, Giesler and
Albert Speer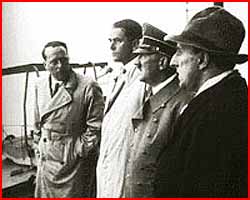 had several heated arguments about architectural styles. In September 1944 he was named one of the Reich's most important artists in the "Gottbegnadeten" list, Artists by the grace of god.
Death and burial ground of Giesler, Hermann.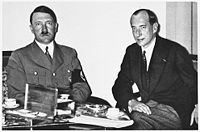 After the war  Hermann Giesler was trailed for war crimes in Dachau and condemned to life prison, but was already released in 1952 and lived in Düsseldorf. He died their at the old age of 88, on 20-01-1987 and is buried on the Nordfriedhof of Düsseldorf. Close by are the graves of different "famous" WW II personalities, Generalmajor der Infanterie,
Kommandeur der 271th Volkgrenadier Divisi
on
, 
Martin Bieber
, Hitler's Press Chief
Otto Dietrich
, Generalmajor der Flieger, 
Kommandeur 7th Flak Division
,
Alfred Erhard
, the former commander of concentration camp Westerbork
, in the Netherlands , SS Obersturmführer, 
Albert Gemmeker
,  
Anna Frank
and her family, father, mother and sister Margo, were integrated in this camp, before leaving to Bergen Belsen
, where they died, only father
Otto Frank
survived, he died old age 91, on 19-08-1980, remarried in Bazel, Switzerland. Hitler's favourite architect, 
Arno Breker
,
Generalleutnant der Artillerie, Kommandeur der 526

th

Infanterie Division
,
Fritz Kühne
,
Walther Nehring
,
and SS Obergruppenführer,
Höhere SS und Polizei Führer Nord
,
Fritz Weitzel
. (see 
About
). Diplomat in Paris,
Ernst vom Rath
,
killed in Paris by the Jewish boy Grynspan, General der Panzertruppe,
Kommandeur 1st Panzer Division .
 Following the general German retreat to the west, the
1st Panzer Division
finally reached the eastern Austrian Alps where they surrendered to the US Army.