Gerow, Leonard Townsend, born 13-07-1888 in Petersburg, Virginia,
the son of Leonard Rogers Gerow, a railroad conductor, and his wife Annie Eloise Saunders. The name Gerow was derived from the French name "Giraud". He had three brothers and a sister.
Gerow attended high school in Petersburg and then attended the Virginia Military Institute (VMI).
from which he graduated with a bachelor of science degrtee in 1911. He was three times elected class president, and was the recipient of the "Honor Appointment" which, at the time, permitted one man in each VMI graduating class to become a Regular Army second lieutenant without further examination. He was commissioned as a second lieutenant in the Infantry Branch of the United States Army on 29-11-1911. His brother, Brigadier General. assisatant Commanding General of the 85th Infantry Division,
Lee Saunders Gerow,
graduated from the VMI in 1913, and eventually rose to the rank of Lieutenant General.
Prior to World War I, Leonard served in a series of assignments as a company grade officer in the Infantry. In 1915 he won commendation for his work in the 1915 hurricane that struck Galveston, Texas. During World War 1 he served on the Signal Corps Staff
in France. For his service he earned the Distinguished Service Medal
and French Legion of Honor
. He graduated first in the class in 1925 from the Advanced Course at Infantry school. Of note was
Omar "Brad" Bradley
 who graduated second. Gerow attended the U.S. Army Command and General Staff school, where
Dwight Eisenhower
was his study partner. Gerow was promoted to Major General on 14-02-1942 and became Commanding General of 29
th
Infantry Division 16-02-1942. During World War II, the 29
th 
Infantry Division suffered 3.720 killed in action, 15.403 wounded in action, 462 missing in action, 526 prisoners of war and 8.665 non-combat casualties, for a total of 28.776 casualties during 242 days of combat. This amounted to over 200 percent of the division's normal strength. The division, in turn, took 38.912 German prisoners of war. Gerow received the Legion of Merit
on 27-09-1943 for his work as a Division Commander and as Assistant Chief of Staff of the War Plans Division. He continued as commander of the division until 17-07-1943. Leonard became commander of V Corps
on 17-07-1943. This was the largest unit of troops in the European Theater of Operations. He played a major part in the planning of the invasion of continental Europe. He was the first corps commander ashore on D-Day, June 6, 1944. The V Corps was composed of two infantry divisions: the U.S. 29
th
Infantry Division, nickname "The Blue and Gray"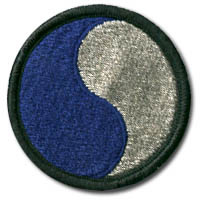 , under General
Charles Gebhardt
and the U.S. 1
st
Infantry Division
, nickname "The Big Red One" under Major General
Clarence R. Huebner
.
He was the first American officer of the rank of Major General to enter Paris.
 For his part in this campaign he was awarded the Silver Star. The 1
st
Infantry Division suffered t
otal battle casualties:
 20.659,
k
illed in action:
 3.616, wo
unded in action:
 15.208, 
missing in action:
 499, and p
ris
oner of war:
 1.336.
Both Eisenhower and Bradley held Gerow in high regard and ranked him as one of the top U.S. field commanders of World War II. In a February 1945 memo Dwight D. Eisenhower listed the principal American commanders in order of merit based on the value of their service during the war. Gerow was listed 8
th 
of 32.
In a letter to
George Catlett Marshall
on 26-04-1945, regarding commanders who might go on to serve in the Pacific, General Eisenhower commended General Omar Bradley most highly and then said: "In Europe there are other men who have been thoroughly tested as high combat commanders, including
William "Bill" Simpson
,
Alexander "Sandy" Patch
,
Georg Smith Patton
,
Joseph Collins
,
Lucian Truscott
 and others. Any one of these can successfully lead an Army in combat in the toughest kind of conditions". Gerow was given command of U.S. Fifteenth Army
 15-01-1945. He was promoted to Lieutenant General on 06-02-1945.
Death and burial ground of Gerow, Leonard Townsend.
He retired July, 1950 and retiring for 22 more years, he died on 12-10-1972 in Petersburg, Virginia and is buried with both his wives, Kathryn, who died young on 17-06-1933 and Mary Louise who died on 22-10-1970, on Arlington National Cemetery, Section 4, grave 5634,
General, Commander 92nd " Negro Division",
Edward "Ned" Almond
,
Major General, Commander 8th Bomber Command Europe
,
Frederick Anderson
,
Rear Admiral, Commander Destroyer Greyson, 
Frederic Bell
,
Navy Admiral, "Operation Crossroads",
William Blandy
,
General, Commander 32nd Infantry Division
, Clovis Beyers
, Navy Admiral. Battle of the Leyte Gulf,
Robert Carney
,
Air Force General Lieutenant
,
Claire Chennault
,
Lieutenant General, Commander
, Italy Campaign,
Willis Crittenberger
,
Brigadier General, First African-American General, 
Benjamin Davis
,
Quartermaster Lieutenant General, John Lesesne De Witt
,
Major General and Head OSS, William "Wild Bill" Donovan
,
Brigadier General,
Speck Easle
,
Marine Corps Major General, Commander 1st Raider Battalion, Merrit "Red Mike" Edson
,
Lieutenant General, VIII Army,
Robert Eichelberger
,
Navy Admiral, Commander Nord Pacific Fleet,
Frank Fletscher
 and
Navy Admiral, Commander VII Forces,
William Fechteler
,
Lieutenant General, Commander 86th Infantry Division
,
Ridgeley Gaither
,
Major General, Commander 29th Infantry Division, D-Day,

Charles Gerhardt
 and
Admiral, U.S. Chief of Naval Material,

John Gingrich
.
Message(s), tips or interesting graves for the webmaster:    robhopmans@outlook.com