Gerbrandy, Pieter Sjoerds, born 13-04-1885 in Goënga, near Sneek, was a member of the States of Friesland for the Anti Revolutionaire Partij (ARP), and became a professor at the Vrije Universiteit of Amsterdam (1930). Against his party's advice he was Minister of Justice (1939). The royal family,
Bernard von Lippe Biesterfelt
 and many leading politicians had fled to London in 1940 (see 
About
). There, they formed a government in exile. After De Geer's resignation and because of Gerbrandy's rejection of De Geer's defeatism,
Queen Wilhelmina
 appointed him as prime minister of the Dutch government in exile, serving in turn as minister of justice, the Colonies, and the general conduct of the War.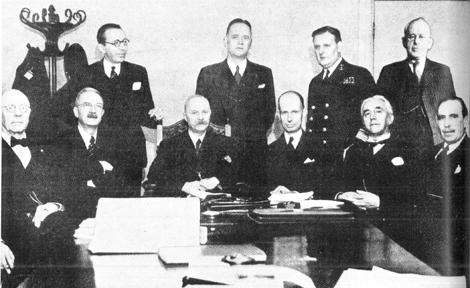 Appointed prime minister in September 1940, he directed the war effort of all Dutch armed forces not in occupied territory. Even after the Japanese conguest of the Dutch East Indies (now Indonesia) and the destruction of the naval fleet stationed there, February 1942, he controlled the remainder of the navy, the large merchant marine, and the Caribbean colonies. Gerbrandy maintained contact with Dutch resistance groups and handled relations with the British and other Allied governments. On his initiative, the Dutch government started to broadcast from Radio Oranje. This station supplied the Dutch population with information from the free world. Jonkheer Dirk Jan de Geer, 
 was a Dutch nobleman, lawyer, conservative statesman and prime minister of the Netherlands (1926–1929, 1939–1940). He was disgraced for advocating a peace settlement between the Kingdom and Nazi Germany in 1940, de Geer died old age 89, on 27-11-1960, in Soest. In 1945, after the liberation of the south, Gerbrandy formed a new cabinet without socialists, which was alleged to be strictly subordinated to the military rule. He resigned after the total liberation.
Death and burial ground of Gerbrandy, Pieter Sjoerds.
Pieter Sjoerds Gerbrandy died on 07-09-1961 in The Hague, at the age of 76 and is buried with his wife Hendrina, Elisabeth, born Sikkel, who died very old age 94, on 04-05-1980, on the cemetery of Oud Eik en Duinen, in Den Hague. Close by the grave of
Louis Einthoven
, General
Izaak Reijnders
, Governer General of Dutch West Indies,
Bonifacius de Jong
 and the adjutant of Prince Bernhard Lippe Biesterveld , 
Jan Beelaerts "Micky" Blokland
.