Dornberger, Dr. Walter, born on 06-09-1895 in Giessen,
the son of the pharmacist Hermann Dornberger and his wife Hedwig, born Roltsch, was a German Army artillery officer whose career spanned World Wars I and II. Enlisted in 1914 and on the Western Front, he in October 1918, as an artillery leutnant, was captured by US Marines
and spent two years in a French prisoner-of-war camp. Dornberger graduated after five years with an MS degree in mechanical engineering from the Technische Hochschule of the University of Berlin. In April 1930 Dornberger was appointed to the Ballistics Council of the German Army Weapons Department as Assistant Examiner to secretly develop a military liquid-fuel rocket suitable for mass-production that would surpass the range of artillery.
 On 21-12-1932, Hauptmann Dornberger watched a rocket motor explode at Kummersdorf while Wernher von Braun tried to light it with a flaming gasoline can at the end of a four meter long pole
.

Dornberger and his ninety-man organization were transferred from Kummersdorf to Peenemünde with colleagues as the von Braun brothers Magnus
and Wernher 
 Magnus Maximilian "Mac" Freiherr von Braun and the later Bundespresident Heinrich Lubke.
 In September 1942, here with visitor SS Gruppenführer Herbert Otto Gille,
Dornberger was given two posts, coordinating
the V-1 flying bomb
 and V-2 rocket
 development programmers' and directing active operations. Adolf Hitler (did you know), 
(see Eva Braun)
viewed the film of the successful V-2 test launch and the scale models of the Watten "bunker" and launching-troop vehicles. On 13-06-1942, the armaments chiefs of the three branches of the armed forces, Field Marshal der Flieger, Erhard Milch, 
Admiral Karl Witzell.
 Witzel died very old age 91, on 31-05-1976, in Berlin and General Friedrich Fromm
, who was executed, being involved in Oberst der Kavallerie, Claus Graf Schenk von Stauffenberg's
July 20 bomb attack, age 55, on 12-03-1945, flew to Peenemunde
with me to witness the first firing of a remote-controlled rocket. This 45 feet long, liquid-fueled rocket carried a one ton warhead, and was capable of supersonic speed and could fly at an altitude of over 50 miles. As a result it could not be effectively stopped once launched. The V2 Rocket was first used in September, 1944. Over 5.000 V-2s were fired on Britain. However, only 1,100 reached their target. These rockets killed 2,724 people and badly injured 6.000. After the D-Day landings, Allied troops were on mainland Europe and they were able to capture the launch sites and by March, 1945, the attacks came to an end.
 Dornberger was given complete authority for anti-aircraft rocket development and on 12-01-1945 on Dornberger's proposal, Armament Minister, Albert Speer
replaced the Long-Range Weapons Commission with "Working Staff Dornberger". At the end of the war sources place them being arrested by Georg Smith Patton's 
 Third Army, nicknamed "Patton´s Own" 
 on 03-05-1945, near Prague, Czechoslovakia. The Third Army suffered 16.596 killed, 96.241 wounded, and 26.809 missing in action for a total of 139.646 casualties. Between June 1941 and December 1944, Germany lost 202.000 killed fighting the Americans and British in North Africa, Italy and north-west Europe together, against 2.4 million battlefield dead on the Eastern Front. Dornberger was escorted from Cuxhaven to London for interrogation by the British War Crimes Investigation Unit in connection with the use of slave labor in the production of V-2 rockets, he was subsequently transferred and detained for two years at Bridgend in South Wales.
At the start of the V-2 bombing campaign, SS Obergruppenführer
Hans Kammler
received a senior position on the command and control of operations. There are several contradictory testimonies on how far and how deep he commanded the bombardments of London and Antwerp but, at least, it is well known he played an active role on the deployment and maintenance of the units involved in the operations, frequently through General Walter Dornberger. A quite symbolic fact of his involvement may be that, at the end of the campaign, the orders to reorganize the V2 units into regular infantry came from Kammler directly. Many sources accept this moment, probably due to the role of some of the V2 units in the Arnsberg Forest massacre and subsequent investigations.
Death and burial ground of Dornberger, Dr. Walter Robert.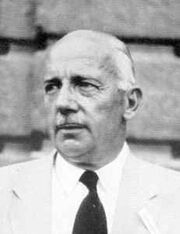 Following retirement, Dornberger returned to Germany where he died of a stroke, at the old age of 84, on 27-06-1980 in Obersasbach, Baden-Württemberg. He is buried on the small cemetery of Obersasbach, at the end on the right side. Magnus Maximilian "Mac" Freiherr von Braun died 21-06-2003, aged 84, in Phoenix, Maricopa County, Arizona, USA