aurice Assigned as assistant Chief of Staff in the 1
st
Armored Division. Chief of Staff in this division from December 1941 until May 1942 and from May 1942 he was Commanding Combat Officer in Command A of the 6
th
Armored Division to 23-09-1943 From 24-09-1943 he was assigned as commanding officer with the 90
th
Infantry, nicknamed "Tough Ombres",
 with Major General, Henry Terrell Jr.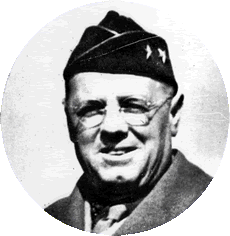 who died age 80 on 03-10-1971, until 08-09-1944. Casualties during their European campaign, total-7.549 (KIA-1.091; WIA-6.458). The United States Army suffered 318.274 killed and missing in all theatres of the war. John Matthew Devine lead the 90
th
as Brigadier General of Artillery in 05-04-1944. He believed leadership in small groups played a large role into his success. He fought in Normandy. The whole 90
th
Division consisted of 19.200 people, which is one of the biggest divisions in World War II. The 90
th
Infantry was one of the toughest divisions, they had several nicknames such as the "Alamo Division" or the "Tough Hombres". The 90
th
Infantry was sent over seas 0 4-04-1944 then fought their first battle in 09-06-1944, after the beginning D-Day.! General Devine took over his position as brigadier general on 05-04-1944. As head of artillery, his main job was to give fire support. He fought along side General
James Maurice "Slim Jim" Gavin
 in some of the battles. During the battles he was able to provide artillery support while fighting The 90
th
Infantry artillery battalion was part of the ETO, which means General Devine's company was the only artillery company in his whole division. He was the commander of the sole artillery company in his division, which gave him a large responsibility.  Then Commanding Officer Combat Command B, with the 7
th
Armored Division, nickname "Lucky Seventh"

 . Casualties during their 172 days of combat 5.799. From 02-10-1944 Commanding General with the 8
th
Armored Division, nickname "Golden Arrow Division"
  with assistant commander, Major General,
Donald Armpriester Stroh 
 who died age 61, on 20-12-1953. The 8
th
Armored Division is what he is best known for. The battle of the Bulge, which was considered to be Hitler's (see 
Hitler
) (
did you know
) last stand. Devine was hand selected by President
Dwight "Ike " Eisenhower
 to lead the 8
th
Armored Division, nicknamed "Iron Snake"
. The 8
th
Armored Division with total authorized strength: 10.937, total battle casualties: 2.011 and total deaths in battle: 469. With the 8
th
he fought in the heart of Europe where he help propel the allies to victory. From August 1945 until November 1946 he was Commanding General of the 2
nd
Armored Division, nickname "Hells on Wheels"
, During World War II, the 2
nd
Armored Division took 94.151 prisoners-of-war, liberated 22.538 Allied prisoners of war, shot down or damaged on the ground 266 enemy aircraft, and destroyed or captured uncountable thousands of enemy tanks and other equipment and supplies. In 238 battle days, the 2
nd
Armored suffered 7.348 casualties, including 1.160 killed in action. The division was recognized for distinguished service and bravery with 9.369 individual awards, including two Medals of Honor, twenty-three Distinguished Service Crosses, and 2.302 Silver Stars as well as nearly 6.000 Purple Hearts. He then became the Commanding General with the Universal Military Training Experimental Unit. Following the assistant of the staff with the Army Field Forces until May 1948. Deputy Chief  with the same Army Field Forces to February 1949, Commanding General of the 1
st
Cavalry Division "First Team"  
 to 02-10-1948 and Commanding General with the 9
th
Division "Old Reliables" 
 and retired in 1952. John Matthew Devine is one of the many forgotten Generals in World War II. The casualties of the  9
th
Division, t
otal battle casualties:
23.277, k
illed in action:
3.856, w
ounded in action:
17.416, m
issing in action:
357
, and p
risoner of war:
908. The took 130.000 prisoners .
Death and burial ground of Devine, John Matthew.
 John Devine died age 75, on 08-03-197, and is buried on the United States Military Academy Post Cemetery, West Point New York, Section VI.