Denkert, Walter, born on 23-02-1897 in Kiel,
was a highly decorated Generalleutnant in the Wehrmacht during World War II. He was also a recipient of the Knight's Cross of the Iron Cross. The Knight's Cross of the Iron Cross
 was awarded to recognize extreme battlefield bravery or successful military leadership. Walter Denkert was captured by American troops in April 1945 in the Ruhr Pocket where the German Field Marshal der Panzertruppe,
Kommandeur XXXXI Panzergruppe, Walter Model
 committed suicide and was held until 1947. Denkert entered the Army Service as a war volunteer in the Replacement Battalion of the 84
th
 Infantry Regiment, on 22-08-1914. Denkert participated during the whole war and was wounded in hospital
 from 22-03-1918 until 19-04-1918. He was retired on 30-09-1919 and entered the Police Service on 01-10-1919. Denkert was transferred to the growing Army Service again on 15-10-1935. At beginning of World War II he was the commander of the II Battalion of the 271
st
Infantry Regiment until 01-12-1940. He landed in the infamous Führer Reserve (see 
Hitler
) (
did you know
) from 19-08-1941 to 11-06-1943 and became the commander of the Army Weapon School of the Panzer Troop Recruitment Staff in Kharkov, until 25-01-1944. He was again in the Reserve from 16-06-1944, shortly after D-Day
and got with his last command of the 3
rd
Panzer Grenadier Division
, former commander General der Panzertruppe, 
Kommandeur 4th Panzer Grenadier Division
,
Fritz Gräser
, in captivity on 08-05-1945, at the end of the war in the Ruhr pocket. Marshal, Walter Model committed suicide in the woods close by.
Walter Denkert received the Iron Cross and Denkert's Knight's Cross and his recommendation reads as follows…"Oberst Denkert had been assigned command of the 19th Panzer-Division,
and in this capacity he launched an attack with his heavily weakened Kampfgruppe from the Skala area along the road towards the northwest on the 31-03-1944. Following extremely tough combat against much larger infantry and tank forces they succeeded in taking Gusztyn. Thereafter, following fluid and costly fighting for both sides, Losiacz was stormed, all while Oberst Denkert was continually inspiring his troops from the foremost line.
Death and burial ground of Denkert, Walter.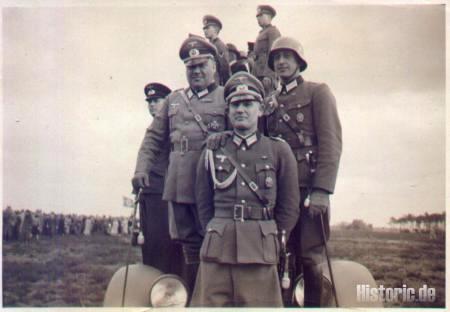 Released in 1947 he lived in his hometown Kiel, where he, at the old age of 85, died on 09-07-1982. Walter Denkert is, high decorated, buried on the cemetery Eichhof in Kiel.