Dayan, Moshe, born on 20-05-1915 in the Kibbutz Degania Alef,
was an Israeli military leader and politician. His parents were Shmuel and Devorah, Jewish immigrants from Ukraine. The fourth Chief of Staff of the Israel Defense Forces, 1953 to 1958, he became a fighting symbol to the world of the new State of Israel. He went on to become Defense Minister and later Foreign Minister of Israel. His parents were Shmuel and Devorah, Jewish immigrants from Ukraine 
and he was named Moshe after Moshe Barsky, the first member of the kibbutz to be killed in an Arab attack. At the age of 14, he joined the newly formed Jewish militia known as the Haganah. 
  Haganah was a Jewish paramilitary organization in what was then the British Mandate of Palestine from 1920 to 1948, which later became the core of the Israel Defense Forces. Ruth and Moshe were married in 1935, a year after they met, and together they envisioned a country based on socialist ideals. "Work was the center of our lives. I milked the cows even on my wedding day," she says. "Before daylight each morning, I would bake, make cheese, and look after the animals while Moshe tilled the fields, so I deeply understand the Arabs and their attachment to the land. I miss the farm life: the cows, the dogs, even the filth of it." In 1938 he joined the Palestine Supernumerary Police and became a motorized patrol commander
 One of his military heroes was the British pro-Zionist officer
Orde Charles Wingate
under whom he served in several Special Night Squads operations. He was arrested by the British in 1939, but released after two years in February 1941, as part of Haganah
 cooperation with the British during World War II. Dayan was assigned to a small Australian-Palmach-Arab reconnaissance task force, formed in preparation for the Allied invasion of Syria and Lebanon and attached to the Australian 7
th
Division 
Using his home kibbutz of Hanita as a forward base, the unit frequently infiltrated Vichy French Lebanon, wearing traditional Arab dress, on covert surveillance missions. Dayan was wounded in battle in Lebanon and lost his left eye.
 He began to wear the black eye patch that later became his trademark. 
He cooperated with British intelligence to set up a broadcasting network for clandestine operations behind enemy lines in the event that Palestine should fall to the Germans. He remained active in the Haganah until 1948. On 29-10-1956, 
Dayan led Israel's Suez campaign, an invasion of the Sinai Peninsula after Egypt, Syria and Jordan signed a pact stating as their goal the destruction of Israel. After the war, Dayan controlled the territories occupied by the Israeli Army. He opened the borders for Arab residents of the territories to travel to Arab countries, while at the same time maintaining order and security in Israeli-held areas.
His first wife Ruth, divorced Moshe in 1971 after 36 years of marriage due to his numerous extramarital affairs. Ruth Dayan wrote a chapter about "Moshe's bad taste in women". Dayan married Rachel Korem 
in a simple ceremony performed by Rabbi Mordechai Piron. Neither Dayan's daughter and two sons nor Korem's two daughters attended.
Death and burial ground of Dayan, Moshe.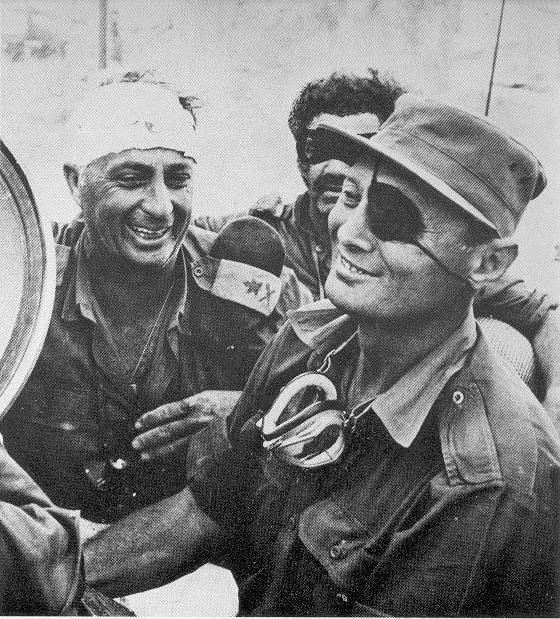 On 14-05-1979, Dayan, 
 was diagnosed with colon cancer, but died of a massive heart attack, on 16-10-1981, at the age of 66, in Tel Aviv and was buried in Nahalal, Moshav cemetery, where he was raised.
His oldest son Assi Dayan, born 23-11-1945, 
was an Israeli film director, actor, screenwriter and producer and died age 68 on 01-05-2014. Dayan's  daughter Yael Dayan
, born 12-02-1939 was an Israeli politician and author. She served as a member of the Knesset between 1992 and 2003. Dayan's second son Ehud "Udi" Dayan
, who was cut out of his father's will, accused the Israeli soldier-statesman of incompetence and greed in a bitter attack. The son mocked his father's abilities as a general and statesman. He said the man with the black eye patch who was hailed as the hero of the 1967 Middle East war, would have failed a platoon leader's course in an 'enlightened' nation like Britain.