Collins, James Lawton, born on 10-12-1882 Algiers, Louisiana,
served in the 8
th
Cavalry
 during the Philippine–American War.
He served as aide-de-camp to General John "Black Jack" Pershing  
in the Philippines, during the Mexican Punitive Expedition. His father, Jeremiah Bernard Collins, had left Ireland as a young boy to join the rest of the family in Cincinnati, Ohio. Family legend has it that he served as a drummer boy in the Civil War, and at the age of 16, helped to drive a herd of horses into Texas to replace the cavalry mounts that had been lost to the war. Collins 
participated in France during World War I. He later became Secretary of the General Staff at General Headquarters, American Expeditionary Force (AEF) 
in France during that war, leaving that position to lead a battalion of the 7
th
Field Artillery, 
1
st
Infantry Division under command of Major General Edward Fenton McGlachlin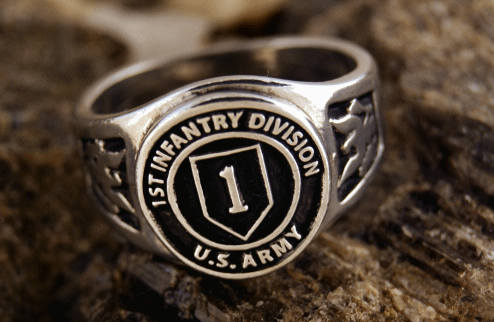 , during the last months of the war. The 1
st
Infantry Division 
had the following casualties during the European campaign, 4.411 killed in action, 7.201 wounded in action, 1.056 missing or died of wounds. The division's famous dog-mascot was a cairn terrier known as Rags.
Rags was adopted by the division in 1918 and remained its mascot until his death in 1936. Rags achieved notoriety and celebrity as a war dog, after saving many lives in the crucial Argonne Campaign by delivering a vital message despite being bombed and gassed. The German Generalleutnant der Infanterie,
Karl von Schlieben
 and commander of Fortress Cherbourg surrendered to Collins and his forces.
  During World War II he commanded the Puerto Rico Department and the 5
th
Service Command at Columbus, Ohio. Collins retired as a Major General in 1946. His younger brother,
Joseph Lawton Collins
   also served in the U.S. Army, finally achieving the rank of full General when he served as US Army Chief of Staff, 1949–53. Collins did not live long enough to see his youngest son, Michael Collins, serve as the pilot of the Apollo 11 Command Module during the historic first landing on the Moon.
His son, James Lawton Collins, Jr., Brigadier General, United States Army, died on 05-05-2002 and is also buried in Arlington National Cemetery.
Death and burial ground of Collins, James Lawton.
 James Lawton Collins died at the old age of 80, on 30-06-1963 and is buried on Arlington cemetery in Section 34. Close by in Section 34, the graves the of General, Commander 92nd " Negro Division" , Edward "Ned" Almond, Major General, Commander 8th Bomber Command Europe, Frederick Anderson, Rear Admiral, Commander Destroyer Greyson, Frederic Bell, Navy Admiral, "Operation Crossroads", William Blandy, General, Commander 32nd Infantry Division
, Clovis Byers, Navy Admiral. Battle of the Leyte Gulf, Robert Carney, Air Force General Lieutenant, Claire Chennault
 Lieutenant General, Commander 4th Corps, Italy Campaign, Willis Crittenberger, Brigadier General, First African-American General, Benjamin Davis, Quartermaster Lieutenant General, John De Witt, Major General and Head OSS, William "Wild Bill" Donovan, Brigadier General, Speck Easley, Marine Corps Major General, Commander 1st Raider Battalion, Merrit "Red Mike"Edson, Lieutenant General, VIII Army, Robert Eichelberger, Navy Admiral, Commander Nord Pacific Fleet, Frank Fletscher  and Navy Admiral, Commander VII Forces, William Fechteler, Lieutenant General, Commander 86th Infantry Division, Ridgeley Gaither,
 Major General, Commander 29th Infantry Division
, D-Day, Charles Hunter Gerhardt and Admiral, U.S. Chief of Naval Material, John Gingrich.