Claes, Heinrich
, born on 01-01-1884 in Mühlhausen,
Thüringen, entered the Army on 03-03-1904, age 20, as a Fahnenjunker in the 70
th
Infantry Regiment. At the beginning of World War I he was the Flying Group Leader of the 4
th
Army, not involved in the first war he was retired, on 30-10-1919, 35 years old. He rejoined 
Hermann Goering's
(
did you know
) Luftwaffe 
Service as a Supplemental Officer, on 30-11-1934, until 31-12-1938. With the outbreak of World War II he was adviser in the Staff of the Commander with Luftwaffe Army Group North. Army Group North, "
Heeresgruppe Nord", under command of  Field Marshal Fedor von Bock ,
was a German strategic echelon formation, commanding a grouping of field armies during World War II. The army group was subordinated to the Oberkommando  des Heeres (OKH)
, the German army high command, and coordinated the operations of attached separate army corps, reserve formations, rear services and logistics. Army Group North had successive the following commanders,
Fedor von Bock
, 
Field Marshal
Wilhelm Freiherr von Leeb
, 
General der Artillerie,
Georg Küchler
,
Field Marshal,
Walter Model
, 
Generaloberst der Kavallerie,
Georg Lindemann
, 
Generaloberst der Infanterie,
Johann Friessner
, 
General Field Marshal der Gebirgstruppe,
Ferdinand Schörner
, Generaloberst der Infanterie, Kommandeur Army Group Ostmark, 
Dr. Lothar Rendulic
 Rendulic died age 83, on 18-01-1971, in Eferding, Austria and the last commander Generaloberst der Infanterie, Kommander Army Group North,
Walter Otto Weiss
. He received command of Heeresgruppe Nord on 12-03-1945, was held in American captivity until 1948. Weiss died age 77, on 21-12-1967, in Aschaffenburg. Claes was Signals Leader with different commands and his last post was as Wehrmacht Signals leader with the Wehrmacht Commander in the Netherlands (see 
About
) and (see 
Jan Ackermans
) 
Wehrmacht's Commander in the 
Netherlands
was General der Flieger, Oberkommando Wehrmacht in the Netherlands, Massacre of Putten
,
Friedrich Christiansen
.
Death and burial ground of Claes, Heinrich.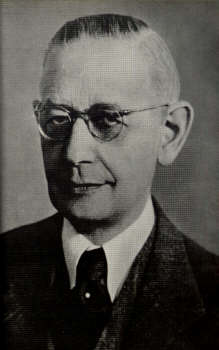 Heinrich Claes was in Western Allied captivity, from 08-05-1945 to March 1947. Released he lived in Bad Godesberg, Bonn, where he died, at the old age of 85, on 31-07-1969. Claes is buried with his wife Gertrud, born Susemihl, who died age 70, 1982, on the Central cemetery of Bad Godesberg, not far from the grave of General of the Infantrie, Defender of "Festung Königsberg",
Otto Lasch
 the defender of Fortress Königsberg,
 General Major der Infanterie, Kommandeur POW Camp Dictrict XVII,
Lothar Block
, General Major der Infanterie, General der Technische Truppen,
Hans von Hanstein
, and General der Flieger, Department Chief of the Air Ministry,
Hans Georg von Seidel
.