Chamberlain, Arthur Neville, born 08-03-1869 in Birmingham,
son of Joseph Chamberlain, the mayor of Birmingham. His mother, Florence Kenrick, died in childbirth when he was six years old. He had three sisters and a half-sister and half-brother from his father's previous marriage. His half-brother Joseph Austen would precede him in politics and became Treasury Secretary. In 1910 he married Anne Cole. This marriage produced two children: Francis and Dorothy Chamberlain.
Arthur becMEwas a British Conservative politician who served as Prime Minister of the United Kingdom, to May 1940. Chamberlain
is best known for his appeasement foreign policy and in particular for his signing of the Munich Agreement in 1938, conceding the Sudetenland region of Czechoslovakia to Nazi Germany. He was the only son of the second marriage of Joseph Chamberlain
, who later became Mayor of Birmingham and a Cabinet minister. Joseph would die age 77, on 02-07-1914.  Joseph had had another son, Austen Chamberlain,
 by his first marriage. Austin died age 74, on 17-03-1937. Neville Chamberlain was educated at Rugby School. Joseph Chamberlain then sent Neville to Mason Science College in central Birmingham. Neville Chamberlain had little interest in his studies there, and in 1889, his father apprenticed him to a firm of accountants. Within six months, he became a salaried employee. After being educated at Rugby School, he spent seven years managing his father's plantation in the Bahamas. Chamberlain arrived back in England in 1897, where he went into the copper-brass business. (
see Did you know
) He was active in local politics and in 1915 was elected Lord Mayor of Birmingham. In the 1918 General Election Chamberlain was elected as the Conservative MP for Ladywood. He refused office under
David Lloyd George
but accepted the posts Postmaster-General and Minister of Health. Chamberlain replaced Stanley Baldwin as prime minister he continued the policy of non-intervention, Stanley Baldwin died on 14-12-1947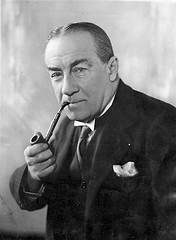 Chamberlain believed that Germany had been badly treated by the Allies after it was defeated in the First World War. He therefore thought that the German government had genuine grievances and that these needed to be addressed. He also thought that by agreeing to some of the demands being made by Adolf Hitler (see 
Hitler parents
) of Germany and
Benito Mussolini
of Italy, he could avoid a European war. The House of Commons, called on Chamberlain to take action against
Hitler Adolf
 and his Nazi government. On 29-09-1938, Chamberlain, Adolf Hitler, (see 
Alois Hitler
),
Edouard Daladier
  and Benito Mussolini signed the Munich Agreement which transferred to Germany the Sudetenland, a fortified frontier region that contained a large German-speaking population. The room of signing the Agreement, nr 105, in the Führerbau on the Königsplatz in Munich didn't change at all, see the fireplace. The room now is a practice place for talented piano players, around the world and one gave me a small serenade.
Death and burial ground of Chamberlain, Arthur Neville.
On the outbreak of World War II, Chamberlain resigned and was replaced by
Winston Churchill
.
He was appointed as Lord President of the Council in Churchill's government but ill health forced him to leave office in October 1940. He was married with Anne de Vere, born Cole, who died age 85, in 1976.
The Chamberlains had two children: Dorothy Ethel
 (1911-1994) and Francis Neville
(1914-1965) Neville, Chamberlaine died soon after his leave of stomach cancer, at the age of 71, on 09-11-1940. Chamberlain is buried in the Westminster Abbey in London.